Something a little strange happened yesterday in the music world.
Linkin Park, the Californian multi-million selling rockers that have been around for as long as I've had hairs on my chest, released their first single off their new album One More Light which is due on May 19 of this year. The single, "Heavy", sounds a little like this:
What happened next was a flurry of internet anger which I'll try to condense into a few words…
'WHY ARE LINKIN PARK DOING POP MUSIC'
'THIS IS NOT THE LINKIN PARK I KNOW. I'M ASHAMED'
'THEY SOUND LIKE BIEBER. GET THIS OFF MY FAVOURITE STREAMING SERVICE OF CHOICE'
Etc...
Now, I'm going to begin this by saying from the outset that I'm not the biggest fan of "Heavy". No, not because it's 'pop' -- it's because it's bland and uninspiring, but this is something we should expect from Linkin Park. They've been doing the exact same thing for nearly 20 years now.
You see, Linkin Park have always been a pop band. From their very first album Hybrid Theory -- which, as we all know, is one of the greatest albums of its ilk and began a short-lived genre unto its own -- up until "Heavy", pop has been a massive influence on the band whether you like it or not.
Whilst Hybrid Theory got itself on alternative rock playlists across radio and TV, you have to look a little deeper. I'm talking about "In The End", that damn song that was played to death by nearly every one of my friends, along with on radio and TV. "In The End" was what cemented the band as a mainstream act to be taken seriously. The song wasn't just appearing on Kerrang's video channel; it was also on constant circulation on the pop channels such as Smash Hits, The Box and MTV. That infectious opening piano melody -- you're thinking of it right now, aren't you? -- which kicked off the song ensured it was stuck in your head for days and allowed the band to reach an audience they themselves probably weren't expecting to.
It's that chorus, that ridiculously simple three line chorus that makes "In The End" an 'edgy' pop song.
'I've tried to hard, and got so far
But in the end, it doesn't even matter
I had to fall, to lose it all
But in the end, it doesn't even matter'.
Tight, simplistic, but well written choruses became an absolute staple of the Linkin Park sound, and, if you don't want to be played on the radio, you wouldn't bother trying to hard to make it all look so easy.
Pop writing moguls Diane Warren and Max Martin couldn't have dreamed up a better pop infusion than what "In The End" gave Linkin Park, and, 4.6 million album sales later, off a single album, they became the biggest band in the world.
(Gentle reminder that despite this, "Crawling" is still an absolute masterpiece.)
The mix of rock/rap wasn't anything new, but Linkin Park perhaps inadvertently brought it to the masses. The follow up album Meteora repeated the exact same trick and was, by default, an inexplicably similar record to Hybrid Theory. That album's little song that could was a certain track called "Numb" -- still one of their finest works -- another track that found itself appearing on playlists away from the conventional rock/nu-metal standards and, again, reminding the world that Linkin Park was around (rather than just the folks who bought magazines with their faces on them). Lead vocalist Chester Bennington appeared in the now-defunct Smash Hits magazine discussing a 'rap metal' album, which was bizarre in its time. We took it for granted because Linkin Park were so huge; they were muttered in the same breath as Britney Spears, Christina Aguilera and Eminem. Regardless of the genre the fans wanted to protect at all costs, Linkin Park couldn't be labelled because they were far too mainstream to be considered just a conventional 'rock' band. When it became cool to not like them, that's when you know they're not a rock band anymore.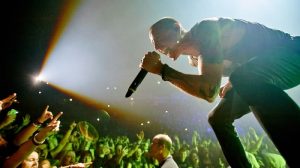 Yahoo
Their third album, Minutes to Midnight, took a bit of a turn musically and saw LP become a tad more experimental with their music. The first single, "What I've Done", whilst beginning with a slow piano and exploding with yet another simplistic chorus:
'What I've Done
I've faced myself, to find out what I've become
Erase myself and let go of what I've done'.
It can't be easy to write choruses as basic as this, but fans never really seemed to pay attention. Speaking as a fan (no, I really am one), I don't think lyrics have ever been the bands strong point; by most regards, they're written exactly with a mainstream audience in mind rather than trying to appeal to a single member of their core fan base. Their infectious rock/pop infusions made them who they are, and fans -- again, including me -- pretty much always assumed they were listening to a rock band when, in truth, they've been rocking out to a very edgy pop band, and Minutes to Midnight made a very little case to think otherwise.
Minutes to Midnight is an album from a Linkin Park that know they're the biggest band on the planet. They've already proved they can write crazy-infectious choruses that stay with you for decades and so mixed up the formula, though not by much. While there are some wonderful tracks on the album, including my all-time favourite LP track "The Little Things Give You Away", a song which goes against everything I'm currently trying to emphasise by being not only incredibly touching but expertly written and performed (Go watch a video of Chester singing it live if you don't believe me.), it always has some ferocious garbage ("Hands Held High", "In Between", "Valentine's Day") which should never have seen the light of day. It's a mixed bag, but its singles were chosen well and so lives on as another solid LP album.
Then there's the Joker in the pack: A Thousand Suns. The first single off this full on social experiment of an album was "The Catalyst", which, for me, on first listen way back in 2010 (really?!), was an absolute heart-breaker. It was Linkin Park taking themselves a tad too seriously, forgetting who they were and almost seemingly wanting to prove some kind of a point to themselves and the fan base that they didn't really give a damn what everyone wanted. A Thousand Suns was an album that, now I'm older, I can appreciate as a genuinely excellent piece of work, but it certainly shook me -- and, seemingly, the rest of the fanbase -- to the core as it messed with their radio-friendly formula. There was no piano/rap/rock to be found here. It was primarily heavy synths, jumping on the back of the re-emerging EDM bandwagon to capitalise on its popularity. There's very little on the album which could be considered classic Linkin Park, but you can only assume that was the exact point of the whole shebang in the first place. The radio-friendly "In The End"/"Numb"/"What I've Done" sound was swept aside for a complete album with very little working on its own but creating something pretty special when all played together. A Thousand Suns, I'll admit, is the exception to the rule.
So no more pop for Linkin Park? Oh no, they were just taking a break.
Living Things, their 2012 album is probably the most pop-influenced album they had released thus far (up until the upcoming One More Light, it seems). What is Living Things pop music? Take your pick.
"Burn it Down", is perhaps, in my humble opinion, the worst Linkin Park single there's ever been. Look at this chorus:
'We're building it up, to break it back down
We're building it up, to burn it down
We can't wait, to burn it to the ground'.
Simple, miserable, uninspiring. Perfect for radio. Whether or not there was some pressure for them to do some more 'mainstream friendly' songs again after the mixed reception to A Thousand Suns', I don't know, but something made them revert back to the songwriting days of old, pushing out a variety of songs which were poorly conceived and seemingly written with nothing but radio and TV rotation in mind. The bizarrely poor chorus of "Burn it Down" gave the song very little meaning, and whatever message it was going for disparaged by the lack of focus in its chorus. It's about as mainstream as you would expect from a band who built their career on choruses which are meant to appeal to the many rather than the few.
The trend continues with "Castle of Glass", "Roads Untraveled", "I'll Be Gone" (or I'll be gone if you speak to certain fans). None of these songs are as poorly conceived as "Burn it Down"; they're all good, but to claim they aren't written without a pop mentality beating throughout them makes it seem like people are in denial.
And then there's The Hunting Party, their last album released in 2014. I love this album with a passion. It's heavy, it's passionate, it's full of terrific melodies and a cracker of a first single ("Guilty All The Same" -- not for radio). Linkin Park, the pop band, still tear it through with the pretty forgettable "Until It's Gone" -- featuring the return of the "Numb" synth and the bland "Final Masquerade". Despite working with Tom Morello of Rage Against the Machine on this album, along with Rakim, Darren Malakian of System of a Down, it's almost as if they just couldn't help themselves get that radio sound through those two tracks and, as such, lost some of the power I think the album should have stood for.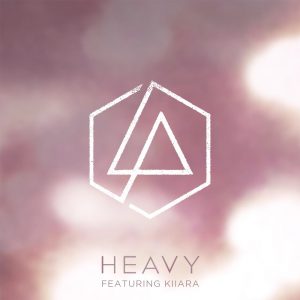 Linkin Park
And so that leaves us with "Heavy", their latest single, and it's curious how the fans are reacting, despite LP having done exactly this for years now. Yes, it may not have been so obvious as it is now; it's pure pop in and out with very little of the 'alternative' Linkin Park they seemed to have been labelled under. In my eyes (or ears), though, they've never been that band. They've always been a hugely successful, mainstream act that can write pop choruses better than most pop writers do in their daily jobs.
As I said above, 'Heavy' is uninspiring, not very interesting, but it's hardly opening the portals of Hell like some claim. This is exactly who Linkin Park are. They are a band that will challenge their audience from beginning to end. When we're used to having ear-worms like "In The End" or "Numb" in our heads all day and all night. When a song is released by them that is so obviously trying to re-appeal to that particular hook-led musical mindset, a majority of the fans disregard it. It doesn't make any sense to me.
Still, let's see what One More Light brings. A new Linkin Park album is always a cause for celebration. I'm certainly ready to see where they take us next.
Have they tackled Reggae yet?