The USA is quite possibly waking up today with a colossal hang-over after the thrill of victory in last night's team USA win over Japan in the final of the Women's World Cup.
Having reached the final via a 2-0 win over Germany (albeit assisted by some dodgy referee decisions, thank you Teodora Albon!), the girls took to the pitch in front of a huge crowd and within a matter of minutes had cheers and applause erupting from every corner of the BC Place and all over the country thanks to a goal by Carli Lloyd.
The noise had little time to die down as just two minutes later, 32-year-old Lloyd slotted home another one. Lauren Holiday made it three-nil before Lloyd, securing her hat-trick in under 16 minutes, put the game, in the opinion of many, well out of Japan's reach, by firing one in from the half-way line. Japan did then counter with a goal of their own. Those spellbound by Lloyd's efforts took to social media to talk about it, as Darren Rovell, @darrenrovell announced:
"Nice half for @CarliLloyd on Twitter as well. Picked up 35,000 followers."
Actor Sean Maguire @sean_m_maguire said:
"Holy cow America I know it was just ur birthday but this is one crazy present!!! 4-1 Carli Lloyd you're never buying a round again! #amazing"
Other postings suggested she should be promoted with @awfulannouncing calling for Lloyd to take over the FIFA presidency:
"If Carli Lloyd isn't FIFA President by the time this game ends something is terribly wrong."
Evidently she had the whole of the USA behind her by this point as, if only for a short time, Soccer Vines @SCRVines pointed out:
"Carli Lloyd's Wikipedia entry lists her playing position as "President of the United States."
By the time the second half began, Japan were in real trouble, only finding their uphill battle made a little easier as a result of an accidental own goal by Julie Johnston.
Despite having already scored four, the USA weren't finished yet and Tobin Heath soon fired home the team's fifth.
It was a touching sight to see Lloyd hand over the captain armband as World Cup veteran Abby Wambach made her way onto the pitch as the match crept ever closer to its end. By now, Japan had all but admitted defeat and after 3 minutes of stoppage time, the final whistle blew and the USA team fell to their knees overwhelmed at having won.
Twitter and other social media networks built themselves further up into a frenzy. Official FIFA account @FIFAWWC proudly posted:
"HISTORY! #USA now scored MOST #FIFAWWC goals in history."
After the match, hero Lloyd said:
"I am speechless. I am so proud of this team. This doesn't feel real, it hasn't sunk in. We just made history."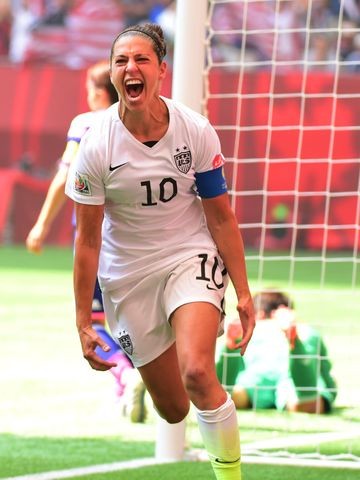 Courtesy of usatoday.com
There has, for many years, been much debate over women's football and its successes. However, as of this morning, I think it's safe to say that such debate is rendered mute and unnecessary, while women all over the world are, as they rightly should be, immensely proud of all those who have, throughout this competition, proven that football isn't just a men's game and that women deserve just as much credit as their male counterparts.
You can watch the goals and re-live the glory here.
Congratulations to Team USA!