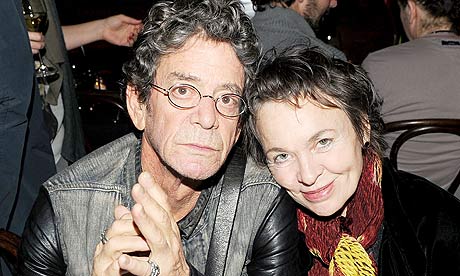 Staff Writer
Best known for his anthems, "Walk on the Wild Side", "Sweet Jane" and "Satellite of Love", his gravelly monotone and his work with Iggy Pop and David Bowie, 71-year-old Lou Reed is recovering having undergone a liver transplant, his wife Laurie Anderson revealed. In an interview with The Times, Ms Anderson, a songwriter and performance artist, said: "It's as serious as it gets. He was dying. You don't get it for fun."
Anderson described the operation as "a big surgery which went very well", adding: "You send out two planes – one for the donor, one for the recipient – at the same time. You bring the donor in live, you take him off life support.
"It's a technological feat. I was completely awestruck. I find certain things about technology truly, deeply inspiring." 
Reed cancelled five concerts in April, including two appearances at Coachella. A statement at the time said the cancellations were due to "unavoidable complications". However, with this news, it may have been because of his ill health.
Reed and Anderson, who live in New York, chose to have the operation at the Mayo Clinic in Cleveland, back in early April.
Anderson explained this decision saying, "The Cleveland clinic is massive: they have the best results for heart, liver and kidney transplants.
"Whenever I get discouraged about how stupid technology is and how greedy Americans are, I go to the Cleveland clinic because the people there are very kind and smart."
"Every week it gets better… I don't think he will ever totally recover from this, but he will certainly be back to (doing) things in a few months."
"He's already working and doing tai chi. I'm very happy. It's a new life for him."
http://www.Facebook.com/PopWrapped
http://www.SoundCloud.com/PopWrapped
http://www.Twitter.com/PopWrapped
http://www.Instagram.com/PopWrapped
http://www.Pinterest.com/PopWrapped
http://www.YouTube.com/PopWrapped
http://www.PopWrapped.com