The multi-Tony-winning musical A Gentleman's Guide to Love & Murder, makes a stop at San Francisco's Golden Gate Theatre this month.  Gentleman's Guide is based on the 1907 novel by Ray Horniman that was adapted into the 1949 Alec Guinness film Kind Hearts And Coronets. 
The story, set at the turn of the century, follows a man of poverty, Monty Navarro (Kevin Massey), who discovers he is in line to inherit the family fortune along with the title of Earl. Monty comes up with an easy solution to collect his inheritance early: simply kill the eight D'Ysquiths ahead of him.
I got the chance to sit down with the lead himself, Kevin Massey, and get all the juicy details of the production.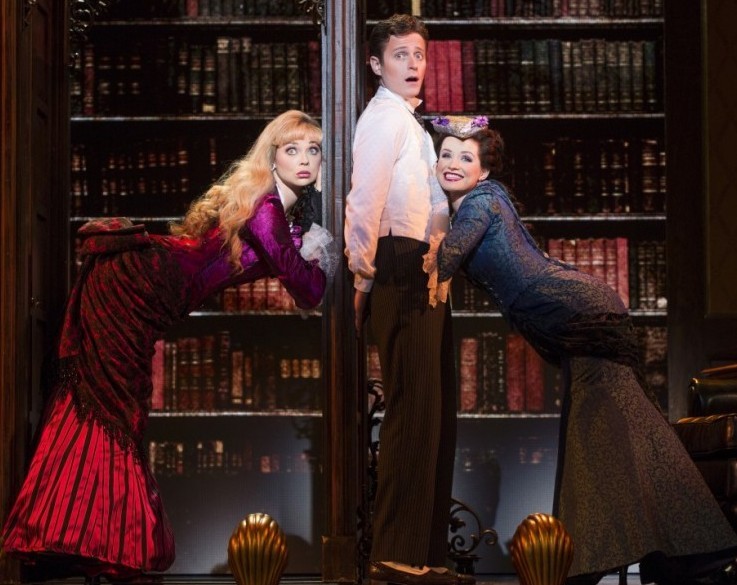 Photo Credit: JOAN MARCUS
Kevin Massey: Well it's a show about a young man named Monty Navarro, who I play, and at the very beginning of the play you find out he is a poor downtrodden man, but soon realizes he is in the line of succession to become an inheritor of a great fortune of a family called the D'Ysquiths and there are only 8 people ahead of them in the line. That seems like a small amount to him. And he also realizes that his mother and himself have been poorly treated by this family and his mother has just passed away at the very beginning of the show so that he really feels a sense of urgency in revenge in a way to get what is rightfully his. So he sets off to claim that and unfortunately, that means knocking off each of these relatives in front of him along the way.
PopWrapped: San Francisco is just one of many stops along the way for this tour of A Gentleman's Guide to Love & Murder, right?
KM: Sure, we rehearsed in New York for a week and tech's in Schenectady, New York and then we opened officially in Chicago. We had a great opening there for two weeks and there's no rhyme or reason of why we go to different places. We skipped down to Durham, North Carolina, we went to Tampa, Lincoln, Nebraska, Cleveland, Pittsburgh and then we're here (San Francisco) for four weeks which is fantastic, we love San Francisco.
I was a part of the Broadway company for about 7 months before I joined the touring company. I understudied the same role in New York. So when the opportunity came to actually play the role I thought it'd be worth it to take it around the country and be able to create my own Monty.
Kevin is not exactly new to the stage, however... 
KM: I've been performing as a professional for about 14 years now and in 2003 I had my first Broadway show. You don't consistently perform on Broadway, there is the one percent of the one percent of the one percent who are constantly working. But I've been really lucky to have a number of Broadway shows to my credit and to be able to work at home, what we call it, so it's really nice when you're able to do that.
PW: Of all the shows you've done so far, which has been your favorite?
KM: I'd say it's a tie between my current role, Monty and Huey in Memphis. They're very different shows. One is Rock n Roll, 50s, blues. The characters for me are very similar. They're constantly on stage and they really drive the plot. They're really fun and quirky and have their flaws. But you root for them. Both of them were completely exhausting roles but in the end you really felt like it was worth it. Those are definitely my two favorites.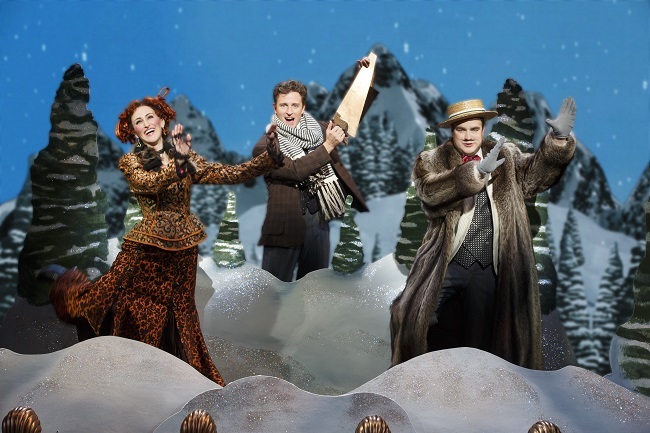 Photo Credit: JOAN MARCUS
PW: What would your dream role be?
KM: Well, you know, that's what cool about this business; sometimes you don't even know what those roles are because they haven't been written yet. That's what's great about doing new work; in some ways, I'm not sure what that role is going to be. Both Huey and Monty, the roles I mentioned, were not created in a show when I was growing up. But I can't imagine having not done them.
If I had to choose between a role that is already out there, I always think I'd like to do Tony in West Side Story. It's just a beautiful role to sing, a great journey, tragic of course. But a really beautiful show.
So for all the young writers out there remember, Kevin Massey is waiting for you to write that dream role!
A Gentleman's Guide to Love & Murder, plays through December 27th at San Francisco's legendary Golden Gate Theatre and then makes it's way to Minnesota.