Last month, I was lucky enough to sit down with comics writer Marguerite Bennett at SDCC. She is currently penning a bevy of titles -- namely, DC Comics' Bombshells: United and Batwoman -- and chatted about representation, reaching different audiences, and (perhaps quite timely given James Cameron's comments on Wonder Woman since then) how women can be powerful and sexy at the same time.
Marguerite Bennett
PopWrapped: First of all, thank you for taking time to chat with me.
Marguerite Bennett: No, my pleasure.
PW: I really want to thank you for the forefront of LGBT representation in your work.
MB: I'm on the shoulders of giants, like seriously.
PW: No, I think it's very important. And especially because you're writing a lot of characters that people are familiar with in different ways, and I really appreciate that.
MB: Oh, cheers.
PW: I wanted to briefly touch on Bombshells -- the next generation! -- and what it's like to work with different artists but still maintain the same sort of aesthetic, the same ethos because one of the things I really love about it is that the women are really sexy, they're powerful, but it's not an awkward gaze. You're not like *awrrr*. So, maintaining that kind of ethos…
MB: Absolutely. Yeah, that was one of the the major things and one of the major conceits. I was incredibly picky. I'm sure I gave my editors many grey hairs. I was so fussy about the depiction because the execution of the gaze that you mentioned can change anything. You know, the clothing inherently -- you know, you could have someone in a bikini and it looks powerful! But you could do a frigging upshot on the Mona Lisa and make it look somehow distasteful and fetishised. It really comes down -- the clothes I couldn't believe, in and of themselves, would be that much of a problem so much as the execution. We had these long conversations with anyone we brought on like, 'just so you know, this is the vibe we're going for…'
PW: Absolutely.
MB: And we wanted everyone on board to understand that this is the priority of the series. We want it to be just powerful women. I have maybe an unwarranted disdain for something to be 'empowered' as if someone -- another party -- came and deigned to give power to a humble woman who did not have it herself. Just say 'powerful'. Just 'powerful'!
PW: That definitely comes across, and, even as you see the artists change, they're still gorgeous, they're beautiful, they're sexy -- but it's not for anyone else's gaze.
MB: Absolutely.
PW: I wanted to ask about being on Patreon and how that changes the relationship you see with your consumers -- I don't know if you want to use the word 'consumers' -- your readers, your enjoyers.
MB: I'm actually in the middle of a huge overhaul of my Patreon right now. I'm trying to put a ton of prose up because prose is actually my background. Especially horror short stories!
PW: Oh really?!
MB: Yeah! So we're planning for a launch in August (because I've neglected it terribly), and I'm trying to get back in and get the rewards systems and bring in -- I have no artistic talent in terms of drawing, but I've done calligraphy for ages. My office is just papered with these things that -- less inspirational but motivational -- just things to keep in mind, things to help with my anxiety, things to help with depression, just reminders. I've illustrated them almost like an illuminated manuscript over the years because they've got all this minutiae, these miniatures all throughout. I don't know. I hope that people can print [them] out and enjoy at their will. So that's definitely something where I'd like to have a more intimate relationship with the readers who would also like that. So I can talk a little more one-on-one about process, about life, about insecurity, about artist endeavours. So we're aiming for August.
PW: Well, that's fantastic. As somebody with a background in anxiety, particularly, I find that incredible because I think the more people who we can look up to and say 'oh, I enjoy what they do and they're successful at it' and then say 'well, they're like me in some way' -- I think that's really cool for someone to understand.
MB: Uh-huh, and it's something I want to open up about and discuss at length with people who want to hear it, who are interested in it.
PW: Can you give us any tidbits about Bombshells coming up?
MB: Oh, yeah, sure! With the Bombshells relaunch -- it's a series called Bombshells: United, and the way that the first DC series had the 10-page chapters in installments, but we were with the same characters with different artists -- the new series is going to have one artist per arc, essentially, so it's going to be much more cohesive with that artist's style and aesthetic. One of the major theses is, since we essentially got this second chance at a #1, a second chance with this big relaunch, I really want to focus on this second chance to your own history. You know, like going back and the things that we did during the war or didn't do during the war, and what would you do differently? Knowing what you know now, knowing what you knew then, how do you redeem this idea of yourself? So we're revisiting a bunch of places where we bear this cultural shame, and, essentially, what could you have done differently? With the lessons of that failure, how do you carry that into the modern world? The whole idea of 'never again'. Never again. Never again is right now. And you are responsible for the world you live in and create. You cannot divorce yourself from the history that brought you here. That's the major thrust and momentum of the series.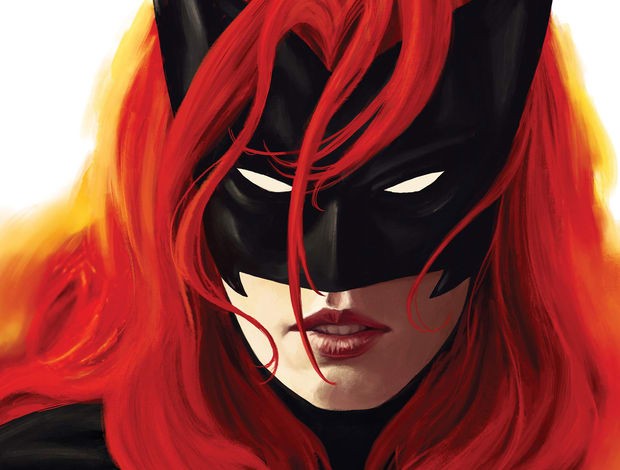 PW: Wow, yeah. Do you have anything you can give us about Batwoman because she's so fantastic?
MB: So, Batwoman! So Issues #1-4 took us through this lost year of Batwoman's past. Issue #5 is all the missing puzzle pieces of that arc. It's painted by Stephanie Hans, and it's this whole -- you know, the steamy, sinister, intriguing summer romance that she had during her blackout year. So #5 is a flashback, #6 is a flashforward, and the arc that begins on #7 is going to be a seven-issue arc that all focuses really hard on family and this sinister military history that she's got and these things she's tried to escape. The first thing was kind of coming to terms with how she had screwed up and understanding that she had to fix them. From there on out, it's sort of 'here's the fixing!' [laughs]
PW: Do you find it any different when you're writing a digital-first series, and how do you approach that differently if you do?
MB: Oh, goodness! I suppose a lot of comes down to the pacing. You know, with a digital-first, it's ten chapters; it's like every ten pages, you have to introduce the characters -- every comic is someone's first comic. In this case, every chapter is someone's first comic. With every single one, you have to introduce the characters, establish where they are -- it's a lot to do every 20 pages, but doing it every 10 is even harder, especially having a cliff-hanger every 10 pages! Having something to land on, having a splash, you know, all of these things. And with the splash pages, even just how it's divided and presented on the digital format. With the print, you have the 8x11 splash; with the digital, it's actually cut in half, so the splash is going to be smaller and horizontal. So even the structure of the scene and what I can ask for from the artist is going to change drastically.
PW: No nine panels!
MB: Yeah, exactly. I love growing the goldfish to the size of the bowl, though. Knowing what's expected and illustrating it accordingly.
PW: I did read it digital-first --
MB: Oh, wow!
PW: So when I picked it up on paper, it just felt different. It was a different beast in a way.
MB: Absolutely. And there are these understood delineations in digital chapters of like 'now we're going somewhere else. Now it's somewhere else', whereas, when it's put on paper, it's sort of like 'wait, we just sort of jumped characters! We just jumped locations!' It's very tricky knowing that it's going to occur in a digital format, then in a print issue, and then in a collected trade.
PW: And then maybe an oversized!
MB: I know! Absolutely! Gah, if only! If only!
You can keep up with Marguerite on Twitter. Bombshells: United and Batwoman are both out now.