Many know Mark Hamill for his portrayal of Luke Skywalker, the iconic role he embodied in the ongoing Star Wars saga. While that character is arguably what he will be remembered for, Hamill is a writer, producer, stage actor, and an incredibly talented voice actor. He has been a guest star on shows like The Simpsons and Family Guy, but his biggest voice acting break came in 1992 when he was cast as The Joker in Batman: The Animated Series.
Donald Trump will be sworn in as our 45th President this week. He has been famously using Twitter to express his thoughts, mostly with an aggressive tone, sparking much debate as to whether or not someone in the public eye should be influencing other users in such a way. Many comedians, entertainers, and everyday people criticize Trump for his predictable reactions to attacks of his character. Because he hasn't learned when to turn the other cheek, the perpetual firestorm of toxic tweets will continue until something changes. It's a rollercoaster and can be hard to keep up with its frequency. It's remarkable.
Hostile reactions aren't the only thing that happen, however. A lot of creativity has come from Trump's wild ride. For instance, there's the time that Billy West resurrected his Zapp Brannigan character from the hit show Futurama to recite Donald Trump's quotations. It was perfect in every way, and the parallels were spot-on. The #MakeAmericaBrannigan hashtag was also a nice touch.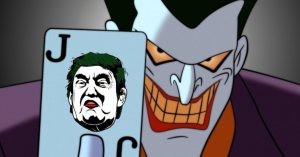 CBR.com
It seems evident that Trump's tweets might be better received from the mouth of a villain. After Trump's tweet welcoming 2017, an idea came from Puddin' creator and brother to comedian Patton Oswalt, Matt Oswalt; Matt made the suggestion that someone should develop an app where the user can input text from Trump's tweets, and it would be recited back in Mark Hamill's iconic Joker voice.
Upon hearing of this, Hamill replied, "As soon as I figure out how to tweet soundbites, I'd LOVE to. Nobody writes better super-villain dialogue than #Trumputin!"
Not long after agreeing to the idea, Hamill uploaded and posted the first audio track. The Joker reading Trump's New Year's Eve tweet is nothing short of chilling. Hamill followed up the first post with a second, which was Trump's counter-attack to Meryl Streep's Golden Globes speech. It seems to us that this is just getting started.
Listen to both soundbites below.
Oh, and Hamill couldn't let Trump's Martin Luther King, Jr. Day feud with Congressman John Lewis pass by without a mention:
We hope to see more of these, as the next four years are sure to inspire an abundance of satire.