Nicki Minaj and Meek Mill were an item. Even in 2009, their flirtations splayed across Twitter. In 2010, Meek Mill tweeted, "#MYGOALS 2 GET @NICKIMINAJ KNOCKED UP!!! LOL." At least he was honest, right? His confession flattered Nicki Minaj, but one man stood in their way.
As tension built between the musicians, her relationship with hip-hop guru, Safaree Samuels, staggered. In 2013, Meek Mill and Nicki Minaj recorded songs together. Their quality time lit a spark because she left her boyfriend the following year. In February 2015, she teased Vogue with a cliffhanger.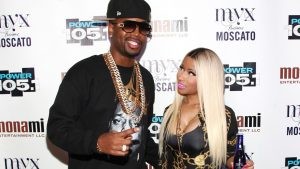 latimes.com
She expressed, "Sometimes we hang out, and when we hang out, we have fun. This is what I want to say about him [Meek Mill]: We've been friends for a very, very long time, and he's been around for a lot of things that I've gone through. And that's all I'll say about that."
As she played coy, Meek Mill publicized his romantic affairs. Capital Xtra reported, "The rapper announced to a 20,000-strong crowd that he managed to bag Nicki because he's from Philly!" They were an official couple. As months flew by, engagement rumors swirled around the lovebirds.
An Instagram photo of her hand showed followers her diamond ring. With all eyes fixed on the millionaires, gossip rang even louder. The rapper not only publicized his romance, but he publicized his animosity towards Drake. In response, the Canadian went straight to the studio. As he released several antagonistic tracks, hostility between the men heightened.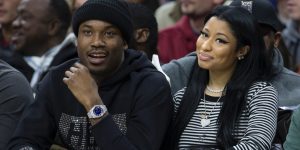 bet.com
As Drake's career flourished under the spotlight, Meek Mill's reputation nosedived. According to the online realm, his only win was his romance. As people celebrated 2017, Minaj surprised fans. She stated, "To confirm, yes I am single."
With Nicki Minaj at work, Drake, Meek Mill, and Safaree Samuels were caught in a contention. According to HotNewHipHop, "Meek Mill called out Drake to fight him for $5 million ... Now, Love & Hip Hop star Safaree is getting involved. In the same post, he commented, 'Drake don't got time but I do.'" They sounded excited for the challenge. Even though their former girlfriend kept quiet about the affair, she probably wanted to box Meek Mill, too.
This is a love triangle that most are unaware of, but an entertaining and dramatic one all the same.