Michael Bolton has a new album out, and, while it might be a great gift for Valentine's Day, its title leaves a lot to be desired. It really should be called, Michael Bolton Sings Some Oldies. Strictly speaking, there really is nothing wrong with the actual songs or performances on this album. Bolton sounds better than ever and as great as he ever did, but, as someone who loves movies and appreciates Andrea Bocelli's Cinema album and Barbra Streisand's The Movie Album among others in the same vein, Songs of Cinema just falls a little bit short, especially of its title.
There are a few songs on this album that are indeed featured in movies but did not originate in the films themselves, and that, unfortunately, makes a lot of this album not exactly "cinematic." It would've been nice to include "Go the Distance" from Disney's Hercules that Bolton recorded back in 1997, or some songs in recent years that were written for the screen like "Falling Slowly" from Once (2006) or "The Weary Kind" from Crazy Heart (2009), or something similar with wide acclaim in the not too distant past. Thankfully, he fit the staple film album songs, "Over the Rainbow," and "As Time Goes By," which, along with his duet with Dolly Parton on "I Will Always Love You," are definitely three highlights. His opening "When a Man Loves a Woman" sounds timeless, like he was meant to sing it (he previously recorded it on another album back in the '90s). However, he ends the album with a "Jack Sparrow (Ballad)," which is an interesting idea and nice attempt to find something modern, but it ultimately feels out of place when you could have replaced that ditty with something like, "Moon River," "The Way You Look Tonight," or later songs like "Pure Imagination" or even "Live and Let Die." "Jack Sparrow" works as a funny skit for its intention, but doesn't really belong on this album. The album overall just feels a little lackluster.
As a Michael Bolton fan and big time cinephile, I was quite disappointed. These are all great songs, so, if you know what you're getting into with some great and classic oldies, you'll be good to go. Just don't expect a large and wide range of great MOVIE songs.
Michael Bolton's latest album, Songs of Cinema, was released on February 10, 2017.
Track List: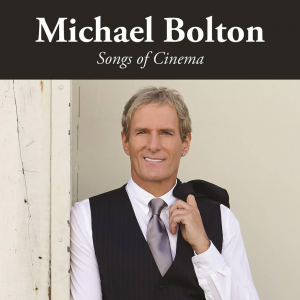 ew.com
When a Man Loves a Woman (2017 Version)
Stand by Me
I've Got a Woman
I Will Always Love You
Old Time Rock & Roll
Heard it Through the Grapevine
Cupid
Somewhere Over the Rainbow
As Time Goes By
Jack Sparrow (Ballad)