Just a few days ago on February 10, Michael Douglas posted on his Twitter account a photo of himself next to the original Ant-Man (2015) poster, confirming his return involvement in the upcoming sequel, Ant-Man and the Wasp (2018).
This is not really surprising news, as most fans and moviegoers were expecting this character to come back in the second film, but it does set us at ease to know that it is a sure thing and whet our appetites for more Ant-Man. Douglas was one of the best things about Ant-Man, and, like Robert Redford in Captain America: The Winter Soldier (2014), it's gratifying and exciting to know that we can nab some top talent, even for these not-as-highbrow "comic book" movies. It will be great to see Douglas back.
Plot details have not yet been revealed for the film; however, we know from the last film that Hope (Evangeline Lilly) will presumably take her mother's place and slip into the Wasp suit to partner with Ant-Man aka Scott Lang (Paul Rudd) in the next Earth-threatening calamity. With Wonder Woman (2017) coming this summer, Marvel could certainly use another female superhero, and Evangeline Lilly would be a much welcomed addition in that regard and without a doubt has the chops to pull it off with flying colors. Michael Douglas will return as her father and Ant-Man's mentor (and original Ant-Man!), Hank Pym. Peyton Reed is returning to the director's chair.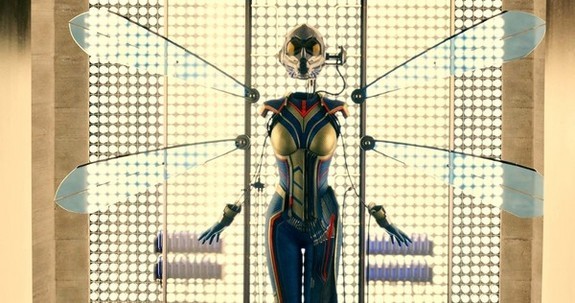 newsarama.com
Ant-Man was a refreshing, funny, and original superhero film that many people might not have been asking for, but it certainly earned its stripes and proved itself to fit in nicely in the Marvel Cinematic Universe. The last time we saw Ant-Man was no exception in his "smaller" role in Captain America: Civil War (2016). If the second film is anything like the first, we are sure to all be in for a treat.
Marvel's Ant-Man and the Wasp is the follow-up sequel to Ant-Man, and will see the returning cast of Paul Rudd and Evangeline Lilly in the title roles, respectively, as well as Michael Douglas and Michael Peña. It will hit theaters on July 6, 2018, sandwiched between Marvel's ambitious Avengers: Infinity War, due to release on May 4, 2018, and Captain Marvel, due to release on March 8, 2019.
What do you think of Michael Douglas' return? Are you excited for Ant-Man and the Wasp? Let us know in the comments below!