Already championed by the likes of Pigeons and Planes, Noisey and Wonderland among others, Mobley certainly knows how to set himself apart from many of his artistic counterparts. Blending hip-hop, soul and electronic rock, his new EP Some Other Country is rightly earning him plaudits from fans and critics alike. With a nationwide tour announced for July and August, he kindly took time out of his busy schedule to chat influences, social media and playing on the International Space Station.
PW: Which bands and artists did you grow up listening to and how did they influence you? Have such influences changed over the years?
Mobley: I cast a pretty wide net in my musical tastes and I've drawn influence from so many great artists - musicians or otherwise - but I'd hesitate to even mention anyone for fear it might sound like I'm comparing myself to them. Besides, I want listeners to experience my music with fresh ears and open minds whenever possible.
PW: When did you first realise you wanted to be a performer? Was there an album you listened to or concert you attended that made you think 'yeah, I want to do that'?
M: It happened gradually, so that by the time I realized that it was what I felt compelled to do, this part of my life was already taking shape. It started when I was about 19, though.
PW: Tell me about your EP Some Other Country. How would you sum it up?
M: The title is a reference to feeling as though the country I hear described and even sometimes observe from a distance is different from the one I live in. The themes of the songs revolve around that feeling and the things that contribute to it.
PW: Do you have a favourite track on the collection and if so, which is it and why?
M: Honestly, I couldn't choose.
PW: How easy/hard do you find the song-writing process and who/what most inspires you?
M: Song-writing to me feels compulsory. Some song idea or melody will occur to me. Then I usually just shut myself in my studio with instruments and recording equipment, hunting for the sounds and concepts I want until I capture them or they elude me. Sometimes it's the easiest thing in the world and sometimes it feels impossible.
PW: Which song, in your opinion, is the greatest ever written and why?
M: "Song of Songs". Solomon had game. 
PW: What's been your favourite live performance to date?
M: It's impossible to choose, but performing for a sold-out crowd at the Local 506 in Chapel Hill, North Carolina, my college town where I started out as a performer was born, certainly stands out.
PW: If you could play one venue anywhere in the world, which would it be and why?
M: I guess it depends on how one defines "the world", but playing the International Space Station would be pretty cool. 
PW: If you could share a stage with four other bands or artists, who can be living or dead, who would they be and why?
M: Nikki Giovanni, Langston Hughes, James Baldwin, and Jean-Michel Basquiat…and I'd like Madam C. J. Walker to emcee. 
PW: What are your touring/performance plans for the rest of the year? Will fans see you at any festivals or are you focussing more on headline shows?
M: I've got a nationwide tour coming up in July and August that will take me all over the United States. You can find all those tour dates at mobleywho.com.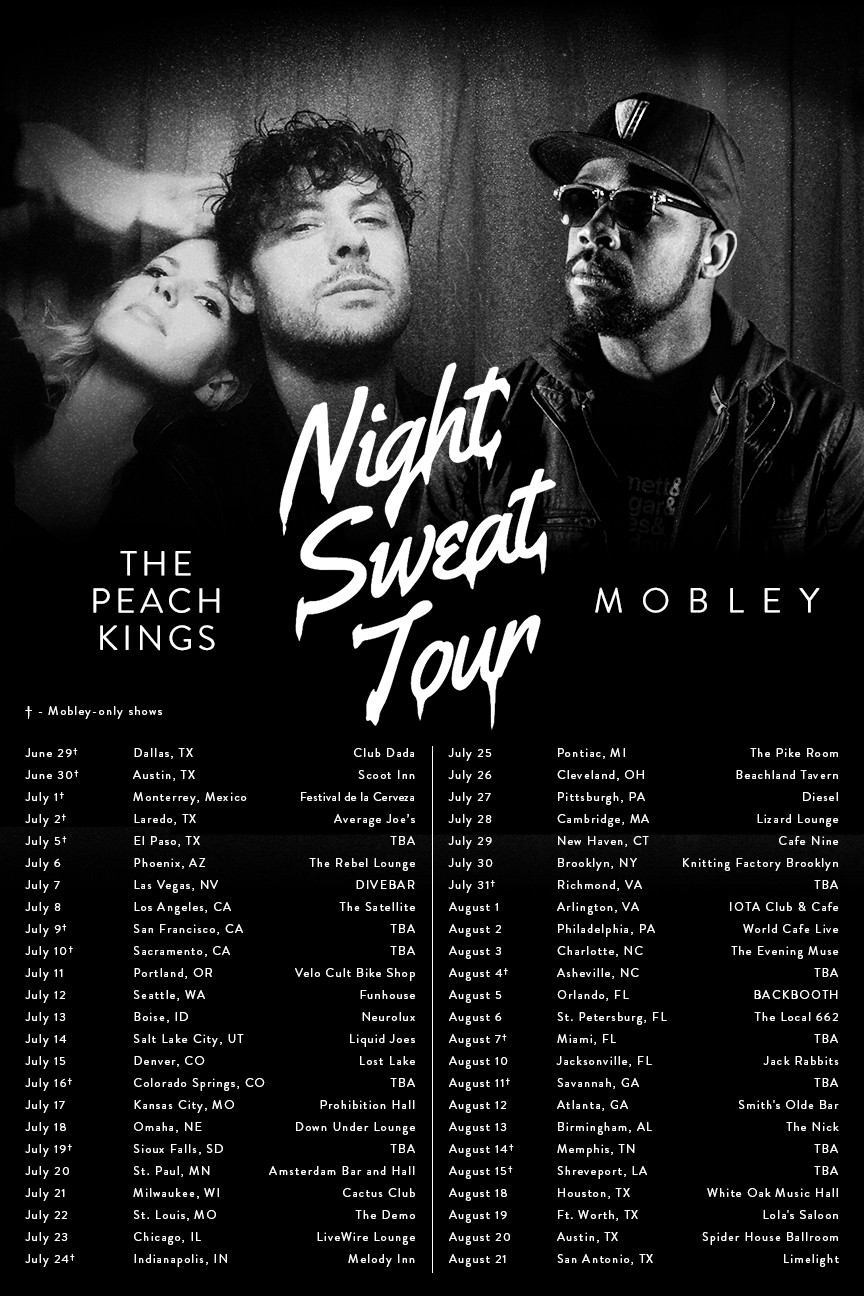 ei-pr
PW: Are there any plans for you to head overseas and play in Europe?
M: Nothing concrete, but it's certainly a priority of mine. As a child, I lived in both Spain and England, so I'm eager for a homecoming of sorts. Those early experiences were very formative.
PW: What are your thoughts on social media and do you agree that it's necessary for bands and artists today?
M: As an artist, it certainly feels that way. I have anxieties about a number of aspects of social media: privacy concerns; data mining and manipulation; the ways that social media can, paradoxically, make us more insular and isolated. I'm not sure I agree that it's strictly necessary, but, as an independent artist, I do feel almost coerced into participating. 
PW: What does the rest of the year have in store for you?
M: Most immediately, I've got a two-month nationwide tour coming up in July and August. After that, I'm planning to spend some time in Virginia and North Carolina writing and working with people trying to counter voter suppression. 
PW: Finally then, where would you like to see yourselves five years from now and what would you like your lasting musical legacy to be?
M: Earth-years?
For more information on Mobley, like his page on Facebook or follow him on Twitter. His EP Some Other Country is available now on itunes.