Okja is, ultimately, the story of a girl and her best friend, complete with a secret language, games, and adventures. The girl, Mija (Seo-Hyun Ahn), would like to keep things that way. Unfortunately, there was exposition to her story which she did not create and a denouement that she cannot accept, so the meat of the story unfolds as rough-and-tumble as her incredible journey to regain to her separate peace. Writer-director Bong Joon Ho (Snowpiercer, The Host) and co-writer Jon Ronson wisely trust Mija to follow her heart as openly, recklessly, and tenaciously as any superhero in tights, determined to save her best friend.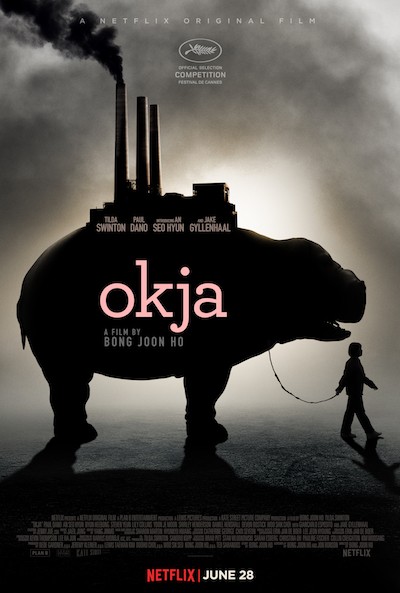 Okja's Natural Selection
Okja's story begins with a gilded cover, belying the molded pages within. She was created in a lab in Arizona by a corporation desperate to rebrand itself into a biotech firm in order to remove the stain of past atrocities (including napalm production). Mirando Corporation, now Mirando Biotech, has a new spokesperson: Lucy Mirando (Tilda Swinton), as icily pale and blonde as she is chirpy to the point of sugar-shock. She acknowledges the bad reputation of her family, including an ousted twin sister, and assures investors at a whiz-bang presentation that Mirando is moving forward and upward towards a cleaner, brighter, more productive future with their new product: the super pig. She claims the first super pig was discovered on a Chilean farm and was brought to the US for reproduction; "eco-friendly," "non-GMO," and "natural" are displayed in a slideshow that also features a humble farmer who sure does look friendly out in nature. From that first pig, twenty-six are bred and shipped all over the globe to be bred by farmers in a manner "unique to their respective cultures." This animal will be the answer to hunger in an overpopulated world; this product will consume less, excrete less, and "taste fucking good." After ten years, there will be a competition and celebration in New York City for the Best Super Pig, at which time it will be revealed to the world.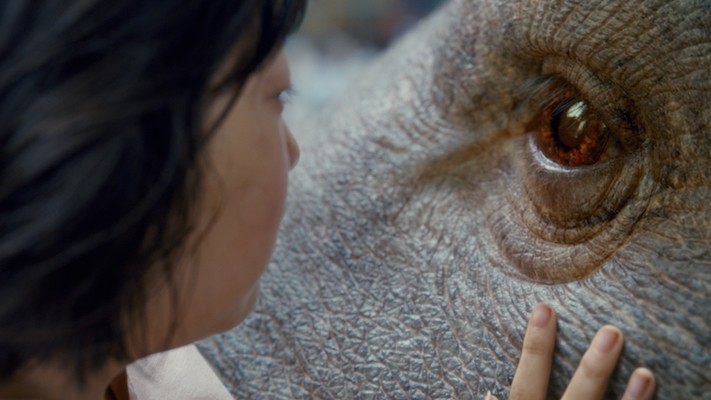 Mija's story begins high in the mountains of South Korea where she lives with her grandfather (Hee-Bong Byun), far removed from Western Civilization and yet not isolated thanks to a television set. While the older man tends to the household duties, Mija and Okja are free to explore the mountainside, gather food, and play together. The visual effects team and animation department created an amazing creature in Okja as her eyes reveal her emotions and responses to familiar people as well as strangers, and the attention to detail in both a belly flop into a natural spring down to the tiniest swish of her tail makes her more intelligent and responsive. Okja and Mija have a bond of trust and friendship deep enough to risk their lives to save the other. In an early scene, Mija tumbles town a steep, rocky slope attached to Okja only by a rope and the animal, knowing it cannot back itself up the hill, uses a dead tree trunk protruding off the cliff as a fulcrum to pull the girl up to safety even as it falls through the trees below to the forest floor. If you were dubious as to the animal's intelligence before, it is obvious now.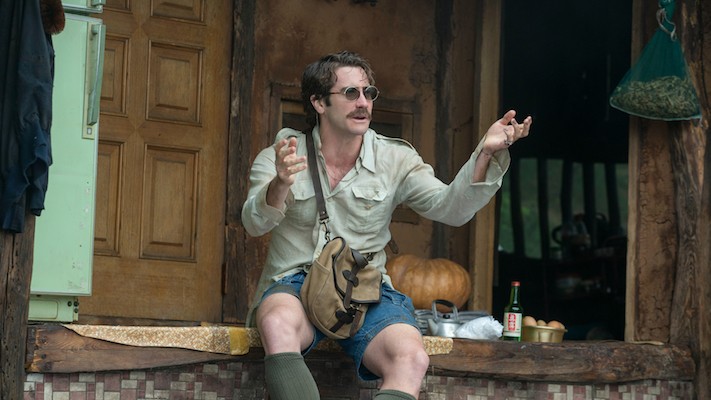 Okja is Worth the Weight
It has been ten years since Okja was sent to live on the mountain, and one day the outside world climbs breathlessly into paradise and turns pet back into product. Representatives of Mirando's Korean branch arrive, parched and exhausted after trudging up the mountainside, check on the animal's progress and crashing through the ceremony like a bull in a china shop is Jake Gyllenhaal as the wacky television personality Dr. Johnny Wilcox, a bizarre cross between Bill Nye the Science Guy, Jack Hanna, and Weird Al Yankovic on cocaine. Okja has apparently won the award for Best Super Pig in a faraway contest by invisible judges, and Mija gets a ceremonial sash to wear for photos and video footage. The grandfather soon pulls her away from the clearing to the family cemetery where he tells her the truth: he led Mija to believe he had paid Mirando for the animal, but really he used their savings to buy a small pig statue of pure gold for her future wedding present. The realization that Okja has been taken grips the girl in a dizzying mixture of fear and anger as she refuses the gift and races down the mountain towards the paved road.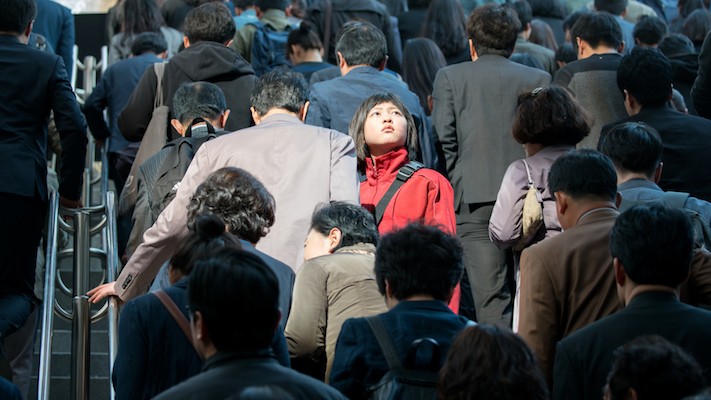 The dazzling cinematography of Darius Khondji often follows the girl from an aerial or top shot, looking down on her daunting quest against the elements and later, civilization. Mija cannot catch the truck transporting her friend and so she rushes home to get money (including a last-second grab of the gold pig) as her grandfather begs her to stay and reveals the fate of such animals. The physicality required of such a young actor is amazing to behold as Seo-Hyun Ahn transforms Mija into an unshakeable force, determined to rescue Okja without a thought to her own safety. As she bounds a train for Seoul and marches up to Mirando's locked lobby, she is polite only out of innocence, asking for her pet and, when ignored she backed up and threw her body, full-force, at the plexiglass double doors causing them to shatter from the vibrations.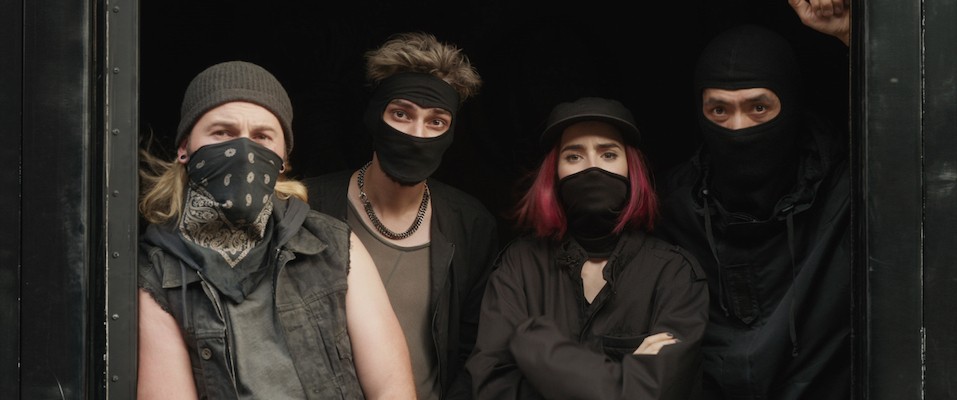 The Product and the Populace
So the chase is compounded: authorities are after Mija who is after Okja, who has been loaded onto and restrained in a delivery truck bound for the United States. In a heart-pounding sequence, Mija clambers onto the roof of the truck as it charges through highway tunnels (seriously, this girl is awesome), only to have a group of revolutionaries called the Animal Liberation Front (ALF) hijack the vehicle. Led by Jay (Paul Dano), and including K (Steven Yeun), Red (Lily Collins), Silver (Devon Bostick), and Blond (Daniel Henshall), they help Mija get Okja free but with the police and Mirando security closing in, the only escape is through an underground market where a two-ton pig leaves an expected trail of damage. Through it all, you can sense the animal's terror as it sheds blood and tears trying to escape the labyrinth of clothes and toys and sports equipment. In one of several dementedly funny touches, John Denver's "Annie's Song" plays as ALF shield Mija and Okja from rubber bullets with rainbow-colored umbrellas.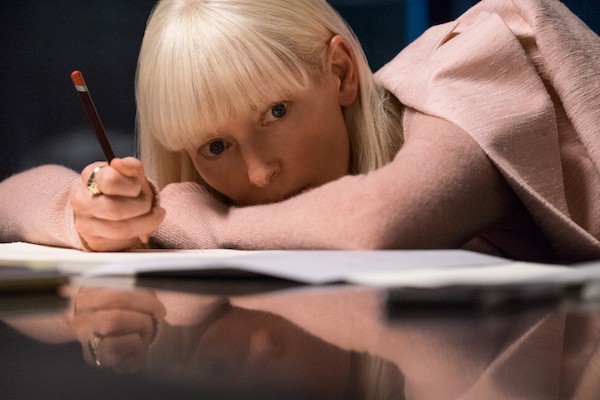 As Lily slowly unravels back in New York and her team of advisers, led by Giancarlo Esposito with the deceptively silky voice, steer the damage control on the public, Mija is passed around as vigilante, criminal, and finally "promotional device" and avatar of Mirando Biotech's new future as food producer for the masses. Jay and ALF want to use both the girl and the pig as bait to gain exposure for their movement as much as Lucy sees in Mija all the vicarious fortitude and drive that she inherently lacks. In a horrible scene, Okja is taken into the chamber of horrors, Mirando's slaughterhouse in New Jersey, as Dr. Wilcox - now displaying more insane depravity than goofy humor - forces her to mate with a grotesquely deformed hog named Alphonso while the members of ALF helplessly watch the camera footage.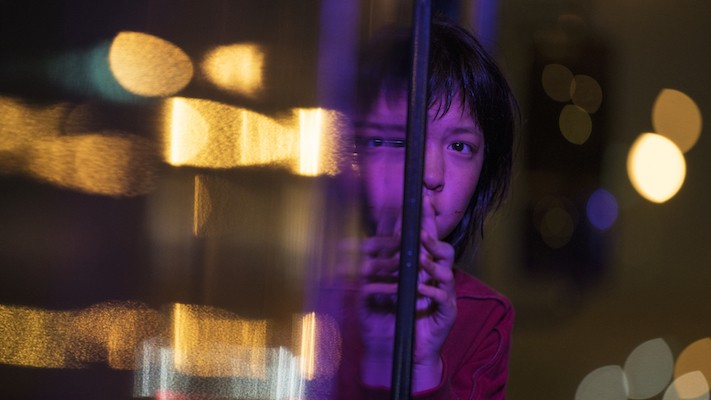 On the day of Okja's unveiling as the Super Pig Winner, the crowd is bated with jerky party favors and pig hats before a stage showing Hollywood-level corporate films touting the future of the company. The Tim Burton surreality of the grand unveiling was akin to the Joker's public introduction in Batman (1989), thus I was already expecting a villain to pop out of a giant box or come shooting out of a cannon. When the evil twin, Nancy Mirando (also Swinton) shows up from London, you know she thrives in the chaos that threatens to drown her sister.
Cutthroat and merciless, Nancy is the perfect catalyst, infusing the corporate machine with the rocket fuel it needs to put the super pig into production. Her story began a decade prior, in the far shadows, as Lucy played the good girl leading the company's reversal of fortune. All the marketing strategies and guarantees of "non-GMO" and "natural" reminded me of the pitch that Chris Farley and David Spade made to the auto-parts retailer in Tommy Boy (1997): a guarantee slapped on the box that's holding a piece of shit. What Nancy knows over Lucy is how to convince the public to trust what's in the box without opening it. "If it's cheap, they'll eat it," she insists. And with a million super pigs headed for the abattoir, who's to stop progress?
Final Thoughts On Okja
As Mija has her final showdown with the leviathan amidst the labyrinth of the slaughterhouse, so Bong Joon Ho shows the sad irony of Okja's story compared to the million other super pigs trapped in the pens outside. Will a victory be almost pyrrhic in nature as the girl and her friend return to paradise far above the decaying world? Who's to stop them?