Carrie Fisher is not going to be digitally recreated for upcoming films in the Star Wars franchise.
This is according to Lucasfilm, which addressed rumors and speculations after the untimely death of the iconic star.
"We don't normally respond to fan or press speculation, but there is a rumor circulating that we would like to address. We want to assure our fans that Lucasfilm has no plans to digitally recreate Carrie Fisher's performance as Princess or General Leia Organa," read the statement the company posted on StarWars.com.
Then they added, "Carrie Fisher was, is, and always will be a part of the Lucasfilm family. She was our princess, our general, and more importantly, our friend. We are still hurting from her loss. We cherish her memory and legacy as Princess Leia, and will always strive to honor everything she gave to Star Wars."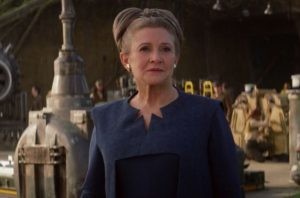 Lucasfilm
A younger version of Carrie Fisher was digitally recreated for the recently released Rogue One: A Star Wars Story. Another actor, Peter Cushing, who portrayed Grand Moff Tarkin in the first film in the franchise, A New Hope, was also digitally recreated. But, unlike Fisher, at the start of production, Cushing had already passed away nearly two decades before in 1994.
With these two examples in mind, many fans have thrown around the theory that Princess Leia may return as a CGI character after the upcoming Star Wars: Episode VIII.
Fisher had already finished shooting her scenes for Episode VIII, and this may very well serve as her last live-action appearance in the franchise.
I'm not sure if Lucasfilm's plan not to digitally recreate her is good news. It is not yet clear how the film series will handle her character's storyline after this since Princess or General Leia is such a beloved character that fans may not wish to see her dead after Han Solo's demise in The Force Awakens. Maybe they'll retire her? What do you think?