On the third night of New York Comic Con, fans of AMC series The Walking Dead made their way to The Theater at Madison Square Garden for an exclusive inside look at what is to come for season 8. PopWrapped was there as Talking Dead host Chris Hardwick lead the panel, comprised of Andrew Lincoln, Norman Reedus, Jeffrey Dean Morgan, Lauren Cohan, Melissa McBride, Lennie James, Tom Payne, Katelyn Nacon, and Austin Amelio.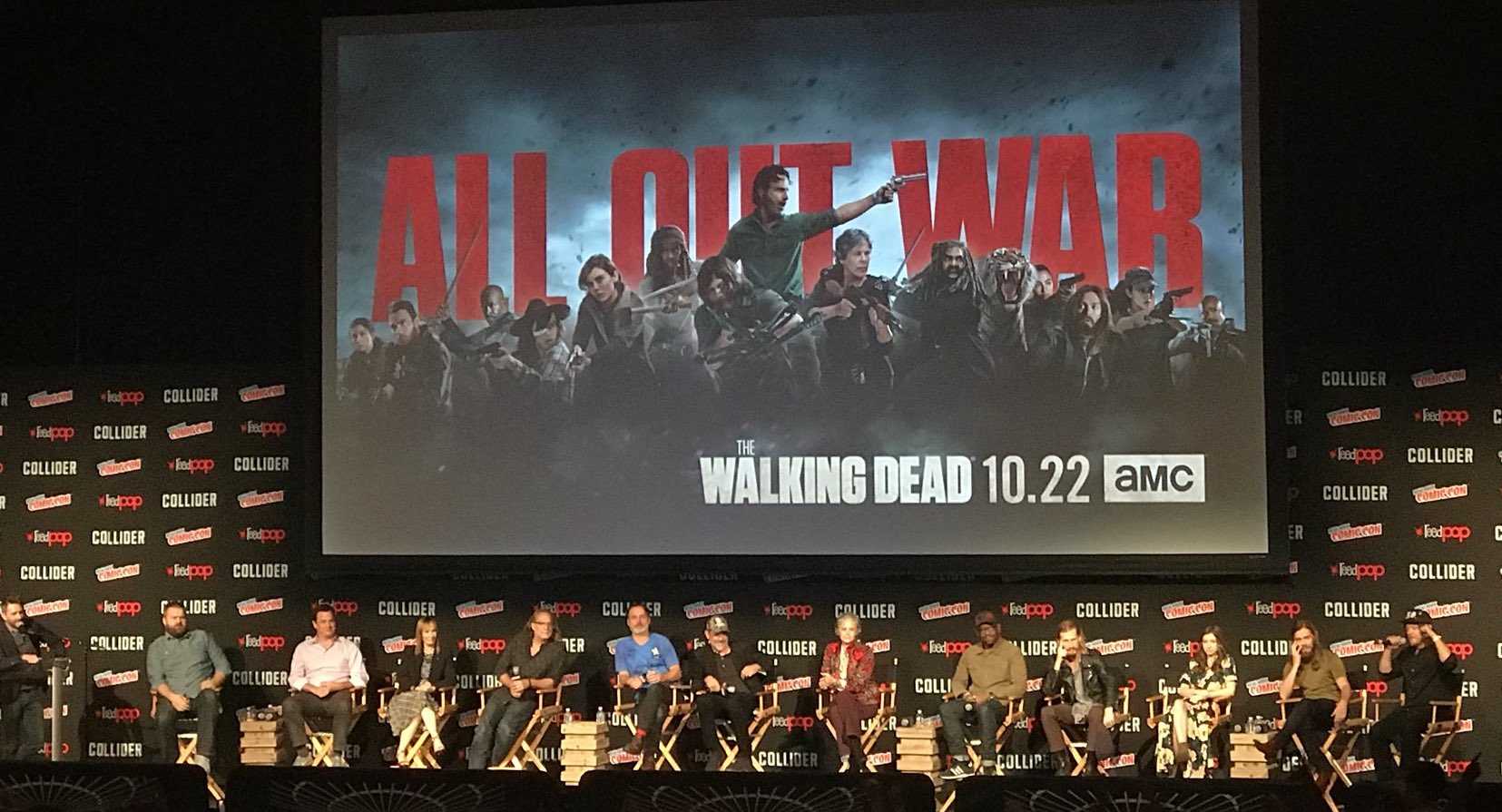 The anticipation since the release of the trailer earlier this year has reached a fever pitch, and there is also another cause to celebrate for the show's creators and fans alike, as the season 8 premiere is also the series' 100th episode.
The crowd was warmed up, and then it happened. The Walking Dead co-creator Robert Kirkman confirmed what some have long speculated the possibility of happening: The Walking Dead and Fear the Walking Dead will cross over at some juncture!
The Walking Dead And Fear The Walking Dead Will Crossover
This is real. #crossover #TWD #FearTWD pic.twitter.com/Kr8RwOfkZq

— The Walking Dead AMC (@WalkingDead_AMC) October 8, 2017
Fans erupted with joy inside of Madison Square Garden as Kirkman elaborated, "I think we've finally gotten to a place with Fear the Walking Dead where it has its own identity. There is one character that is going to go from one show and appear in the other show."
More clues and information were shared with the audience about this exciting revelation as Kirkman mused, "Are we going to see a Walking Dead character's backstory play out in Fear the Walking Dead, or are we going to see a Fear the Walking Dead character show up in The Walking Dead? What could happen? Or is it going to be different from that?"
These are all very important questions and this very idea has only added to the building hype and spawned more questions than answers. We'll have to see how it all plays out.
The panel wasn't complete without an exclusivee sneak peek clip from the upcoming season to whet the appetite of fans inside the walls of Madison Square Garden. Check out the clip below:
Will Rick Step Down As Leader?
During the press conference portion of The Walking Dead at NYCC, the question of Rick's sincerity regarding stepping down as a leader was posed.
Andrew Lincoln replied, "He's not a politician. He's a general. He's a sheriff's deputy. That's where he comes from. That's his DNA. One of his strengths as a leader is that he listens to people. He kind of takes counsel. He usually ignores it, but he does listen to people and sometimes that's why they've gotten through some of the difficult situations they've been through. Now, Maggie, she's different. Deanna spotted her as a future political leader, somebody that could run things. She's industrious… she's loyal, respected, principled, and I think Rick is very much… he just wants it done. And then people can take over… I do think he wants peace. He wants peace, he wants the future. He had a taste of it, and then this Goddamned Negan guy showed up…I hate Negan. I love Jeffrey, but I hate Negan… But yeah, I think he can. And I think he's willing to. He's not duplicitous. He means it when he says things. That's one of the great things about him… he's a true man. He's a maniac, don't get me wrong, but he means it."
Be sure to watch The Walking Dead Season 8 premiere on October 22 at 9 p.m. on AMC.