Legendary actress Olivia de Havilland—who recently turned 101!—has had it with FX. The two-time Academy Award winner is suing the network over her portrayal in the hit miniseries Feud: Bette and Joan. De Havilland's lawsuit was filed against FX Networks and Ryan Murphy Productions.
According to the suit, "FX defendants misappropriated Olivia de Havilland's name, likeness, and identity without her permission and used them falsely in order to exploit their own commercial interests." It also notes, "Olivia de Havilland has made efforts, spent time and money, protecting her well-defined public image as one who does not engage in gossip and other unkind, ill-mannered behavior."
The FX mini-series, starring Jessica Lange as Joan Crawford and Susan Sarandon as Bette Davis, aired this spring and chronicled the longtime professional and personal rivalry between Crawford and Davis. Catherine Zeta-Jones played de Havilland, who is portrayed in the show as a friend and confidante of Davis. In one notable scene, she talks to Davis about her own feud-filled relationship with her "bitch sister" (the also legendary actress Joan Fontaine). And she appears alone in other scenes, speaking to a reporter years later about the troubles between Davis and Crawford.
Though no statement has yet been released by FX or Ryan Murphy, Murphy told The Hollywood Reporter earlier this year that he did not contact de Havilland out of a desire to not be intrusive.
Olivia de Havilland: An Icon from the Golden Age
Though she left Hollywood and moved to Paris in the 1950s, Olivia de Havilland's prowess and impact as an actress has endured. It was a little film in 1939 that catapulted de Havilland into film history: Gone with the Wind. Her portrayal of the kind and caring Melanie Hamilton earned de Havilland her first Oscar nomination.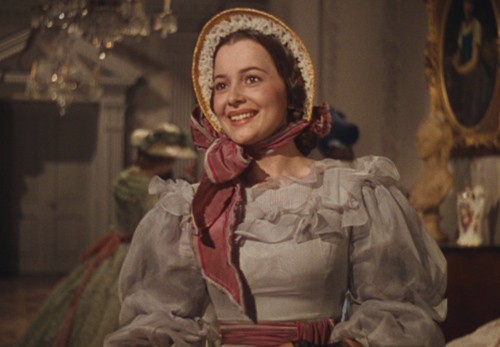 De Havilland flexed her legal muscle as a star in 1943, when she sued Warner Bros. over an extension they added to her contract. The resulting "de Havilland Law" is widely seen as having gotten the ball rolling in the eventual dismantling of the Hollywood studio contract system, giving power back to the stars. She suffered a few-years-long "blacklist" as a result but worked her way back in the late 1940s. She won two Academy Awards for Best Actress that decade (for 1946's To Each His Own and 1949's The Heiress).
As de Havilland takes her latest case to court, it's clear the centenarian and living legend is starting her newest decade by taking a stand.