How.......is that even possible? When
John Stamos announced on Jimmy Kimmel
that Netflix had indeed picked up a revival series for the classic "Full House", we all began wondering how many of the original cast would be back. We all know Candace Cameron Bure, Andrea Barber and Jodie Sweetin will be leading the 13 episode series titled "Fuller House", but who else would return? John confirmed many of the stars including himself were in negotiations (Bob Saget, Dave Coulier, Lori Loughlin) and even said the Olsen twins were as well. That's news to Mary-Kate and Ashley!! The twins were asked about the revival
during an interview
with 'Women's Wear Daily' when they dropped the bombshell that up until John announced the revival.... THEY HAD NO IDEA!!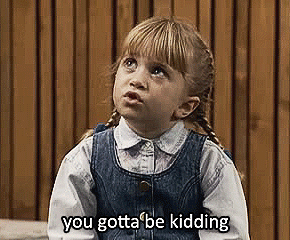 Giphy
They said, individually, during the interview: MK -
"I guess we're going to talk to the creators and see what's happening,"  
"I'm shocked I haven't heard from John [Stamos]."
Ashley added:
 "I ran into Bob [Saget] the other day and we didn't even talk about it,"
"I'm going to call [Saget] and get his perspective." 
Let's be real.
What Lori said to 'Access Hollywood'
is right, they don't NEED to do this. Out of the entire cast, they're the ones who are set for life because of the royalties from the show, their movies, and their fashion line. But, if EVERYONE else will be back.... We NEED Michelle Tanner!!!
Keep Up With PopWrapped On The Web!