"Mountains melted, seas drained, cities tumbled. In spite of
this, the Earthmen had felt a silent guilt at putting new names to these ancient hills and valleys.
Nevertheless, man lives by symbol and label. The names were given."
- Ray Bradbury, "The Naming of Names," 1949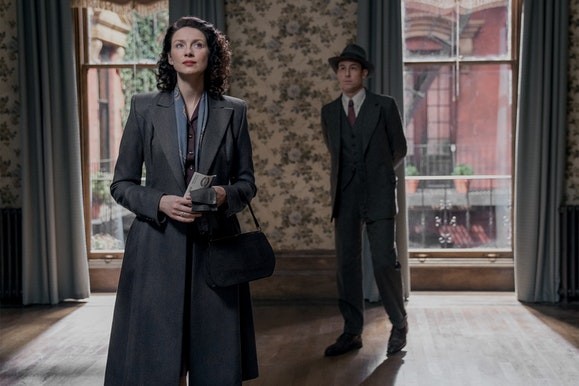 In the opening moments of Outlander's third season, all appears lost for the Highland people on the battlefield at Culloden; one tragic survivor, James Fraser (Sam Heughan), spends hours lying trapped amidst the charred remains of a dream and a cause, trying to fight the realness that his senses detect: that life is continuing despite the nightmare, and that his time has not yet stopped. An ocean and two centuries away, Claire Randall Fraser Randall (?) walks throughout the hallways and rooms of a new house that hopefully will become a "real home" for her, her husband, Frank (Tobias Menzies), and the child growing inside her that Frank agreed to raise together as their own. "It certainly is real," she admits while standing almost dwarfed by the empty spaces and shelves, representing future years of accumulated possessions and pictures, books and awards and children's artwork. As Jamie sees his world crumble around him and his identity slowly stripped away, so Claire is faced with the daunting task of an emptiness that needs to be filled at least for the sake of the child if not her own progress. Throughout the ensuing episodes, we see this and other dualities meticulously and beautifully portrayed as Jamie and Claire struggle to live without each other, and yet are never without each other's presence, whether by influence or memory, in nature or amongst society, in the taste of a snowflake or the anxious hesitancy of physical contact. To be haunted by one's own missing piece tempers both the blessings and burdens of their years apart, and this season strikes a brilliant balance for both leads as both objects and agents of change.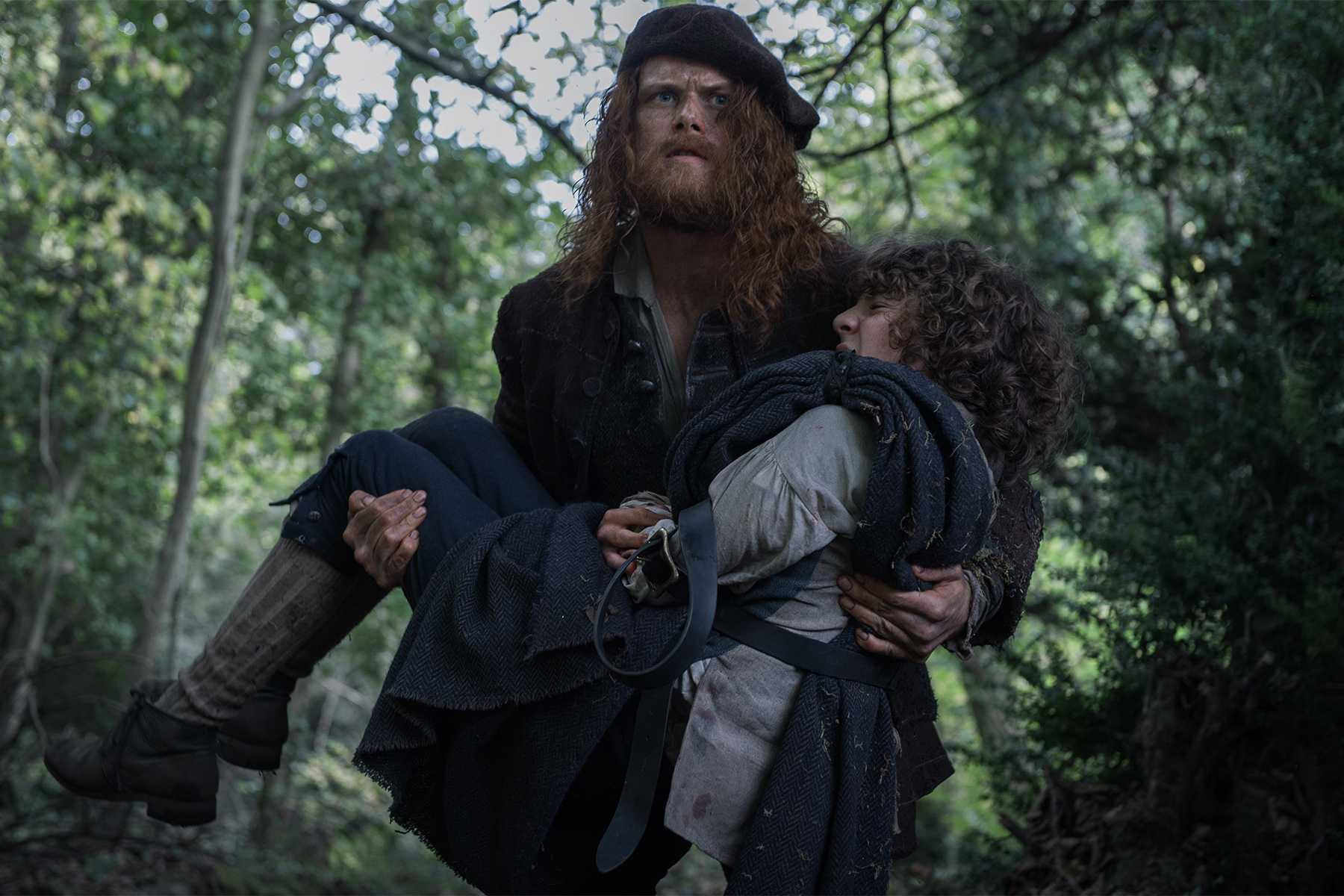 Never is this balance more explicit than in the names applied to both Jamie and Claire, through choice, custom, rumor, prejudice, fable, or force; as more characters are introduced, we see their own struggles with symbol and label that are racist, miscast, or restrictive. Patriot, hero, traitor, or "Jacobite scum" could all be attributed to the same individual depending on who is describing him. In one instance, Jamie is called a "filthy wretch" and "illustrious prisoner" in a matter of seconds by a man who suddenly realizes that he has before him not only "Red Jamie from the broadsheets" but also James Alexander Malcolm MacKenzie Fraser who saved his brother's life. It is the latter which spares his life, but the former relegates him to a prison without walls as he must go into hiding from Redcoat patrols as Scotland and its people are converted into chattel of the British Empire. Still, the labels applied to Jamie grow in romanticism and renown as his very isolation becomes legend as the Dunbonnet, even as the real figure is a hollow shell.
Claire also clashes with the power structures of her husband's colleagues and other faculty at Harvard, with societal expectations of her roles as wife and mother, with the outlook of other wives, and with the general condescension towards her progress as a woman, academic, and surgeon. Men often talk over her, addressing Frank instead, and react to her assertiveness at social functions with a mix of patronizing amusement and underlying fear at such boldness. This is where Claire and Frank begin to disconnect after their initial agreement at Brianna's birth: Claire becomes more proactive as Frank is increasingly reactive. Frank balks at the American preference for "new new new," while Claire sees the possibility, after all her trauma and heartbreak, of a fresh start, where she won't be reminded of the life she left every time she turns around. If she has to give up the past as one of Frank's conditions, all the better to start from zero. When she suggests applying for American citizenship, Frank is shocked and offended, listing the names representing the country he fought for: Stuarts, Plantagenets, Tudors. Watch Claire's face at this argument: she has met kings and princes and has seen the real men behind the songs and history books. In an excellent transition revealing the weight against which she must struggle, Claire prepares for an important social engagement with Frank's department head, sitting at her modern dressing table flanked by matching lamps and identical windows, and yet she is relegated to "look(ing) pretty for the boss," while the next establishing shot is of the stately, ornate Gothic architecture of the Harvard lounge in which Claire experiences, literally and figuratively, the entrenched system of belief of the administration. Her defiance is in moving forward, in taking agency over her own identity and labels - mother, wife, surgeon - even as the scholars she is supposed to learn from sneer at progress.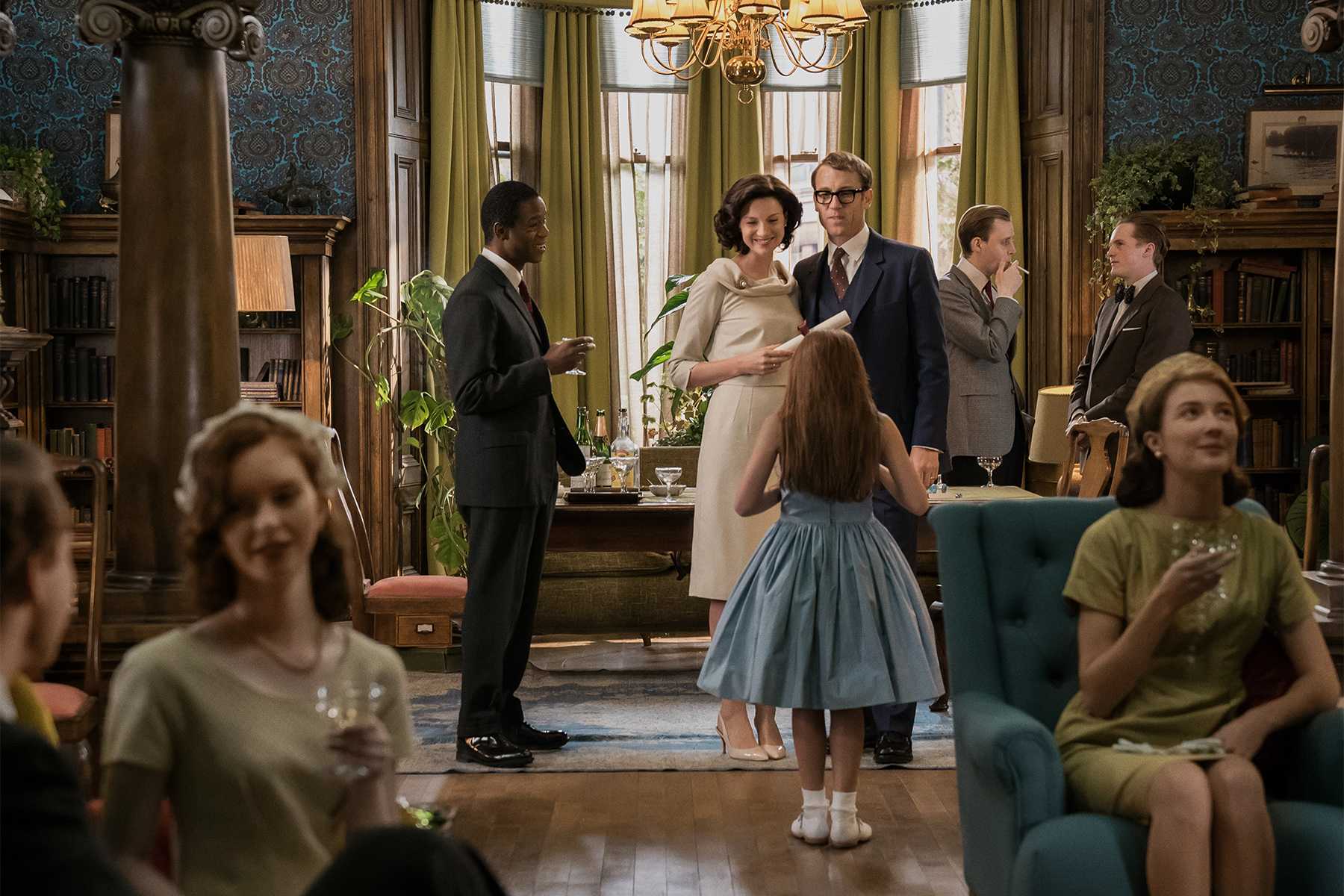 In a singular move on behalf of the showrunner, producers, and writing team, Claire and Jamie reverse gender expectations and, in doing so, make their individual journeys more viscerally felt, while the actions and reactions of the actors, Caitriona Balfe and Sam Heughan, are more powerfully noticed. Caitriona's season-three Claire, in her structured suits, fitted sweaters, and straight-leg pants, is a cross between Patricia Neal and Jackie O: poised, confident, polished, and self-assured. To survive without Jamie, Claire develops an inner core of icy steel that is externalized by a focused intensity on her work, which consumes more and more of her time as Brianna grows older. She is not neglectful of her child but most of the nurturing is done by Frank, as he and Brianna undoubtedly bond over feeling like secondary (or tertiary) facets of Claire's life.
There is a key scene, which I consider one of Balfe's best of the season so far, in which Claire could have feigned an apology, declared her love, and asked for forgiveness, but she doesn't. It wouldn't be true and it wouldn't be real, but her response is no less heart-wrenching and indicative of how meticulously she constructed her core to protect her broken heart. It insulated her as a means of focusing on an area of her life about which she could be truly compassionate, engaged, and dedicated. Furthermore, I love that she isn't perfect as a parent and spouse (neither is Frank), that her decisions affected those around her for better or worse, and that she acknowledged a distance between adult Brianna and herself and was willing to mend that. Balfe's continues to exquisitely evolve her character in that Claire's determination had created a sort of tunnel vision in which the fissures peeking through the forced smiles and outward stability of her marriage (which she stayed in to create a stable environment for Brianna that she never had) were visible to everyone else but her; even Frank tells his wife, "You're not as good an actress as you think you are."
Tobias Menzies as Frank Randall is so blisteringly powerful that, for whatever indiscretions he may have had or not had throughout his marriage to Claire, you can never deny that sour lump in the pit of your throat that an essentially good man got the short end of the stick. He wants to connect with the core of his wife, physically and emotionally, to have her return to the "old Claire," but he can never manage to do so. He is shadowboxing a ghost. Plus, he is living with a wife that did not come back for him but rather the wellbeing of her child. Evoking a mix of Gregory Peck in The Man in the Gray Flannel Suit and a John le Carré antihero, he remains enigmatic in his pursuits (Frank's lines are subtly sneaky) but clearly devoted to his work and daughter. I think Frank may have been happier had Claire adhered to tenets of domesticity similar to Judy Syfers Brady's 1972 essay "I Want a Wife," but while he didn't prevent her from pursuing her career, he didn't exactly celebrate it. He wants Claire inasmuch as what she represents to him, only he doesn't know the heart of her protected within that core.
But Jamie knows.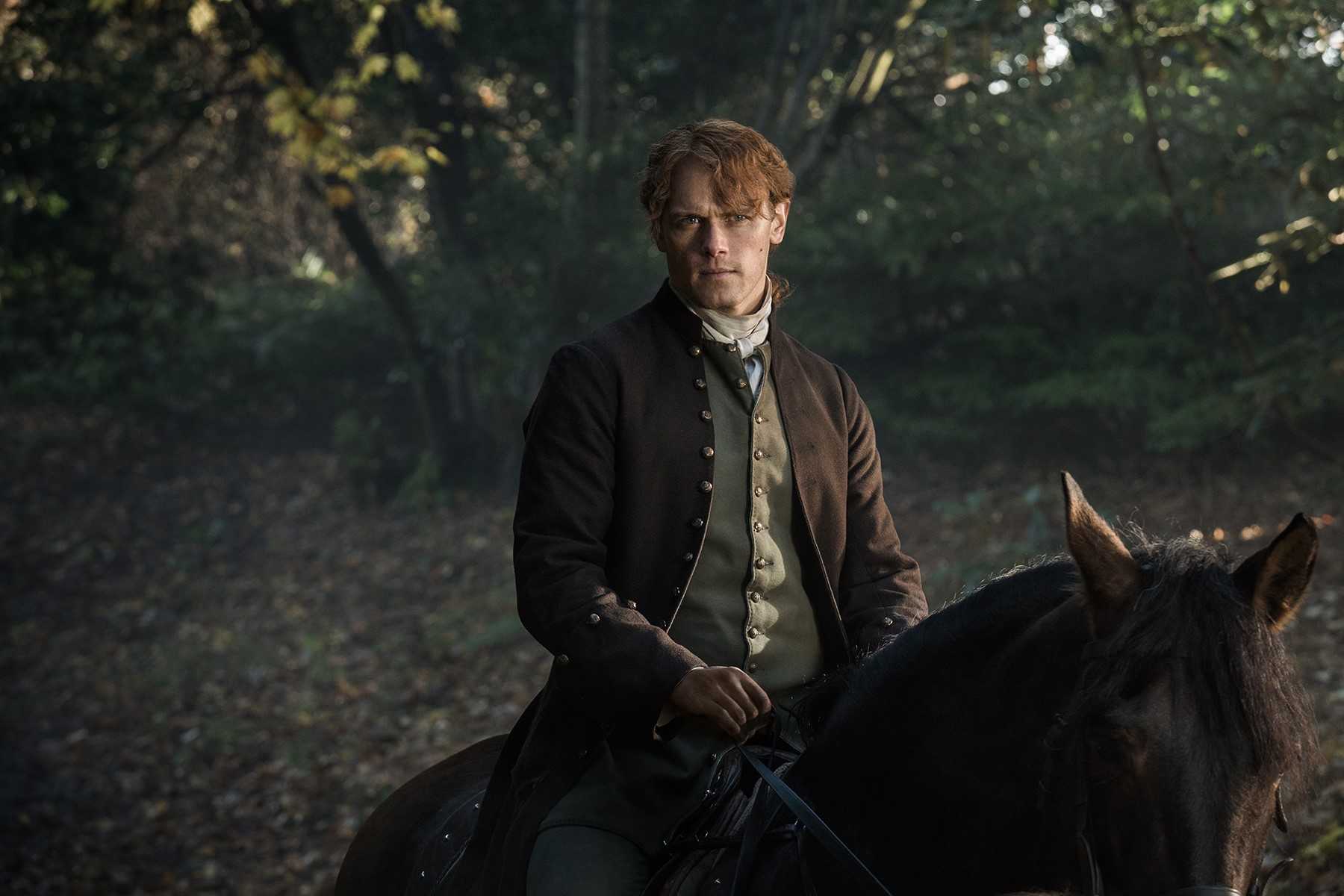 While Balfe and Menzies are fantastic in their respective roles as a woman no longer at home in her original time and a man ill-fitted for his domestic space, this is definitely Sam Heughan's season. For all the names attributed to Jamie Fraser, one that should have been added was Job, and Heughan is heartbreaking as a man stripped of everything that outwardly defined him, who counters his wife's steely resolve with an almost hypersensitive depth of feeling, and suffers for it. Jamie's innate ability as a leader "knows nothing of rank or riverbank," and while he often commands respect from Highlander and Redcoat alike, the isolation he must endure is almost crippling at times. From his first scene in episode one, Heughan plays Jamie as unable to ignore or escape from the sensory overload on the battlefield, and in his years enduring the humiliations and oppression of the British occupation, he uses this acuity to care and speak for others. It is important to note that while Claire is often seen in the frigid interiors of her Boston house, Jamie is often lit by candlelight and Heughan's height and presence make the rooms he is in feel more intimate. Pair that with the scenes where his character is often at the mercies of those who hold power over his situation: there is a measured intensity in his gaze and the twitch of his jaw, whether stooping down to speak to a child or playing chess with the warden of his prison, that belies the internal fire that inevitably attracts people to him (out of need, opportunity, attraction, and/or understanding). Some names have objectified him; of others, he has taken command. He realizes the advantage of pseudonyms and legends, some which will live on and others which may be "lost to history," as Brianna's history professor says.
In a way, Jamie is as alien to his own time as Claire is to hers: he returns from the battlefield to a home that is no longer his, a culture steadily being eradicated, a sensationalized notoriety he did nothing to propel which puts his family at risk, and the loss of the one person who made him feel whole. Both he and Claire seem to be immersed in the simulacrum of their past worlds: he moving from one physical or virtual cage to another, she constructing an elaborate facade of domesticity. Ultimately, Jamie turns the names attributed to him to his advantage, reassuming his agency and "putting a weapon back into [his] hands." Similarly, Claire's unique position of balancing on the tenuous membrane between worlds, of retaining all the knowledge and experiences gained in the former to her advantage in the latter, have afforded her both the insight and burden of seeing the circuitry that comprise whatever society she is in and rewiring it to fit her desire to be "part of something greater than myself."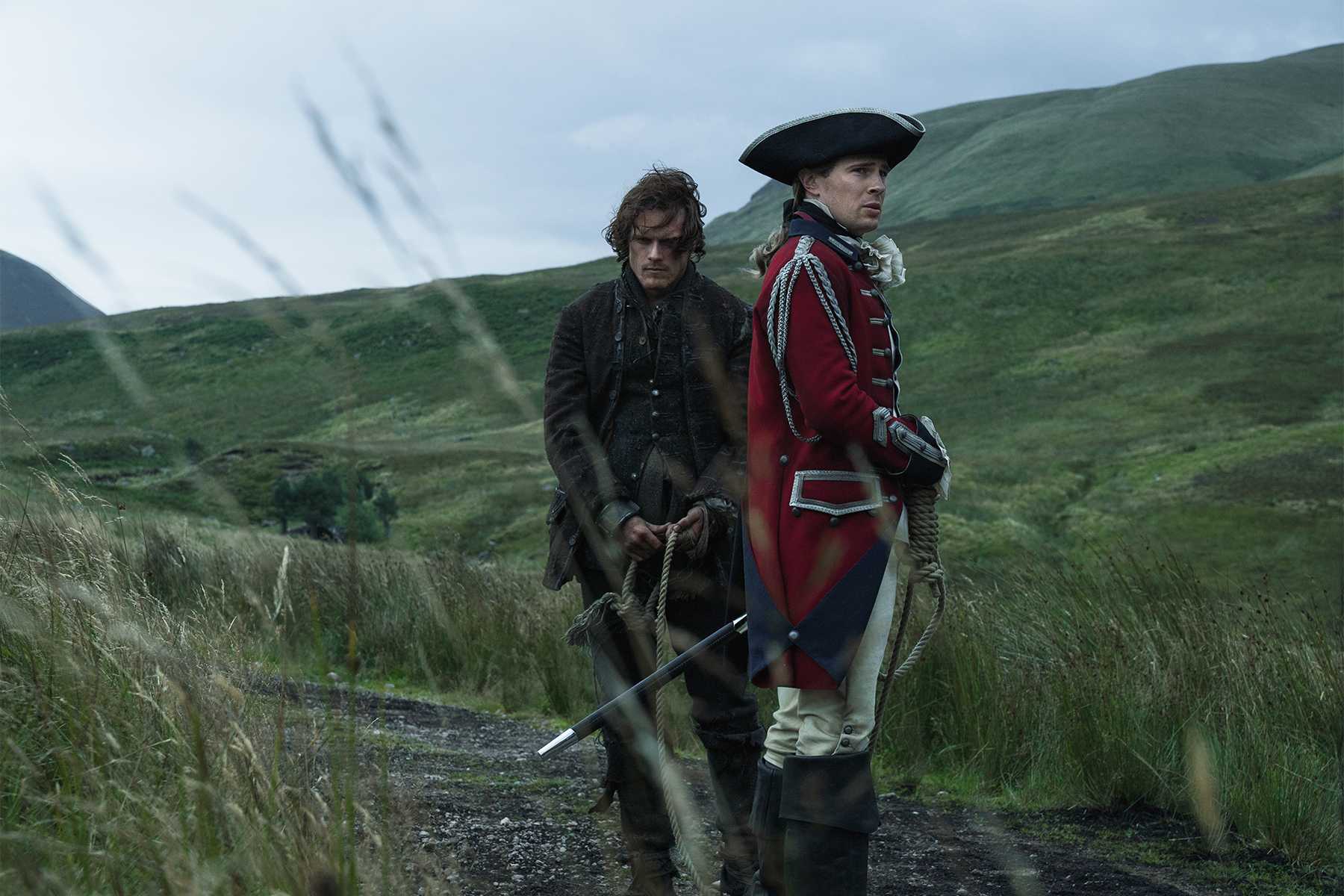 Fortunately, each gains a critical friend during their years apart, a person who recognizes and shares their designation as The Other, either by gender, race, sexuality, or character. Claire bonds with Joe Abernathy (Wil Johnson), whom she first meets at medical school and later works with at the hospital. As Claire was the only woman in her surgical cohort, so Joe was the only African-American, and his struggle is deeper and met with more systemic hostility than hers. When Jamie finds himself in Ardsmuir Prison, he becomes an unofficial spokesman for the prisoners to the new warden: a young, handsome, capable man named John William Grey (David Berry) whom he had encountered years earlier. Like Jamie, Grey must also exist in a cage (albeit an invisible one) which prevents him from loving openly and living fully, and while he cuts a tragic figure whose love goes unrequited, he and Jamie share an honesty and trust that understands sacrifice.
What of the reunion then? Some may ask why isn't it right away, and the years apart told later in flashbacks? To that I will suggest watching the opening scene of "The Reckoning" (S1, E9), in which Jamie narrates, "Every day, every man has a choice between right and wrong, between love and hate, sometimes between life and death, and the sum of those choices becomes your life." As Jamie and Claire each made the other a better person and encouraged his or her best qualities, the influence of each other is felt in the way they treat other people, the way they grieve and love and rebel and fight. There is no name for that presence, as it is what they feel when they are together that can't be explained. That's why those twenty years are not lost years: all the choices they made have led them back to each other.
"For so many years," he said, "for so long, I have been so many things, so many different men...(I) was Uncle to Jenny's children, and Brother to her and Ian. 'Milord' to Fergus, and 'Sir' to my tenants. 'Mac Dubh' to the men of Ardsmuir and 'MacKenzie' to the other servants at Helwater. 'Malcolm the printer,' then, and 'Jamie Roy' at the docks." The hand stroked my hair, slowly, with a whispering sound like the wind outside. "But here," he said, so softly I could barely hear him, "here in the dark, with you...I have no name."
- Diana Gabaldon, Voyager, Chapter 37: "What's in a Name"