By now, every Harry Potter fan knows what Hogwarts house they belong in. Most also know what their wand is made of. And it's all thanks to Pottermore, the official Harry Potter site. But fans have long-time speculated what their patronus was, ever since Professor Lupin taught Harry about them in the third book, The Prisoner Of Azkaban. Harry's patronus is a stag, after his father. Snape's was a doe, after his love for Lily. But not all patronuses are symbolic. Hermione's was an otter, Ron's was a Jack Russell Terrier, and Dumbledore's was a phoenix. They usually do match up to its owner though in terms of personality, and Lupin did tell Harry that each person's patronus is different.
What is a patronus? It's, essentially, a spell that takes the form of an animal. They can be conjured by thinking happy thoughts and yelling "Expecto Patronum!" A patronus is used to get rid of dementors, which are dark soul-sucking flying demons.
This morning, Potterheads were gifted a new Pottermore quiz: the patronus quiz. To take it, users have to log in or make an account. But, while the sorting quiz asks you questions, the patronus quiz gets you to click on a series of adjectives that best describe you. This is JK Rowling's algorithm, and what JK Rowling says goes.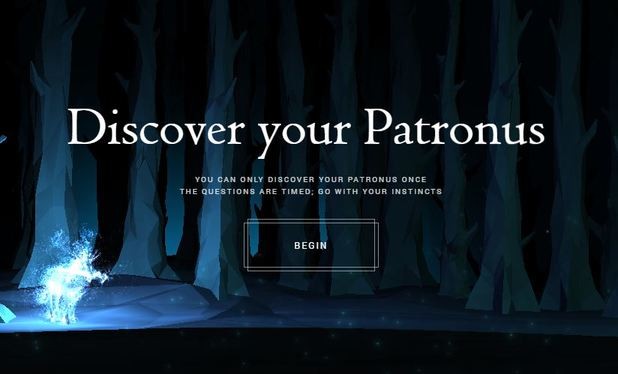 gamezone.com
Most people got fairly average animals, but JK Rowling did say on Twitter that there are a few mythical creatures, and they're rare. How cool would it be to get a dragon?
Yes, but they're rare! So far I've seen one hippogriff, one occamy and a unicorn... https://t.co/70e1PHjJiJ

— J.K. Rowling (@jk_rowling) September 22, 2016
I got a dolphin, which is cool as they're very smart and sweet, but I always saw my patronus as a cat.
The patronus quiz takes about three minutes and doesn't involve a lot of thinking, so it's pretty easy and fun! You can take it by going here.
Let us know in the comments what your patronus is!