As an admitted theater geek, I rarely admit to people - especially other theater geeks - that is rarely used to admit to people that I had never seen Andrew Lloyd Weber's The Phantom of the Opera. The longest running Broadway show has, in its almost 30 year run, become one of the most talked about, most familiar and most beloved musicals of the last century. Or so I had gathered, because up until this week I had never seen it.
And now I can truly see why it is all of those things and so much more. I was able to catch one of the first performances of the current touring production of Phantom during its 6-week engagement via SHN through October 4th at the Orpheum Theater. I can say without a doubt that the hype that always surrounds this show does not even begin to do it justice.
For those unfamiliar with the story, "The Phantom of the Opera" is set in late 19th century Paris and follows singer Christine Daae (Katie Travis), a promising young opera singer who has won the affections of the titular character (The Voice's Chris Mann) after he privately tutors her to sing. When Christine is reunited with her childhood love, Raoul, heartbreak and trouble ensue.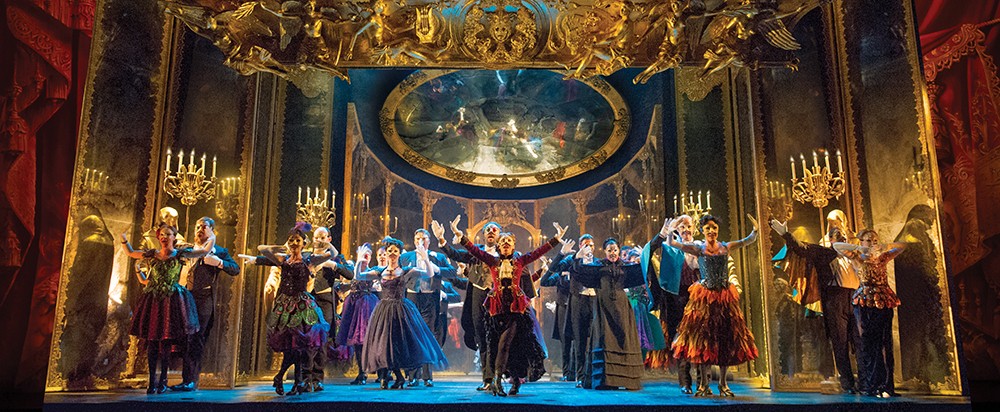 Courtesy of shnsf.com
Set designer Paul Brown creates a haunting yet enchanting atmosphere on stage that's leaves you captivated from the opening moments to the very end. The special effects and pyrotechnics in the show left me jumping in my seats more than once. The costumes were brilliant. This is no surprise since the show is using the same costume patterns (most of which have been used in almost every production of the musical) that theater designer Maria Bjornson created for the original West End debut of Phantom. Why mess with perfection?
The design and costumes were of course brought to life by stellar performances from the ensemble cast and orchestra, and spine-chilling performances from Katie Travis (Christine Daae), Chris Mann (The Phantom) and Storm Lineberger (Raoul).
If you are in Northern California, you can see Phantom of the Opera through October 4th at San Francisco's Orpheum Theater. From there the tour will continue criss-crossing North America late into 2016 – find a date near you on the website. This production truly offers the ultimate theater experience and is not to be missed.