"No matter what anybody tells you, words and ideas can change the world."  - Dead Poets society.
And Robin Williams, with all his words and ideas and imagination, certainly changed our world for the better. This week marked one year since he left us, so I could think of no better theme for this week's Pop Art than a tribute to that great man. Goooooood morning, Pop Arters.
 "You treat a disease, you win, you lose. You treat a person, I guarantee you, you'll win, no matter what the outcome."
Picolo-Kun is a wonderful traditional artist, and this Patch Adams piece is so simple and effective. Beautiful.
 "I'm history. No I'm mythology! I don't care what I am! I'm free!"
Daniel Mead has a frankly adorable style. It's nice to see the Genie looking slightly different from the standard Disney look and that little half smile is TOO CUTE.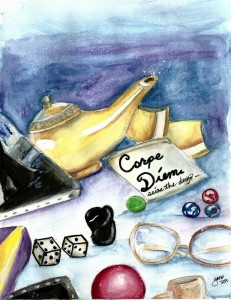 Plushie Beauty has done something a little different, but equally moving. This tribute to the great man features lots of different items related to his greatest roles. See how many you recognise.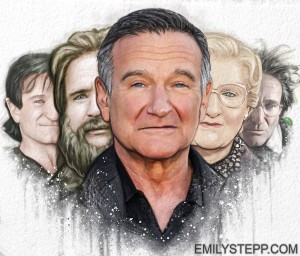 Emily Stepp manages to combine five versions of the great man, in a stunning digital portrait. I remember seeing this a few days after the news and it is still  one of the few pieces of art that has ever made me teary.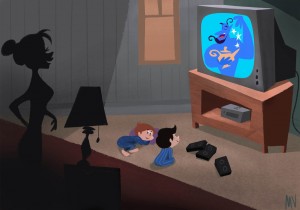 Vinnie-Nine takes a different approach to his characters, by showing how they appear to his audience. It's stunning.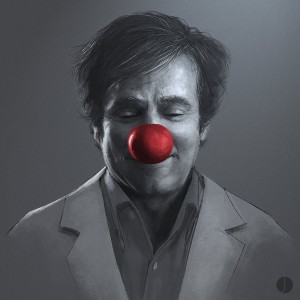 John Aslarona completes our Robin Williams week, with this brilliant portrait of Patch Adams. The solitary flash of colour and the expression makes this a very effective and emotional piece.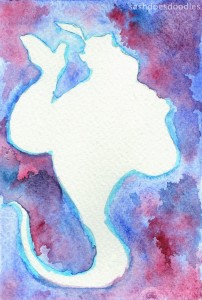 My piece this week is a loose, emotional, watercolour. The Genie may be gone forever but the impression he left...that will never leave us.
Don't forget to keep up with PopWrapped for all the latest news and pay all the artists a visit - they'll like that!