As Mother's Day approaches, Pope Francis is speaking out about his disappointment with the name choice for the recent bomb dropped by the U.S. Air Force. Officially titled the GBU-43 Massive Ordnance Air Blast (MOAB), the nickname "Mother Of All Bombs" was widely used in the press as this bomb is the largest of its kind, weighing 21,600 pounds.
Last month, the "Mother of All Bombs" was dropped on ISIS fighters in Afghanistan. Reportedly 94 fighters were killed in the April 14th attack, which was the first time the bomb had been deployed. What makes this bomb the "Mother," though? Most bombs need fuel and an oxidizer. The fuel is needed for the explosion and an oxidizer keeps the fuel burning. The MOAB is different and basically sets the air in the atmosphere on fire. The bomb does not require an oxidizer, instead it can use the oxygen in the air to detonate because it is a thermobaric weapon. Being thermobaric means the bomb is a higher temperature; the name is derived from the Greek, meaning "heat" and "pressure." What this all means is that the explosion is bigger, as a usual bomb carries 250 kg of explosives. The MOAB carries 8,000 kg.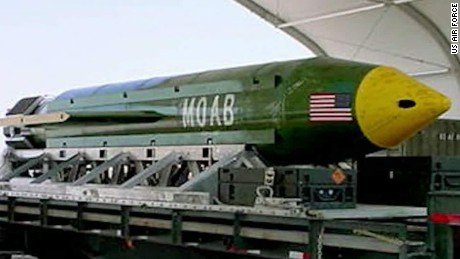 Pope Francis addressed a large group of students last Saturday at the Vatican, saying he "was ashamed when [he] heard the name." The bomb is the biggest non-nuclear weapon the United States possess, which prompted the nickname. Pope Francis, however, does not see the connection, as he said, "A mother gives life and this one gives death, and we call this device a mother. What is happening?"

President Trump and Pope Francis are set to meet on May 24th at the Vatican for what should be an interesting exchange after they have clashed on topics such as climate change, immigration laws, and refugees.