The United States wasn't the only country going through political turmoil this past week. According to a report by Reuters, Former Gambian president Yahya Jammeh had declared a state of emergency in the country following an election that was won by his opponent, Adama Barrow, last month and took his petition of the election results to the Gambian Supreme Court. Despite this, President Barrow was officially sworn in as the third president of Gambia on January 19, 2017, and former president Jammeh has since been exiled, according to the BBC.
Jammeh had been the second President of The Republic of Gambia since 1994 (Gambia won their independence from the British Empire in 1965). Over the course of Jammeh's presidency, his government gained a reputation for torturing and killing perceived opponents. In 2015, he declared that the country was an Islamic Republic.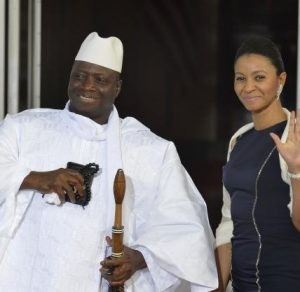 UPI
Pro-democracy activists throughout the African continent were thrilled to hear of Jammeh's defeat in the election, but his refusal to give up power launched a national crisis. Other African countries such as Nigeria were prepared to use military force to remove Jammeh from office until his eventual acceptance of exile to the country of Equatorial Guinea.
Despite allegations of abuse of power by regional bodies, Jammeh was not without his fans. According to the BBC, he arrived at a Gambian airport, where he was met by "a large convoy of vehicles and throngs of cheering supporters." The BBC also noted that many people were visibly emotional, even crying as a result of his exit. Still, others in Gambia are heralding the end of a perceived dictatorship, where few human rights and no freedom of speech existed.
In the wake of Jammeh's exile, new Gambian president Adama Barrow has promised to return Gambia to its membership of the Commonwealth of Nations and the jurisdiction of the International Criminal Court, according to the BBC and The Washington Post. Barrow also claimed during his campaign that he would set up a temporary transition government formed of members from the opposition coalition and would step down within three years.
After once claiming that he would rule Gambia for "a billion years," Yahya Jammeh became the first Gambian president to peacefully give up presidential power, stating that he would stand down and that it was "not necessary that a single drop of blood be shed."