What is going to happen? Michael and his crew are on the run from the most dangerous men in Yemen. The city is collapsing, and it seems like there is no way to escape. But if we know anything about Lincoln and Michael, they make the impossible possible.
Michael needs to figure out a way out and realizes that they are going to get out by improvising. Lincoln has an idea that might work, finding Sheba's guy, Omar -- the only downfall is he can't be trusted.
Back in the US, for our assassin friends, A & W and Van Gogh, bail has been posted. We feel tension starting to arise as one got out before the other. Could there be a wedge being driven between the two of them? When they get into their car, they discover that Michael has killed Abu. They believe that they were to be allies and have no idea why Michael or Kaniel Outis would want to harm Ramal. Our assassins now have another name to cross off of their list.
Kaniel Outis.
Michael and his friends find Omar. His escape route is to take an old smuggling route through 300 miles of desert, named Phaecia. Omar says that there in no room in his car, but, if they go get him another car around the corner, that he would let them follow.
We smell trouble.
Omar gives him the keys, and the men are off. Only Whip has to stay back and babysit Omar while the rest of them get this car. When they get there, the battery is not dead. Omar set them up, and the terrorist group is waiting there for them. Omar whacks Whip on the back of the head. This escape is not going to be as easy as they thought it could potentially be.
Omar still has a sense of decency, and he merely ties up Whip and does not harm him. Luckily, the men get back in time and are able to catch Omar before he leaves. They all start on their trip together. Omar and Whip get to ride together considering Whip's skill set.
Plot twist: we find out that one of our hit men, A&W, worked at the NSA. She joined Poseidon to do what she believes to be "good." It turns out that our lady assassin friend has another friend at the NSA. Our bad guys gain access to a drone to watch Kaniel Outis. It also turns out that Van Gogh has a direct phone number to the terrorists in Yemen and tells them where to find Kaniel Outis. The NSA realizes the terrorists were tipped off when they find Kaniel Outis' exact location. They get angry and kick the assassins out of the room.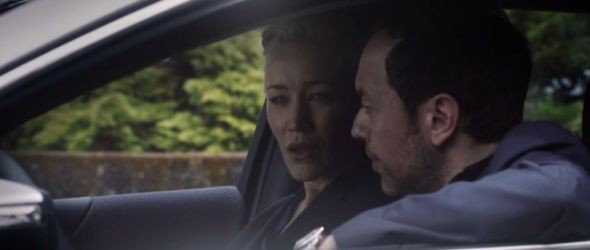 Meanwhile in Yemen, when the terrorists find the group at a gas station, Michael is attempting to video call someone. It seems like someone that knows his true identity and that can help him. But, we have no idea who this man is … yet. Our group is caught in the middle of gunfire and only has one bullet to use. Whip uses it to shoot a gas truck in order to have it explode and kill the terrorists. In the midst of the shoot out, Omar is hit. They try to save him and get him in the car, but, unfortunately, he does not make it, leaving our group with no map on how to get to Phaecia.
The group is put in another bad situation when Cyclops makes it his mission to kill the group in the middle of the desert. Knowing full well they need to lose him, Michael has everyone put their hands out. One person will have to take the second car and make another set of tracks to throw him off. Michael has two different color rocks in his hand, and the person who gets the other color will have to drive the car alone and take on Cyclops. Michael hands out the rocks and ends up with the different color rock, or so he wants us to think.
Michael is off. He manages to draw off Cyclops and ends up killing him. But before Michael can finish him off, Cyclops manages to wound Michael. This leaves Michael in a bad state, as he is now forced to walk wounded through the desert to an unknown location. But we all know somehow this is going to work out for him.
And it does.
Lincoln waits until sundown and uses fireworks to signal to Michael. Michael actually makes it to the village where the rest of the crew is but is in bad shape, and there is no doctor around to help.
In the United States, some weird things are starting to happen. Due to the death of Paul Kellerman, his position needs to be filled. Who fills it but the first guy we see talking to our hit man, Henry Kishida. Paul's coworker Heather asks for his files so she can look into the leads that Paul had. She knows that he was most likely killed because he was getting close to something. Kishida "assures" her that he isn't on to anything. Heather mistakenly puts Kishida on finding himself. Also, our assassins follow Michael's lead and find the man he was video chatting from the gas station. When they show up to talk to him, he is an Elvis impersonator that calls his house "Graceland." Who is this man? How is he involved with Michael? Is Michael going to survive? Will they ever get back to the United States? Will Michael become Michael again? So many questions; not many episodes left!