Every day, there are incredible advancements in technology. Our world is filled with new tools that weren't here 10 years, five years, or even three weeks ago! Occasionally, something will come along that knocks it out of the park. Today, that something is called the PIQS Virtual Touch Projector from Butterfly Technology.
This projector is kind of like a digital Swiss army knife that can be used in a professional capacity, at home, and is even relatively simple enough for children to experience the joy that this product delivers. And it does deliver.
PIQS Virtual Touch Projector: What's In The Box?
Upon opening the box, I found that the package itself was reflective of the quality of its contents. Even before turning on the device, it was apparent that there was great care taken to present the projector in an appealing way. A stand was also delivered, and is sold separately.
Each box includes the following:
• PIQS TT Projector
• Virtual Touch Remote Controller
• Power Adapter
• HDMI Cable
• USB Charging Cable for Remote
• Quick Start Guide
The Projector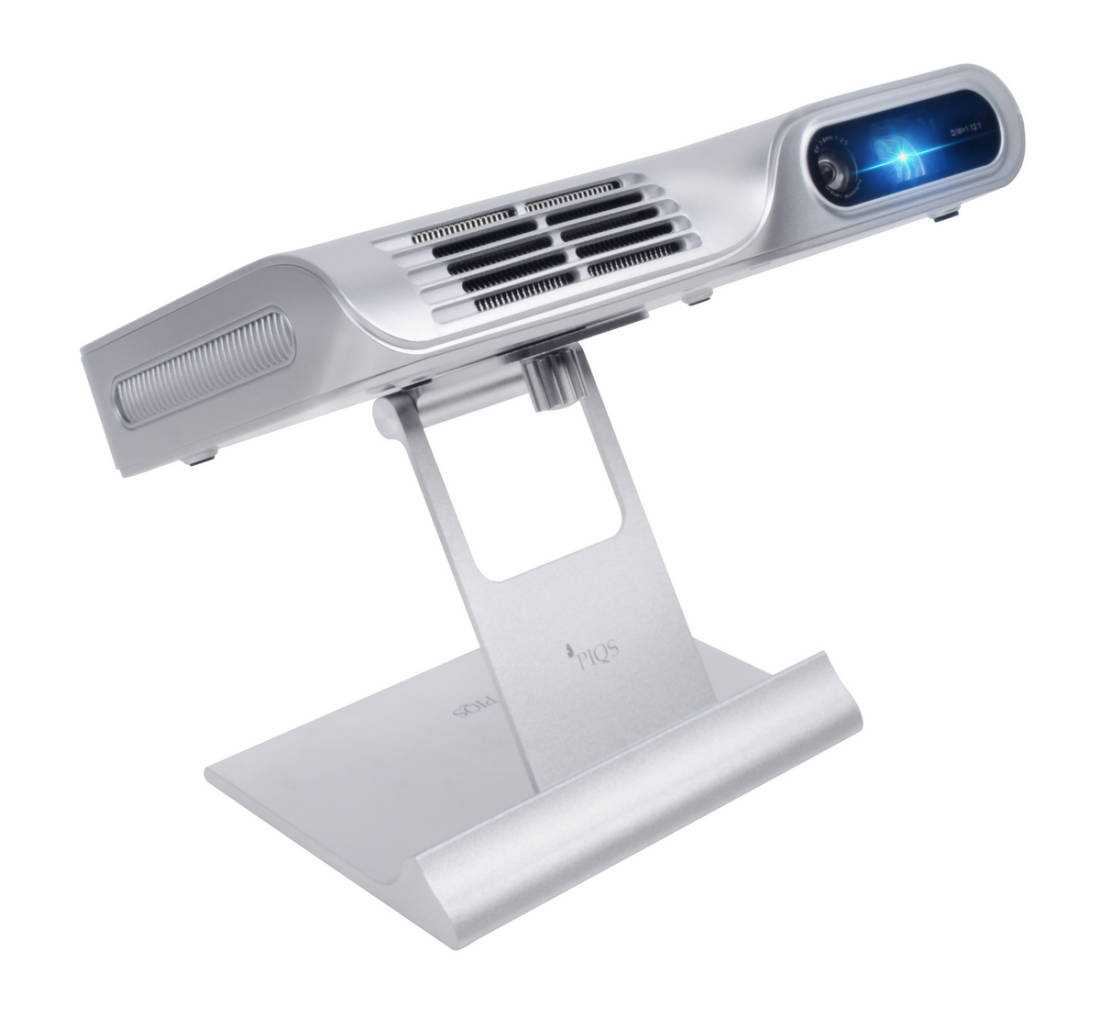 The power adapter works as a pass-through for current as the projector charges. What makes this machine amazing is its portability. You can bring this machine anywhere and it will work without plugging in for up to 180 minutes, thanks to its 8700 mAh battery. The remote also works for a long period without charging; two weeks on standby and 30 hours while running. This feature opens doors to so many possibilities and uses. Are you outside at a family barbecue and want to show off pictures of the kids? You can! In-flight movie not your cup of tea? Watch whatever you want (and share it with the whole cabin!). I'm not sure about the legalities of the latter scenario, but it's definitely possible!
The operating system on the projector is Android-based and contains some apps that have been pre-loaded. There is an app store, which is more reminiscent of Amazon's marketplace rather than Google, and many common apps are available -many for free. The internal memory of the projector unit is 16GB, rather small in this day and age, but unlike some devices out there, the PIQS projector allows for some expansion via its MicroSD port. The projector also has built-in WiFi support.
As far as the display of the projected images and video, I'd recommend having a clear white wall in a dimly lit room for maximum clarity. To give a general idea of the potential size of the projection, the official specs on the PIQS website state that from a distance of one meter the rendered projection will be 40 inches (measured diagonally), and a projector stationed five meters from the target surface renders a projection of 200 inches (also measured diagonally). So, that's pretty huge! Movie night at my place, everyone!
Check out the full specs here.
AutoFocus and Auto Keystone
Two features of this unit set it apart from other similar projectors on the market. The PIQS features its own AutoFocus technology, which does just what you'd think it does. The sensors within the front of the device locates the projection surface and performs an incredibly fast calculation to deliver a clear picture every time. Even if you have kids that bump into the surface where the projector is seated, the projector senses the disturbance and adjusts accordingly. There is still an option to manually focus and you can trigger the autofocus feature at any time with the included remote, but in most cases, user action isn't necessary. It's all taken care of.
As mentioned previously, one of the greatest parts about the projector is the portability and its ability to project at any angle. In order to achieve this, the projector has what is called Auto Keystone. Essentially, you can project on any surface, whether flat or angled, and the projector detects the angle and self-corrects in order to create a straight projection based on the perspective of the viewer. You can watch movies on your ceiling, if you wanted to.
Virtual Touch Remote Controller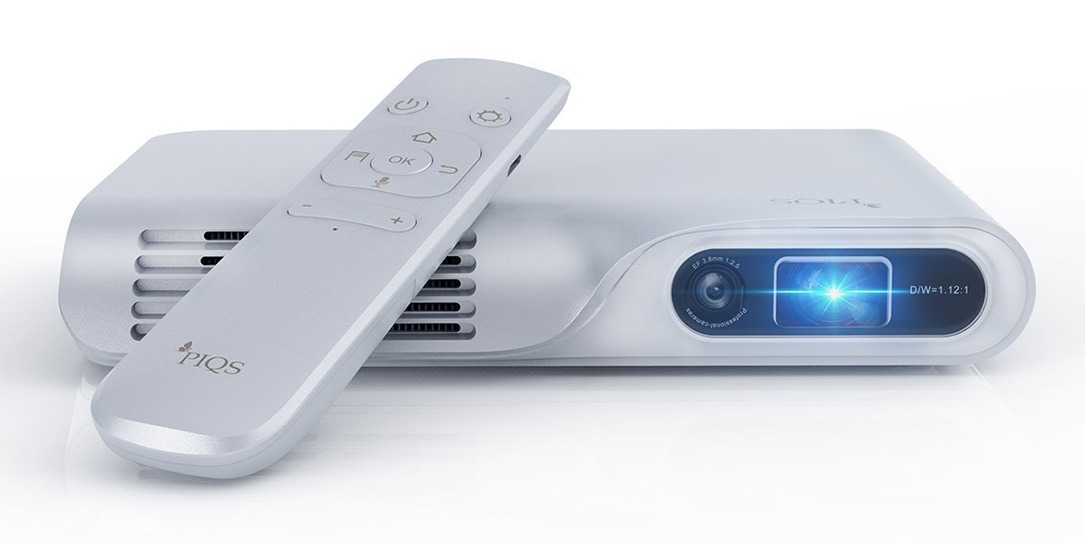 So, what good is a projector if you can't control it, right? The Virtual Touch Remote uses patented technology to create a seamless interaction between the user and the projected screen. This is especially convenient while scrolling through photos, and by moving your hand while pressing the main function button on the remote, it feels natural - as if swiping on a smartphone or tablet. The remote provides a balance of precise control and functionality across several different activities. I used the remote to type, scroll, swipe, and draw. My son, who is three, was also able to use it easily after a little bit of practice within a kids' painting app. The ability to use the remote to navigate slides and charts also makes this a useful tool for business professionals to make presentations, even allowing the presenter to draw on the screen to highlight important points. The versatility is certainly present in this instrument.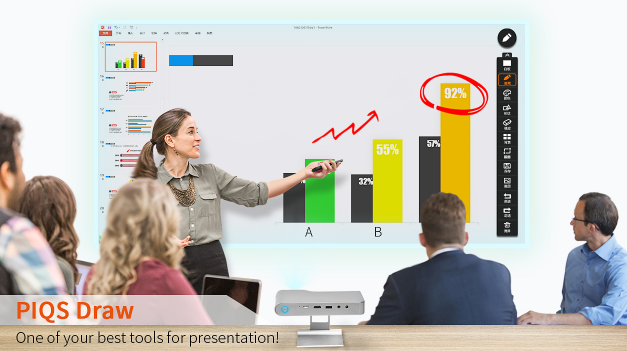 The Verdict
There are a ton of great features with the PIQS Virtual Touch Projector, as stated above. You can play games as you would on your smartphone (except they are on a larger scale and Fruit Ninja is just more fun when you're using a remote as a sword!), and there are a lot of great activities for kids to learn and have fun with on a rainy day. Downloading apps is easy and familiar.
The one thing that I have a bit of a problem with is that some streaming services like Vudu don't yet allow their content to be streamed from the projector. Being that this product has just come to the United States, licensing for certain apps and services has yet to take effect. Netflix works perfectly, though, so it's not really that big of a deal and that problem will surely change in the near future. The device does allow Bluetooth connectivity from other devices and connection via HDMI cable, so that is another workaround to having the app directly on the projector and will allow channeling content from one device to the projector. This same logic applies to the native chart application for the business people out there. The app is easy enough to use, but if you're used to a certain program for drafting up graphs and Powerpoint-esque presentations, you can still do that by creating your presentation as you normally would, load the files onto a MicroSD card and insert it into the slot on the back of the projector.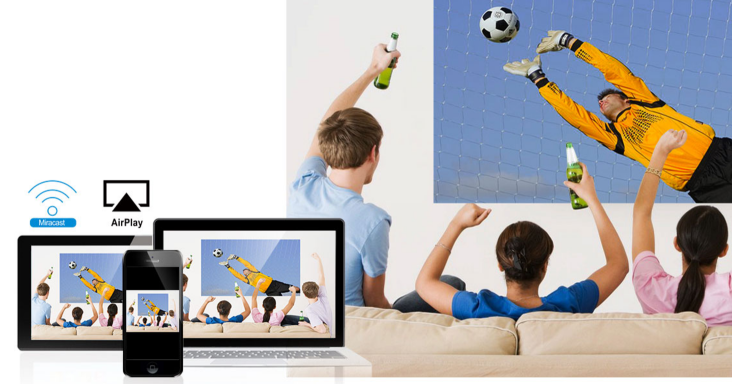 The 1.5W speakers in the projector aren't too loud, so unless you are right next to it in a noisy room, it might be hard to hear. There is, however, an audio jack where you can plug in your favorite earbuds or external speakers to get the maximum effect, especially while viewing in a more open space where sound escaping is more likely to occur. All in all, though, any issues with the product are vastly overshadowed by how truly innovative the projector actually is.
Butterfly has also ventured into the world of Projection Mapping with AR. Through an app, the projector can sense your hand when placed on the projection surface and, after processing, can project different animations. At the height of an increasing interest by the public for AR-related interactivity, it will be interesting to see what the future will bring once developers can seize the possibilities brought forth by this projector.
Overall, this nifty gadget is like having a Smart TV, only you can carry it around with ease and the screen size is only as limited as wall (or ceiling) space.
The PIQS Virtual Touch Projector is available in the United States on Amazon for $549. The optional Smart Portable Projector Stand is priced at $29.99. All products are eligible for Amazon Prime. Go have a look! It's an excellent gift for yourself or for the tech-savvy person in your life!