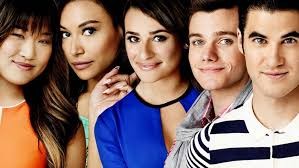 Courtesy of christianpost.com
Following up with the post we made last night, we found out some new and juicy details regarding the premiere episode of Glee's sixth and final season.  Mjsbigblog posted some very big story lines and details for the episode listed below.
Read at your own risk, but don't say I didn't warn you:
The time frame is fall. There is a 6 month-ish time jump between season 5 and season 6.
Rachel, Blaine, Kurt, Sam, Figgins, Will, Sue, Karofsky, and others mentioned below are IN this episode
Artie, Mercedes, and Santana are NOT in 

the episode

.
Rachel's pilot goes to series, but it bombs. The show is quickly cancelled. The fallout renders her Hollywood career dead in the water. Having burned her bridges on Broadway, she has nowhere to go. She ends up moving back home.
Rachel  finds out that her dads are divorcing. Hiram has moved out. Leroy, who is in the episode, is the dad left at home.
Rachel , still dismayed that Principal Sue disbanded the glee club, goes above her head to the Lima school superintendent. She convinces him to revive the McKinley glee club by offering to

fund

 it with her remaining TV money.  He insists she be the director.
Blaine and Kurt are already broken up when the episode begins.
Backstory:  After Blaine moved back into the loft, the couple 

continued

 to argue.  Kurt decided they were too young to be engaged and broke it off. Upset after the breakup, Blaine allowed his grades to slip and was cut from NYADA.
In the episode, Blaine has already moved back in with his parents to regroup, and has taken a job at Dalton as the director of The Warblers.
After months apart, Kurt changes his mind about Blaine and heads back to Lima to try and 

get him back

.  But too late because…
Blaine and Karofsky are a couple. They are dating. They even have pet names for each other. Yogi Bear and Boo Boo. And yes, I did throw up in my mouth a little when I heard that.
 Karofsky is 

a college student

 and totally out as a gay man.
Blaine tells Kurt he's dating Karofsky.
After Kurt arrives in Lima, Rachel convinces him to run Glee club with her.  He remains a NYADA student, taking the job as an intern.
Figgins is a part-time barista at the Lima Bean
Sam works for Coach Beiste.  He is an assistant football coach at McKinley
Artie is still in film school. Mercedes is still on tour with Santana and Brittany.
New kids, Roderick, the nerd, and Spencer, the cocky gay football player, appear in the episode.
Will is the director of Vocal Adrenaline.
We'll get to see Rachel's pilot. It's called "That's So Rachel"
No Glee club tryouts yet.
We can also confirm that the second episode of the hit Fox show is entitled "Homecoming" and will have
Lea Michele, Chris Colfer, Darren Criss, Mark Salling, Chord Overstreet , Dianna Agron, Naya Rivera-Dorsey, Heather Morris, Amber Riley, Jenna Ushkowitz, and Kevin McHale back for the episode.
So what you guys think? Are you surprised by any of the details? Let us know in the comments below.
You can catch Glee when it returns mid-season on Fox.