Purrrlock Holmes is the cat detective board game from IDW Games designed by Stephen Sauer. With just the theme announced, the game has been gaining a lot of attention. IDW Games' VP of New Product Development, Jerry Bennington, is "incredibly excited to be bringing this game to market" and said "it's already started to develop a strong following of cat, pun, and cat-pun-loving fans." From everything shown about the game thus far, it is indeed chock full of cat puns!
In a recent press release, IDW revealed the game is centered around deduction and gave more details on how the game is played.
Furriarty is "litter-ally" terrorizing London and it's up to Purrrlock Holmes to stop him before he escapes. Baker Street is awash with suspects, ranging from a gloomy Toad to a sorrowful Goose. It's up to you, the Inspector on the case, to decide whether they are actual suspects or pawns in Furriarty's masterplan. That Furriarty sure is a "paw" excuse for a well-to-do cat.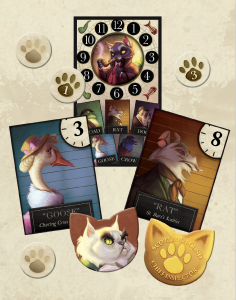 IDW Games
Each player takes a hidden suspect card, whose identity they will need to deduce. Much like in Hanabi, you can see all player's cards but your own. You can make guesses on who your suspect is in something described as "an interesting clock mechanic". Details on how this works were not given, but suspect cards have a clock value on theme. If players are able to deduce their suspects' identities, then they receive a clue (a.k.a. paw print token) to help lead to Furriarty. Clues have variable number of victory points on them (kept secret from opponents). As rounds go by, Furriarty gets closer to escape, so players need to guess faster and faster. Keep deducing suspects and collecting paw print tokens to catch Furriarty. As Purrrlock says, "deduction is elementary, my dear Whiskers."
It sounds almost like a semi-cooperative game with all players wanting to catch Furriarty. If Furriarty escapes, all players lose. However, if Furriarty is caught, the player with the most victory points is the inspector who takes credit and wins the game. The release also states, "catch up with Furriarty, and you score a major point advantage." Perhaps this is in the form of bonus points or a multiplier, but, whatever it is, it will shake up the scoring a little. Purrrlock Holmes: Furriarty's Trail will be available in store June 2017 for $24.99.