Rampaging Jotunn is a new two-player viking-themed board game designed by Matthias Bonnici and David Simpson. Several viking clans have settled on an island that unbeknownst to them is the home of an ancient Jotunn named Ymir. This Norse giant is not happy about these unwelcome visitors and is rampaging across the island with nothing but destruction in his wake.
Players take turns placing land tiles to construct the island, then their three villages, and finally their two armies. Roll to determine the starting direction of the Jotunn and the game is ready to begin. During a turn, players can either play a card from their hand, use one of their movement cards, or discard three cards to resurrect an army. Playing cards from your hand will usually influence the Jotunn's movement, but there are several other cards that can reinforce a village, resurrect an army, etc. Each player has movement cards with two, three, and four points of travel on them. Spaces on the island have different costs to travel onto depending on their type (plains, forests, or mountains). The movement card is flipped over and cannot be used again until all three movement cards have used. At the end of every turn, if the Jotunn hasn't been influenced, it moves one space forward. First player to destroy all their opponent's villages whether with the Jotunn or their armies, wins the game.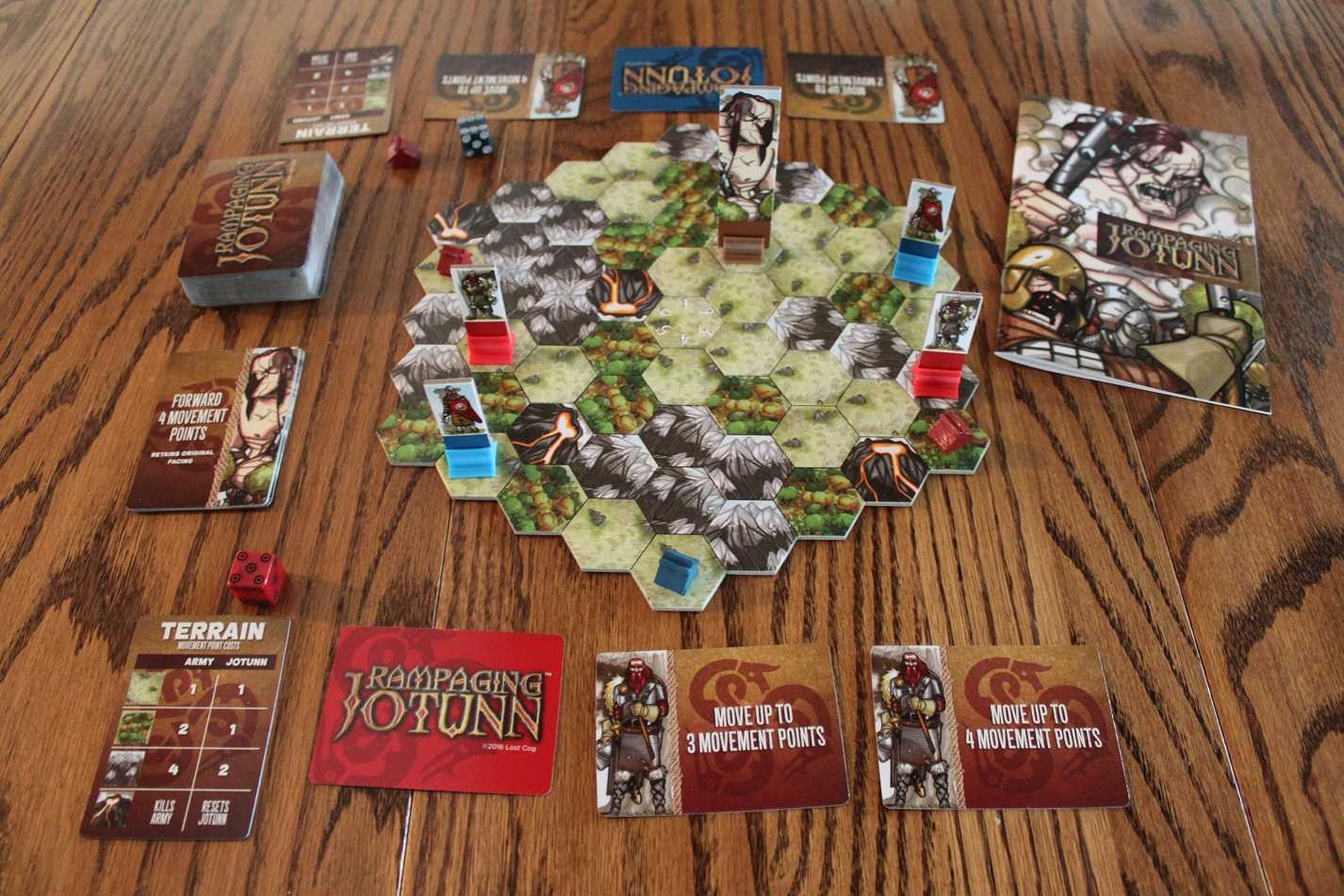 Rampaging Jotunn is an abstract strategy game with a theme and some additional elements mixed in. The complexity of the gameplay is not difficult, but forces players to think several turns ahead. One of the major aspects of the game is hand management. Players need to determine what order they can play their cards to get the Jotunn on a path towards their enemy. However, they also need to anticipate how their opponent may influence the Jotunn or account for it moving forward on its own. Placing the land tiles allowed the island to be different for every game, but I didn't find that it added much variety to the game. Players still always placed their villages on the outer edges of the island and the movement cost to access a village may have changed slightly, but it didn't mix up the game as other games with modular boards. The only real change was the number of volcano spaces, which could be used to move the Jotunn back to the center of the island. The combat system was pretty basic, the invading player gets a plus one bonus and the higher die roll wins. While this was luck-based, it was very easy to resurrect an army (even right back into a battle) and was only one of two methods of defeating your opponent. Using the Jotunn to trample enemy armies and villages is guaranteed destruction, but it becomes a battle back and forth with you and your opponent altering the Jotunn's direction each turn. Fool your opponent by directing the Jotunn towards nothing, just when they believe they are safe redirect it right onto them. I enjoyed this almost chess like gameplay, sometimes sacrificing my own village to allow me to finish off my opponent next turn or misdirecting the opponent with the Jotunn. This and the hand management aspect of the game were the best parts of Rampaging Jotunn. Also appreciated was the quality of the components. The cards have a linen finish (almost expected in modern gaming, but not always delivered) and the standees and island tiles were made from extra thick chipboard. This should help prevent bent pieces, which you'll find is particularly important after reading my negative comments below.
While Rampaging Jotunn was a fun experience, there were two things for me to gripe about. The first is hard to state concretely, it felt like there should be something more to the game. It didn't feel like I was doing a whole lot in the game. Depending on your needs, this is either positive or negative. Casual gamers may find Rampaging Jotunn is a perfect stepping stone game because of its simplicity and short length. Whereas, heavy gamers may find the game isn't enough for them. The Rampaging Jotunn: Winter War expansion adds new rules, components, and a frost Jotunn. It also increases the game to four players, so I'm hoping it satisfies that need for something more. The other problem I had with the game was the packaging. The oblong box is much taller than my largest game. I didn't have a Kallax shelf to test with, but by pictorial comparison, it looks like it will be a tight fit or not fit all together. The problems continue inside the box as there is no insert of any kind. The components just sit loosely in the box, which really irks me. A molded plastic insert would've been nice, but any insert for organization would be better than nothing. A redesign of the layout for die cutting could have fit these components in a shorter and wider box for easy storage on the shelf with other games.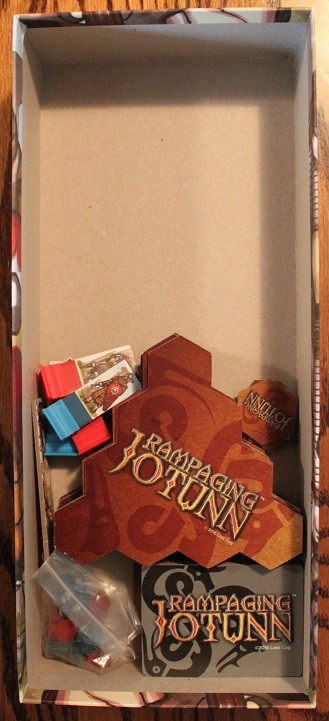 All in all, I had a fun time playing Rampaging Jotunn and that is what matters. Though fairly simple mechanisms, there is a pleasure in moving the Jotunn onto a village and using the standee to knock it off the board. It takes no time to set up and plays rather quickly, so it is a great choice if I'm not feeling up for a more involved gaming session. It is a good game with an appealing theme, which I would recommend to fans of Onitama. Rampaging Jotunn is certainly worth checking out for some enjoyable Viking mayhem. Opinions can differ, so find out for yourself with the 3-player print and play version. If the game is up your alley, Rampaging Jotunn is available for order on the Lost Cog website.