New York Duo and twin sisters Nalani & Sarina have released a new EP entitled Scattered World . The sisters not only have written all the songs on the EP but have shown off their talents by playing piano, guitar and ukulele.
Scattered World also features A Great Big World guitarist Oscar Rodriguez. The sisters have shown great appreciation for 60's soul music and have tried to put that feel into their own music.  Their influences include: Sam & Dave, Carole King, Taylor Swift, and Tom Petty and the Heartbreakers.
I got the chance to listen to their EP and I have to say I was very impressed. Not only do Nalani & Sarina have such amazing  talents with musical instruments throughout each song. Their voices blend together so nicely its just music to my ears. The songs themselves are very upbeat and catchy that will make anyone who listens get up and dance. The powerful messages each song has will make you love them even more. 
Lets get to the song by song review: 
Song #1- We'll Be Free:
This first song off the EP has me up and moving with the guitar going its a great song  Their singing is so powerful with a great message. No matter who you like, what you do ,never give up and be free to do the things that make you happy.
Song #2:- Scattered Girl:
I feel that this song would be a great one to listen to on a road trip with all the windows down and the music jamming.  I feel that the song goes through experiences of a young girl who has had a hard life, going couch to couch and really not knowing what to do with herself hence her being so "scattered" 
Song #3- Runaway:
After listening to this song a couple of times I have heard a story through lyrics.  I feel like Nalani & Sarina have told a beautiful and touching story in this song. The story about a young boy who has had a difficult living situation, growing up to fast and knowing that things do not come free to him. He should essentially "runaway" to be with someone who can be there for him.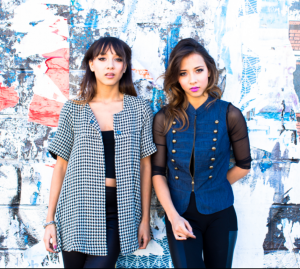 Courtesy of Nalani & Sarina
Song #4- Get Away:
After listening to this song a couple of times. I felt like another story was being told to me. Someone waking up and doing the same things over and over again. As anyone whether you are younger or older can relate i'm sure. I think that Nalani & Sarina were singing about doing different things and showing someone that you can get away from doing the 'same old same old'.
Song #5- Love Who You Want:
Once again I think Nalani & Sarina are incredible with words. This song I feel has a powerful message of love. Loving who you want, who you like because there is nothing wrong with who you like. The piano playing and vocals from the girls are amazing.   I feel like everyone needs to hear this song for one reason or another. 
Song #6- Shadows In The Shade:
We end the EP with a bit slower song. Nalani & Sarina sing about how things are never the same so they are chasing those shadows they once had of things they have done before. During the entire EP we have gotten all these upbeat and pop songs. It is really nice to hear a slower song to wrap up a EP. 
Overall, Scattered World  is phenomenal I loved each and every song. Nalani & Sarina have wonderful voices and told amazing stories through their songs that anyone can listen to and relate to one way or another.  I would highly recommend listening to Scattered World because there are amazing messages each and every song has to offer you.  These girls are going places and its only the beginning for them.  
If you want to catch more of Nalani & Sarina's music check out their Soundcloud--  also don't forget to also check out their twitter and official website.