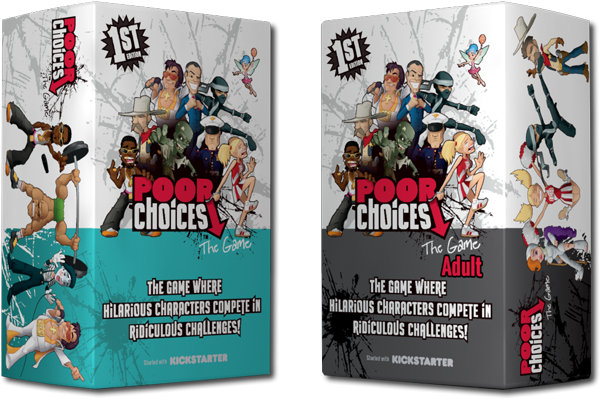 Poor Choices
Launching today on Kickstarter is a campaign for a new party game called Poor Choices. I had the chance to test out the game and now I'm relaying my thoughts to you. First, for some background knowledge, here is a quick video explaining how the game is played:
Poor Choices will inevitably be compared to Cards Against Humanity, Superfight, and other games of a similar nature. However, there are a few important differences to note when it comes to Poor Choices. Both CAH and Superfight have simple black and white cards only occupied by text. Poor Choices' character cards have illustrations which adds some extra fun and makes them nice to look at. Superfight is perhaps most similar to Poor Choices, as both have characters that abilities are applied to. Unlike Superfight though, you choose a bad trait to impede opposing players. Poor Choices also has scenarios the characters are in, which makes judging easier.
The aspect of Poor Choices that really sets it apart from competitors is the humiliation cards. Whoever loses a round must draw a humiliation card and do what it says. These are mostly harmless tasks like singing songs about the winner, or moving in slow motion until you win a round. This makes the game extra fun when playing with close friends, however it can be embarrassing when playing with new people (such as meeting your girlfriend's family for the first time). I recommend just taking out the humiliations in those scenarios, and the game will still be lots of silly fun.
Poor Choices is an excellent game to add to your game night repertoire for some big laughs. A fun and quick game for messing around with friends or as a pre-drinking game for college students. The cards are standard quality (higher quality cards are one stretch goal) and have entertaining illustrations. Your enjoyment of the game really relies on the people you play with. If you don't like the wacky fun of pitting two characters together in strange situations and arguing over who would win or the crude humor of Cards Against Humanity, you may not enjoy this game. However, those who do will have an absolute blast!
The full range of swag and rewards is available on the Poor Choices campaign page, but here are the highlights. For only $45 dollars, you get both versions of the game. If you only want the G-rated standard game or adult version, that is $25 which includes 336 cards. Compare that to $35 for the Superfight core deck, and you know it's a deal. If you really love the game, this is your chance to be immortalized in it forever: the $100 support level allows you to be illustrated as one of the character cards, plus receive your choice of game versions! Check out a time lapse of illustrator Neil Morley creating one of the characters for Poor Choices.
All sorts of awesome stretch goals are in place to give backers extra rewards for a successful campaign. These include 168 additional cards, themed expansion packs, upgraded box and cards, and more secret rewards. The campaign will be funded when donations exceed $9,000 and the designers are aiming for $4,500 in the first 24 hours. If $4,500 is raised in the first 24 hours, the first two stretch goals will be unlocked for all backers and one lucky backer will be illustrated on a card for free!
Thanks to Wade Welsh and his team for designing a fun game and providing me with a copy. If you'd like to support Poor Choices or buy a copy for yourself, visit their Kickstarter campaign page. For those impatient gamers out there, you can learn more on the Poor Choices website.