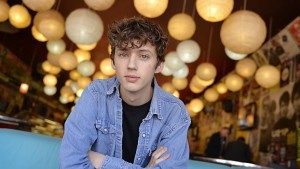 Courtesy of news.com.au
Australian youtuber and musician Troye Sivan has released his second EP entitled Wild . This high energy EP has both fans and music lovers up on their feet dancing and singing.  Throughout the EP fans will hear a very different side of Sivan that I don't think many people have heard from him.
Here Is my Wild  Song by song review:
Song #1: Wild
Right out of the gate, the song is so upbeat and it just  made me want to get up and dance. I loved the style and the tempo the song gave.   You know those types of songs that just go way to fast and you loose the meaning of what the artist is trying to tell you? This song is NOT one of those songs at all.  Every lyric,  every melody of this song, makes me want to get up and dance.
Song #2: Bite
With this song, Sivan totally has a way with words with this song. They layering of the music along with the harmony is simple fantastic. I also get a real electronic with this song.  I feel like fans would relate to this song on a personal level more than any of his songs. 
Song #3: Fools
When I first listened to this song it kind of reminded me of something from his TRXYE EP. I then realized after listening to it a couple of more times that there was a deeper meaning to the song. I  can personally relate to this song on every level.  
Sivan stated in an Q&A Video, " Its about equated love, a common theme in people's lives. When You love someone and they don't Love you back"
Song #4: Ease
This song is another great one. I feel like so many things are going on in this song.  I think Sivan sends a message out that no matter what is going on from leaving family, to traveling, to even having a conversation with someone. You can always have some time with or a meeting with people you love to put you back at ease. 
Song #5 The Quiet
This song is  phenomenal. Listening to it I felt like there was a roller coaster of sounds which made for a roller coaster of feelings as well. The song takes listeners on a grand journey.  Anyone who listens to it would enjoy being on that journey with him. 
Song #6 DKLA (Don't Keep Love Around)
This song I think hits me the most out of the entire EP. The sound effects were on par and I was very impressed and surprised with the rap section in the song as well. This is a great song to end an even better EP. 
Overall, I was very impressed with Troye's EP. The music and lyrics were phenomenal and to add Troyes voice blends perfectly with each song.  I would highly recommend listening to Wild  if you are wanting some new and amazing music. 
Check out more of Troye Sivan over on his youtube channel along with his twitter and tumblr and don't forget to check out Wild on itunes now. 
Also check out Troye's Q&A video discussing more about his EP below.