There is always drama in the Kardashian family, but, this time around, the maelstrom does not center on Kim or any of the sisters.
Instead, the past few weeks have been all about their only brother, Rob, and his relationship with Blac Chyna.
Things came to a head when Blac Chyna allegedly "physically attacked" Rob in a drunken rage. Kris Jenner's boyfriend, Corey Gamble, who had only just shown up at their residence, then had to rip Chyna away from him.
Corey called Rob's older sisters to diffuse the situation. Kim, Khloe, and Kourtney rushed to get to their brother's side, but, by then, Chyna had already left.
Then, last weekend, Chyna's Instagram account was hacked, and some of her alleged private messages were made public. One of these messages indicated that she was planning to leave him. Rob took to his own account and wrote an emotional post about how she had left with their newborn baby girl, Dream.
"My baby girl is 1 month old and Chyna took her and left this beautiful home that I just bought for us. Right before Christmas. Someone I have given my all too [sic]," he wrote. Chyna responded with "it's over" on her Instagram account.
By Monday, though, Rob seems to have regretted what he posted and decided to correct it by posting again on Instagram, wherein he issued an apology: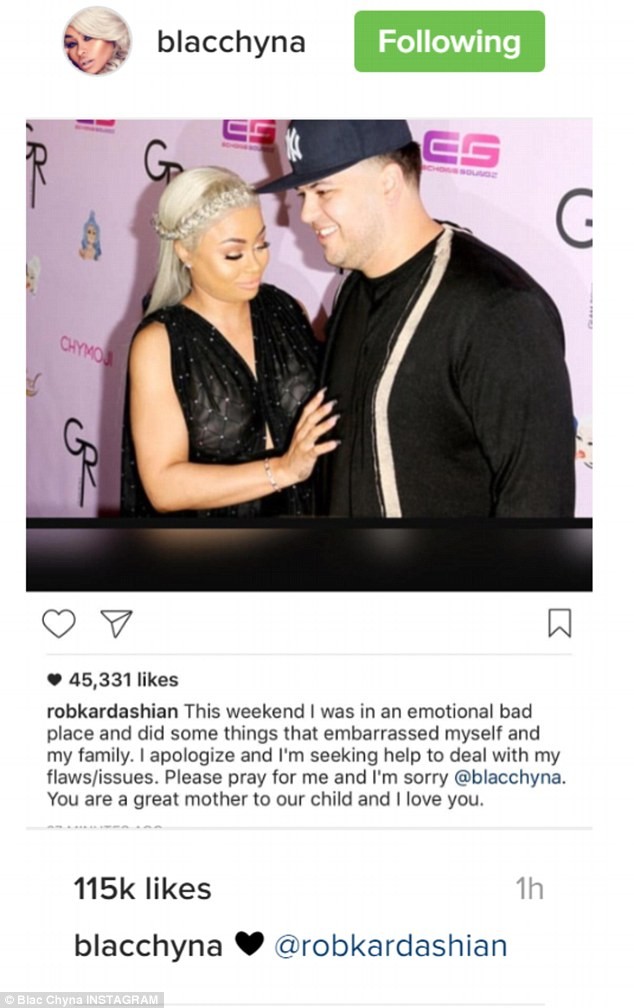 Instagram
"This weekend I was in an emotional bad place and did some things that embarrassed myself and my family.
"I apologize and I'm seeking help to deal with my flaws/issues. Please pray for me and I'm sorry @blacchyna. You are a great mother to our child and I love you."
Chyna shared a screenshot of the post and captioned it with a heart emoji.
TMZ has reported that the two are now talking to each other and may be together but are not living under the same roof.
The drama erupted 24 hours before the airing of E!'s Rob and Chyna's Baby Special, and, while the timing may be suspect to some people, Rob, for his part, has denied that the whole debacle is a publicity stunt.
As for his family? A source told People that "they don't support the relationship" and have told him that he "deserves better".
Taking it one step further, there are also conflicting reports that Kris Jenner has banned Chyna from attending her star-studded Christmas party. Perez Hilton disputes this rumor.
More disturbing, though, is that there are reports that Kris is allegedly willing to offer five million dollars to Chyna to hand over custody of Dream to Rob and walk away!
Chyna is also said to be desperate to win back the Kardashians after this row. A source has told Radar that "she's making him [Rob] call them [the Kardashians], text them and tell them that they need to give her another chance. She is begging and she is relentless."
This is worse than a soap opera plot line! But, then again, it's the Kardashians. Let's hope they can patch up whatever is really going on for the sake of their baby girl.