RYAN CABRERA is having a busy summer! The platinum-selling pop singer, songwriter, musician released his much anticipated EP Wake Up Beautiful this past spring (3/3) on Dynamite Music, which prompted some of the best reviews of his career (see below), as well as a coast-to-coast national co-headlining tour.
The momentum continues as, for the past 11 consecutive weeks, RYAN's newly released remix collection, featuring five new dance mixes of his hit single "House On Fire," has been burning up the Billboard Dance Club Songs chart, reaching the #1 this week (7/11/15). To celebrate this chart-topping milestone, NBC's TODAY Show invited RYAN and his band--Trevor Lukather (guitar, vocals), Jacob Hayden (drums, vocals), Christopher Martin (bass)--to perform the track live.
Watch RYAN perform "House On Fire" on TODAY here.
This marks the first #1 record for new boutique label Dynamite Music. "We are ecstatic and so proud of Ryan and the team," label founders Mitch Davis and Marco Liuzzo said. For a limited time, fans can download a free copy of "House On Fire" (Nikolai Prange Edit) at RyanCabrera.com. The full remix package, which also features tracks from producers Joey Suki, Riddler, Ralphi Rosario and Kellen Good, is available now on iTunes, Beatport and streaming on Spotify.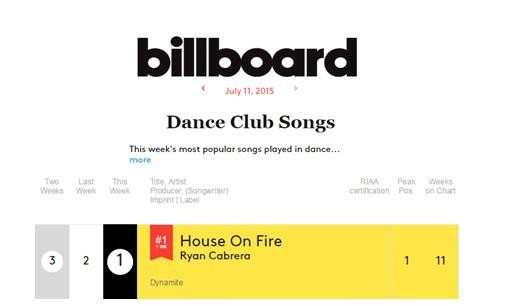 Ryan Cabrera ~ 'House on Fire' Hits #1 On Billboard Dance Club Songs
Beyond music, RYAN also remains extremely passionate about his charity work. He has just announced the next show as part of his live charity music series called "Live from Ryan's Living Room" will take place Sunday, July 19 at 2pm PT in collaboration with VH1 Save The Music, Children's Miracle Network Hospitals and Tiltify. This "Live From Ryan's Living Room" is unique in that it coincides with RYAN's birthday weekend and it will broadcast live via Twitch from the Mobli Beach House in Venice, CA. Watch RYAN's video announcement here. Donations for the show are being accepted now on Tiltify at www.tiltify.com/events/livefromryans and all proceeds will benefit Children's Miracle Network Hospitals (http://give.childrensmiraclenetworkhospitals.org/). Talent will be announced in the coming week.
The bi-monthly event brings together a lineup of some of today's biggest artists to perform at RYAN's house and streams the concert online to fans worldwide. All proceeds raised go directly to charity and he chooses a different cause every time. To date, RYAN has helped raise over $27,000 toward various charitable endeavors. Past performers include Billy Ray Cyrus, Gavin DeGraw, Colbie Caillat, Lance Bass, We the Kings, Josh Kelley, Keaton Simmons, Blake Lewis, Elliot Yamin, and many more.
Our take?
Cabrera knocks it OUT of the park with 'House on Fire.' We dare you to listen without singing along, and tapping your feet. 'House on Fire' is a Grand Slam.
Don't believe us? EVERYONE is talking about
WAKE UP BEAUTIFUL
:
"Cabrera delivers his catchiest hooks since his '04 breakout 'On The Way Down.'"
                --Tom Gliatto, PEOPLE, 3/9/15
"'House on Fire' is the best song Cabrera has ever released…we LOVE it!"
                --PEREZHILTON.COM, 3/3/15
"Guaranteed to make you dance…'House on Fire' is undeniably catchy and heavily percussive, with hints of synth that build up excitingly into the chorus. The song is about living in the moment, and the infectious melody readily mirrors the lyrics."
                --Jenny Lee, NYLON.COM, 2/2/15
"…'House On Fire' is the perfect mix of upbeat organic pop with a splash of indie-synths."
                --Katie Krause, ETONLINE.COM, 2/2/15
"'House On Fire' is a searing undertaking and hoisted by electronic-dance elements and an ear-worm hook, Cabrera is on to something here. Smashing the Hot 100 is automatic, right?"
                --Jason Scott, POPDUST.COM, 10/24/14
"Ryan sounds poised to set hearts ablaze once again with this shining and free-spirited anthem."
                --Lucas Villa, AXS.COM, 10/23/14
"It makes us just want to get up and dance…simply put, it's like he's throwing a party and we're all invited!"
                --FANLALA.COM, 10/22/14
"'House on Fire' has an infectious beat that will make the listener clap along to it."
                --Markos Papadatos, DIGITALJOURNAL.COM, 10/21/14