Boy George Lives!
It's official: 2016 will go down as one of the most loathsome years in history. All political happenings aside, it has been the year that so many icons in entertainment and history have departed this Earth. The list is long, and includes stars and high-profile figures such as David Bowie, Prince, Alan Rickman, Anton Yelchin, Gene Wilder, Leonard Cohen, Alan Thicke, Carrie Fisher, and, now ... George Michael.
The "Faith" singer was found deceased on Christmas Day, aged 53. Michael's death was mysterious but not ruled suspicious.
After the reports confirming his untimely death began surfacing, fans and celebrities began to express their condolences, a sentiment that we have grown all too familiar with this year. For those who knew George Michael, it was an especially jolting and unfortunate event to associate with the holidays.
One particular tweet caught the attention of followers (and trolls), and it came from Buffy The Vampire Slayer star Sarah Michelle Gellar. The actress offered her condolences in a tweet (which has since been deleted) that served as a tribute to none other than ... Boy George?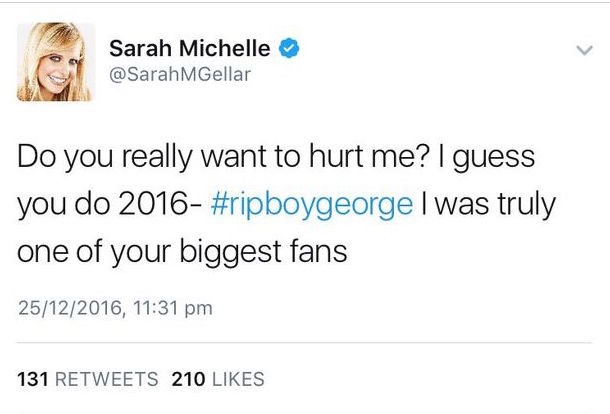 IJR
Not a moment too soon, Twatchdogs were quick to pounce and correct her. It was justified, in a way, because so much fake news is transmitted every day. Because Gellar is an influential voice, she could have aided in the spread of misinformation. According to the actress, however, it was an honest mistake, as she had heard the news incorrectly and, in the heat of the moment, paid tribute to the wrong 80s music maker.
Just as sad when you get the correct information- #ripGeorgeMichael thank you to everyone who corrected me- it's still so sad

— Sarah Michelle (@SarahMGellar) December 25, 2016
And for the record yes I completely know the difference between Boy George and George Michael- I heard incorrectly. My intentions were good

— Sarah Michelle (@SarahMGellar) December 26, 2016
This is usually why I don't comment on public matters, but it all seemed so sad on Christmas. Lesson learned.

— Sarah Michelle (@SarahMGellar) December 26, 2016
Humbled by the feedback she received, Gellar promptly corrected herself and the situation was resolved. Some people were a bit harsh...
@SarahMGellar pic.twitter.com/gy0Ek7O4lg

— John Sterne (@sternejohn) December 26, 2016
...while others came to her defense, some even admitting to making the same Boy George/George Michael mistake:
@SarahMGellar your sadness is real & that is all that matters. Don't listen to the negative.

— Pam (@fallonthornley) December 26, 2016
Though an unfortunate mistake, it's clear that her heart was in the right place. And, like Gellar, we're just happy we haven't lost Boy George.