Now that the remaining members of the Lakewood 6 are fully aware of a new killer, tensions continue to rise as trust between them dwindles. Everyone is taking Jake's loss differently, showing an angry Brooke tearing her bedding apart with scissors, Audrey undergoes some intense training and Noah has come to a conclusion that his best friend may be the accomplice after all.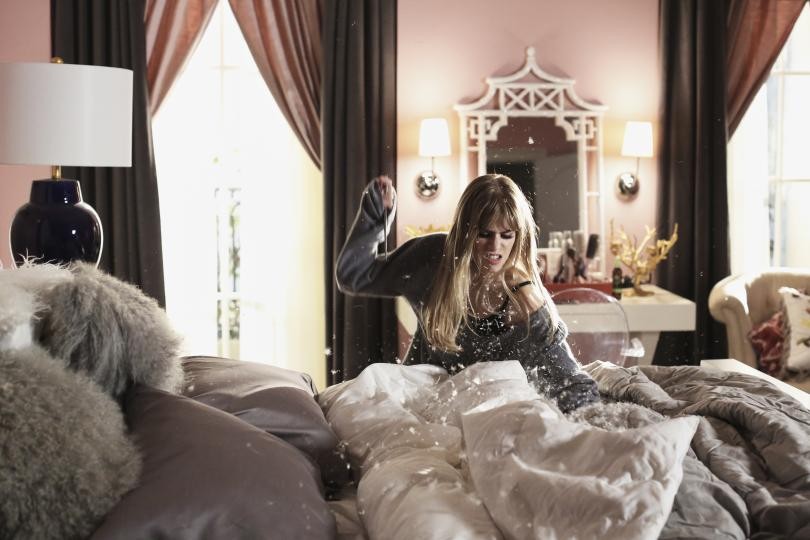 MTV
Emma starts out receiving a call from the masked murderer, claiming he's in her head to make her feel as if she's actually on the brink of insanity (is she?) Kieran stops by her house to apologize for using her as leverage for the sheriff and she slightly overlooks to divulge that the new killer is making an attempt to get to her - but she admits her trust isn't being handed out freely. Emma then heads by Noah's, who has been dealing with his own shock about Audrey's supposed participation in season one. Emma tells him she now is prepared to see his "murder board" that has Audrey as a prime suspect. Emma refuses to believe there is any validity in what has occurred, but Noah is smart enough to look past their friendship after what he had seen on her phone. Brooke calls Emma's phone for help, and by the time she arrives she discovers Brooke's damaged room with a regret filled Brooke blaming herself for everything. "It could be anyone this time Emma. I have to find out what happened to Jake and I don't care how ugly it gets." One of the more serious moments of the episode that makes you realize things are going to get a whole lot bloodier for the Lakewood 5 before the season concludes.
Noah begins to follow Audrey to see what she could be up to, but Audrey notices something is off almost instantly. He takes his possible idea of clearing Audrey's name (it involves Eddy the hotel clerk, who only Audrey knows is dead.) He texts Eddy's phone and gets a response to meet up from the killer, setting up a dangerous playing field for the killer. Brooke waits for Stavo at a coffee shop and has a request for him - find information on Seth Branson from his father's files. Stavo discovers that Branson's alibi the night of Jake's death included a date with Ms. Lang (the snoopy psychology teacher.) Instead of pushing for her to not do anything in retaliation, Stavo tells her to kick ass and get everything she wants from her own sleuthing. Audrey finds her phone on her after thinking she lost it (Noah had planted it) appearing to know something more happened.
Brooke's first plan of action involves asking for Ms. Lang's help, faking her tears through a confession that she slept with him the night Jake was killed. By the time she leaves Brooke, Ms. Lang is leaving Seth an angry voicemail but Brooke is busy convincing him she wants him back - arranging to meet at their old spot. Her father (the mayor) had previously spotted Kieran's aunt and picked up on her "desperation" offering her an unnamed sheisty job position that we will surely hear more about in the future. Noah arrives to the carnival set up he planned with Emma (and the killer who had Eddy's phone) but Emma is stopped on the way there with car trouble. Noah tries to check the area out for himself, but gets too creeped out and fails to depart when someone in a mask chloroforms him in his car.
When Brooke is ready to get answers, she seduces Branson, pretending to tie him up for a passionate "date" but she instead threatens him with scissors and cuts his face enough to show her seriousness. He says that what he was really doing that night was meeting up with Jake on behalf of him and her father to pay off Branson to finally flee town for Brooke's own good. He tries to speak negatively of Jake (which she doesn't allow) but comes to realize he must be telling the truth. When she leaves, she makes sure Branson is left tied to the bed - at least he's still currently in one piece. Kieran finds Emma to help her with the car trouble so she tells him about the suspicion around Audrey and why meeting with Eddy is so crucial. He hopes for a more honest approach after losing his dad, but Emma doesn't appear to be interested in doing things with police's' approach.
Brooke heads to Stavo's, who is shirtless and staring at himself in a Brandon James mask. She tells Stavo that things got dark and she wasn't fully aware of what she is capable of, admitting that no matter what she does - Jake is gone and she can't take that back. This scene with Brooke and Stavo was a promising scene about the growth of Brooke, providing her with someone outside of the Lakewood 6 to showcase it. By the time Noah awakens, he finds that he and Audrey have been tied to a rollercoaster. He tells her that in case they die, he found all of the information between the killer and her which she claims isn't quite as it seems. Emma finally arrives to the empty carnival as well, entering to find Noah as the killer watches her from a distance. Before there is any type of contact with anyone else, Noah admits that he has feeling for Audrey and always had, even if she can't return the same emotions. Audrey decides to share one thing with Noah, but is interrupted by the sound of Emma's voice somewhere near.
Audrey asks why Emma would be there, so he tells her about meeting Eddy - and Audrey finally informs him that Eddy is dead. She unties herself, stating that she fake-kidnapped them to clear her name in the first place (of course she would!) Emma spots the killer and turns a corner to hide, reminiscent of Gale's scene in Scream 2, bumping into Noah and Audrey as well. Right before they can escape, Kieran pops out from the area she saw the killer, adding to the red herring persona he has built up. Luckily for them, they all flee from the spot without actually crossing paths with the new murderer, but that is merely a temporary blessing for the core characters of Scream. When Kieran makes sure Emma gets home okay, he agrees that she requires some independence to do what she needs to get done, but in the long run I see that backfiring for those she cares about.
Audrey gathers the strength to divulge her participation to Noah later in the evening, fessing up that she was responsible for Piper coming to Lakewood. In her words, Audrey explains that she wanted Piper's help in making a documentary about Brandon James' innocence, which was what ties her to the killer - but a less trusting Noah records the entire conversation for his benefit as well as the others. Back at Brooke and Branson's hotel, the killer unmasks Branson and cuts through his hands with his trademark blade. The blood covers his face and a shocked Branson isn't through quite yet - as the murderer cauterizes his wound with a hot iron. Safe to say Branson isn't going to be putting his hands on Brooke anytime soon, but hopefully she won't be blamed for the murder either.
Overall Grade: 9/10
The show has really hit a consistent level of plot development and character growth this season, finding an increasingly positive stride. The deaths may be fewer and farther in between, but they make each one count with an effective follow-up to the loss. Brooke brought out a different side to herself that added to the fact that she is easily final girl material to the Scream universe. The shock from everyone about experiencing a second act is the reaction I hoped to see, where I find it fascinating how a series deals with the emotional turmoil of horror.
Aedan's Final Thoughts:
-Emma could very well be experiencing a mental breakdown, making her the killer of the second season (and what a twist it would be!)
-I've suspected Emma, Noah and Kieran from the beginning of the season, but Kieran could be a distraction from Noah or Emma with a potential new partner from the cast additions.
-Brooke's range of emotions fuel the second season, making it a brilliant decision to involve a character with endless potential.