As any Nirvana fan knows, the band's legendary front man was a very artistic individual. Kurt Cobain's creativity wasn't limited to just music however, as he also enjoyed painting and writing poetry. Now, over two decades after his death, a few select pieces of Cobain's original art work is set to debut in a professional showcase for the first time.
According to an article by Rolling Stone writer Daniel Kreps, two never-before-shown Cobain paintings, one of which served as the cover art of Nirvana's 1992 compilation album Incesticide pictured below, are going to be on display at the Seattle Art Fair in August.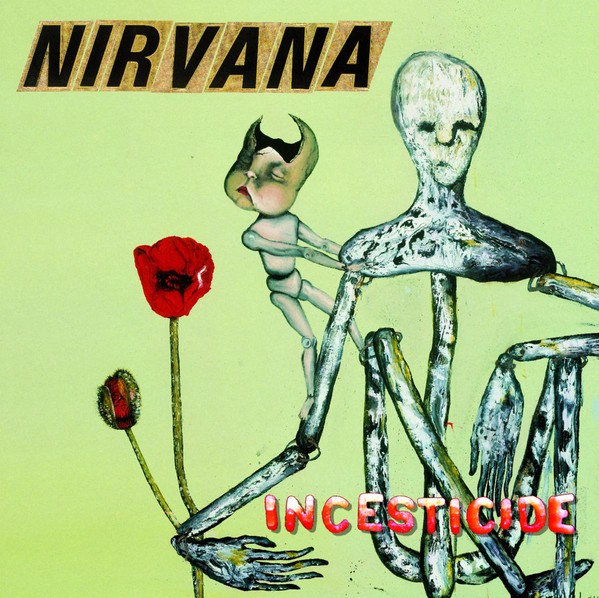 The other painting was described as "a distorted, expressionistic figure that can be likened to Edvard Munch." Accompanying the paintings will also be a small collection of the deceased rocker's personal notebooks.
The notebooks and the two paintings, which will feature at the fair from August 3 to August 6, had remained in storage since Cobain's death in April of 1994, but were uncovered by the United Talent Agency earlier this year.
According to UTA fine arts head Joshua Roth, the artwork may become part of a "touring exhibition" that will feature other works discovered at Cobain's estate, including sketches and sculptures.
According to the New York Times, the exhibit is part of an overarching plan by the United Talent Agency and Cobain's widow Courtney Love, to display more of Cobain's private artwork going forward.
Cobain's work will be on display alongside artists like Raymond Pettibon, Dash Snow, Mike Kelley and Elizabeth Peyton. Many works by those artists are expected to be available for purchase, though Cobain's pieces remain completely off-limits. Roth told the New York Times that he believes the Cobain pieces to be priceless, as they are "very special to the family."