Fans of Saturday Night Live can look forward to Alec Baldwin's return as President Donald Trump during season 43.
The 59-year-old actor is keeping his appearances to a minimum thought, giving SNL fans "a couple celery sticks" rather than "the whole meal." Ratings soared this season as Baldwin paraded the set wearing orange bronzer and a blonde wig, next to Melissa McCarthy who is a striking White House Press Secretary Sean Spicer.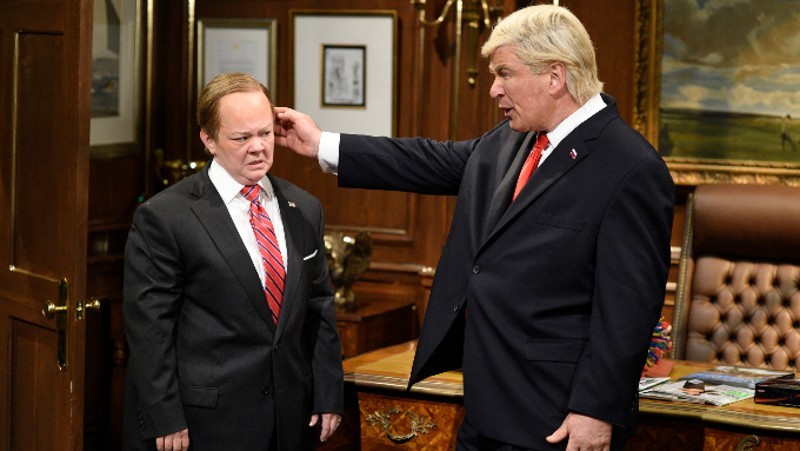 Baldwin mentioned in March he did not know if his Trump persona would be back for another season. But fans were delighted when he gave in and said, "Yea, we're going to fit that in. I think people have enjoyed it." Age and time restraints are a large factor in his doubt of continuing. He explained, "You get a little bit older and you think, 'Do I want to work right now? For me the question is not what do I want to do [it's] do I want to do anything? Do I want to work? I don't need to work. Do I want to work or do I want to just take it easy and smell the roses or do something else? When I decide I want to go to work I look at what's out there and pick something that's the best that's available to me."
Baldwin has hosted SNL a record 17 times, but his Trump skits have quickly become a fan favorite. Obviously, not Donald Trump's favorite. After a cold open sketch where Baldwin angry Trump tweeted with his lips pursed, Trump angry tweeted back.
Just tried watching Saturday Night Live - unwatchable! Totally biased, not funny and the Baldwin impersonation just can't get any worse. Sad

— Donald J. Trump (@realDonaldTrump) December 4, 2016
Baldwin delighted us all with a short and sweet response to Trump's tweet -
...@realDonaldTrump

Release your tax returns and I'll stop.
Ha

— ABFoundation (@ABFalecbaldwin) December 4, 2016
This was not Trump's first time reaching out to share his detest for the impersonation of himself -
Watched Saturday Night Live hit job on me.Time to retire the boring and unfunny show. Alec Baldwin portrayal stinks. Media rigging election!

— Donald J. Trump (@realDonaldTrump) October 16, 2016
In the face of the most surprising and alarming election yet, Twitter users just wanted to remind Baldwin that at least he knows what he is doing for the next four years.
Stick around Alec Baldwin. You're gonna have a busy four years on SNL. pic.twitter.com/sDXK88inIg

— Kathie Reyer (@Kathietime) November 9, 2016
To watch every sketch of Baldwin perfectly portraying our President, click here.