Several months have passed since the failed launch of a SpaceX Falcon 9 took place in Cape Canaveral, Florida. The September event was most certainly a low point for founder Elon Musk and his team. It also left doubt in the minds of investors and those who have been keeping up with the company's progress thus far. All of this changed this past Saturday, however, as SpaceX successfully launched a Falcon 9 from Vandenberg Air Force Base in California.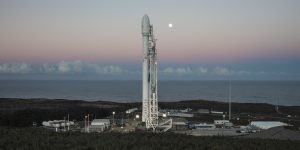 SpaceX
The Falcon 9 passed its pre-ignition checks, and it was time for liftoff. With everyone holding their breath, the two-stage rocket was propelled into orbit successfully. This event marked a very important milestone in the existence of SpaceX. Everything was looking good. Faith in the company has been restored once more. The incredibly expensive test launch was carrying a payload of 10 commercial satellites for Iridium Communications. The company monitors and operates a vast network of mobile communications satellites, currently in low orbit around the Earth.
The Iridium NEXT satellites are being placed into orbit to replace the company's older satellite network. According to a press release from SpaceX, something of this scale has never been attempted before, and it is what they called "one of the largest 'tech upgrades' in history."
Watch the video of the broadcast below. The last ten seconds of the countdown begins at 19:28.
While the launch itself was a success -- as cheers indicated in the video above -- what goes up, must come down. The uncertainty still lingered from the incident in Cape Canaveral and its destruction of the rocket and a $200 million Israeli communications satellite. Granted, that incident happened on the ground before the launch, but the expense is still being felt, and this was an exercise of trust on the part of Iridium. Everyone on the launch team knew their work was not finished until this rocket was back on Earth. Fortunately, this time was different. The Falcon 9 returned to Earth safely, as it touched down on a remote platform in the Pacific Ocean. The ability for the rockets to be reusable is key, as this will ultimately drive down the cost of performing missions.
SpaceX has secured a contract with Iridium Communications. Included in the agreement are seven launches, putting a total of 70 satellites into orbit around the Earth. We certainly hope that SpaceX has ironed out the kinks and that all of the equipment is delivered safely during the next six launches. Godspeed.