*SPOILER ALERT*
Listen up, Gleeks!  I can
EXCLUSIVELY CONFIRM
that Canadian Idol alum,
Marshall Williams
has been tapped for Season Six of Glee, as Spencer, "the new resident "football stud," who just so happens to possess an incredible voice, and
also
happens to be gay. Spencer is said to audition for, and join New Directions. ...but don't get this twisted now.  He's "post-Glee gay — no one messes with him about his sexuality, because he will kick their asses if they do." According to sources, close to production, I am told that Spencer's character "was important to Ryan Murphy for a lot of reasons. He (Spencer) represents an entirely new characterization, of what it's like to be gay in High School."  Murphy thought it was "important to show the world the current changing attitude in High Schools, from gay being perceived as a bad thing, to something more positive, and accepted.  Spencer's  a mans man, and doesn't take shit from anybody."  Another source tells me "Murphy realizes that he only has a little bit of time to cover a
lot
of ground, and intends to get the most social mileage from the final season of Glee."  The same source tells me "Marshall Williams can sing his
ASS
off. He's going to be the talked about new character of the season." Twenty-five year old Marshall, was a Canadian Idol contestant in  2007 and 2008, but may be best known for  his latest project, the Disney Television movie,
How to Build a

Better Boy
, in which he played a dancing, singing, football-playing robot.  That sounds about right, doesn't it? Williams recently tweeted: https://twitter.com/itsmarshallw/status/510170452312858624 ...the aftermath, of which can be seen in the photo below.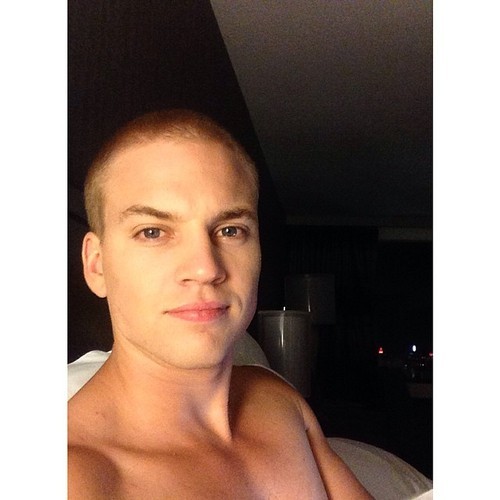 Marshall Williams Cuts Hair To Play "Spencer" In Season Six Of Glee
When asked about cutting his hair, Williams cryptically replied "
Im in LA now for work. Had to do it for this role. I'll tell you guys as soon as I can"
Williams character "Spencer," joins 4 other new characters, coming in Season Six of Glee.
Roderick

– Chubby and shy with a voice like Otis Redding, his looks don't

match with

his talent. Described as, "a true goober." He's the show's new underdog.

Jane

– Righteous, ambitious and unconventionally pretty, she's funny because she doesn't have much of a sense of humor. She wanted to be a Warbler but tradition kept her from joining so she jumps ship to the New Directions.

Mason and Madison

– Male and female twin Cheerios. They're super-positive and extremely weird. Mason gives off a gay vibe (spoiler alert: he's not).
If you can't wait to see what Williams looks like, in front of the camera, check out this trailer for
How to Build a

Better Boy,
below.
http://youtu.be/wEXX614KAPE
What do you think of the news? Do you think Williams will make a good "Spencer?"  What do you think of his character description?  Will you be watching?!
Keep up with PopWrapped on the web!
Twitter SoundCloud Facebook Instagram Tumblr Pinterest YouTube