Kara/Supergirl is officially a hero and she says that the red cape makes people expect someone else, but this is HER story.  She's getting a test from the DEO.  Her sister, Alex, works for them and she's helping them train her.  Kara gets a call for a fire at a port.  Alex is worried that she has already done too much.  Kara says, "This is a job for Supergirl!' She goes to the firefighters for instruction and they make some rude Superman comments.  Kara can't blow out the fire though, but she can move it.  Unfortunately, she cracks the ship and lets the oil out anyway. Kara heads back to work... normal work.  Winn is trying to make her feel better, but the news is anti-her.  Cat the boss is in and she's a bitch.  She has no idea Kara is her superhero.  Cat is ready to change Supergirl's image with an interview.  Can I take a moment to ask if Calista Flockhart has had work done?  Cat keeps Kara behind and tells her to get her head in the game. Kara thinks her identity will be blown but Cat won't notice it's her because she doesn't notice now.  Kara is Superman's cousin, that makes sense.  This guy, James, is kinda of into her, I think. A bad guy!  He's terrifying like the roach in
Men In Black.
The bad guy killed someone at a Chemical plant and he's an alien maybe the
MIB
will show up.  Kara has a flashback to her youth.  Their future looks like
Continuum.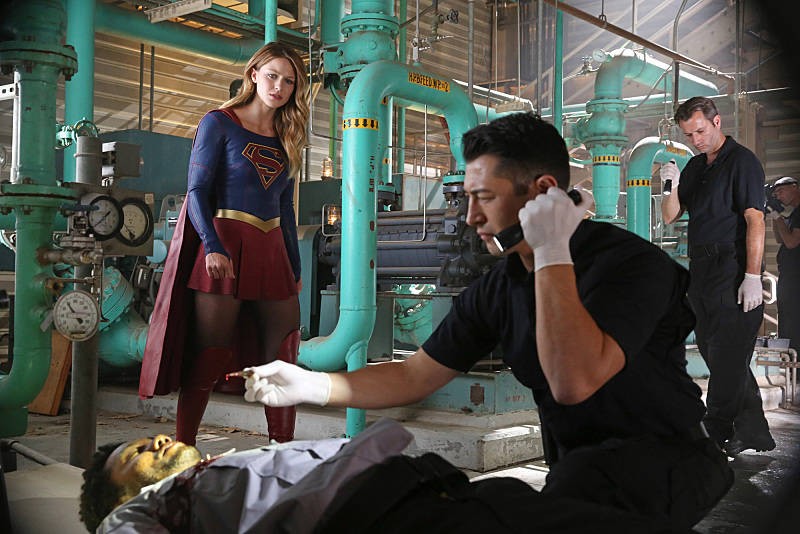 Courtesy of CBS
Kara's flashback shows her what they're after and it's an insect. OMG the
MIB
moments keep coming.  Alex, who I just realized is Lexie, is training Kara and she uses a little kryptonite.  Kara is weakened and not winning.  Kara is discouraged and Alex feels badly. Cat is with Kara and she's limping but more importantly she sees the spin Cat is taking on Supergirl.  Cat says Supergirl needs to calm down and stop taking too much too fast. Kara asks Winn to meet her in the alley and James is there.  Turns out they both know.  Kara is going to take Cat's advice and start small but she needs help. The insect guy is being attacked by two random guys who I should probably know.  Oh wow!  Kara's aunt is against her and she wants the bug's help. Kara is working on her training and it's like the early
Flash
episodes.  Little saves through the town.  It's working and she's thrilled!  A knock at the door and it's Alex. Alex came to apologize but she said she was looking out for her best interest.  They make up but Alex is called to work and they find out the bug only needed food and not making a weapon. Cat is looking for James to get her the Supergirl interview.  She threatens James for the interview.  What will they do? Alex and crew have set up a trap for the bug and it worked.  They shoot a million bullets at the bug and miss but he kills the guy in the back seat and injures Alex.  Alex was kidnapped and they thought they'd get Supergirl. Kara invites James to do some Superheroing but he says he has to think of some stuff.  Kara says she will do it.  James wants to be his own person and not famous for who he knows.  He thought he could change it all  The 'S' means stronger together.  These two are sweet and I think I'm going to ship them.  The moment is ruined when Kara finds out her sister has been taken.  She's pissed and now she's gonna reign hell on whoever got her. Supergirl knows who got Alex now and it's her aunt. Kara is in shock at her aunt's presence.  She thought her aunt was dead but she was in prison.  Kara goes after her after the aunt tries to tell her that she needs to join her. The bug is fighting with Alex while Kara fights her aunt.  Alex's teaching helps her.  Alex's partner shows up and they get away but the aunt will still be out there somewhere. Alex is worried about how Kara must feel but Kara says Alex is her family.  Alex has a surprise for Kara and it may let her speak with her family.  It's a hologram of her mother which was meant to help her in her new life on Earth. Cat is getting her interview and a lift.  Literally.