Okay kids, we are in the home stretch of the Supernatural Hellatus, but we still have a little ways to go. It's four weeks to be exact, but, hey, who's counting? Lucky for us, The CW has released a little something -- including Rick Springfield -- to help tide us over until October 13th when the premiere finally arrives: the first official Season 12 trailer!
For those of you who need a quick refresher before diving into the Season 12 sneak peek highlights, here are some important things to remember: Season 11 ended with the return of Mary Winchester and the kidnapping of Sam by the Rogue British Chapter of the Men of Letters (how we'll be referring to them until we get backstory).
Of course, Mary's death was literally the jumping off point for the entire series, and now she's back! What this means for Sam & Dean, of course, remains to be seen.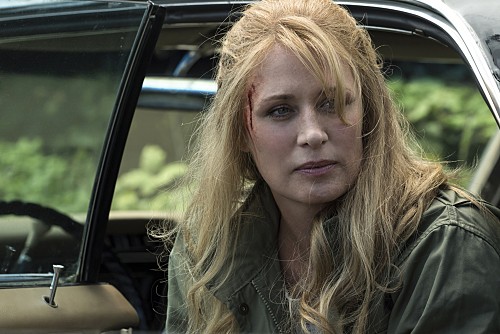 Katie Yu/The CW
Over the summer at San Diego Comic Con, we spoke with Jensen Ackles and Jared Padalecki about the return of Mary Winchester and how Dean and Sam's lives would be impacted by their mother moving into bunker and joining them on hunting trips. You can check out the full interviews with the Supernatural cast for more information.
But, by changing the dynamic of the show in this way, adding the one person (besides their father) who has driven them all along, opens up so many potential storylines. Of course, it also raises questions. We know she's alive and has returned to her previous age, but how long will she be there? And how much does she know about the last 30 years? What will it be like to be a mother who's younger than her sons? 
Another big plot point that we get a quick peak at in the trailer is Rick Springfield as Lucifer -- a completely out of the blue casting choice that has most fans even more excited for Season 12.
Thursday, Oct. 13 at 9/8c on The CW. Be there.
Check out the trailer below: