Jersey Boys is the Tony Award-winning musical based on the true story of the legendary 1960s group, Frankie Valli and The Four Seasons. The groundbreaking group wrote their own songs, invented their own sound, and went on to sell 175 million records worldwide – all before the age of 30. The musical features such Four Seasons' hits as "Big Girls Don't Cry," "Sherry," "Walk Like A Man," "Oh, What A Night," and "Can't Take My Eyes Off You." Jersey Boys celebrated its 10th anniversary on Broadway last November and is currently on its third North American tour. Directed by two-time Tony Award winner Des McAnuff and including music by Bob Gaudio, Jersey Boys makes its way to the west coast on January 20 for an almost four week engagement at San Francisco's Orpheum Theater.
PopWrapped got the chance to talk to one of the stars of the show, singer-songwriter, dancer, and a man whose voice and face you may recognize from a number of Disney movies in the last decade, Drew Seeley.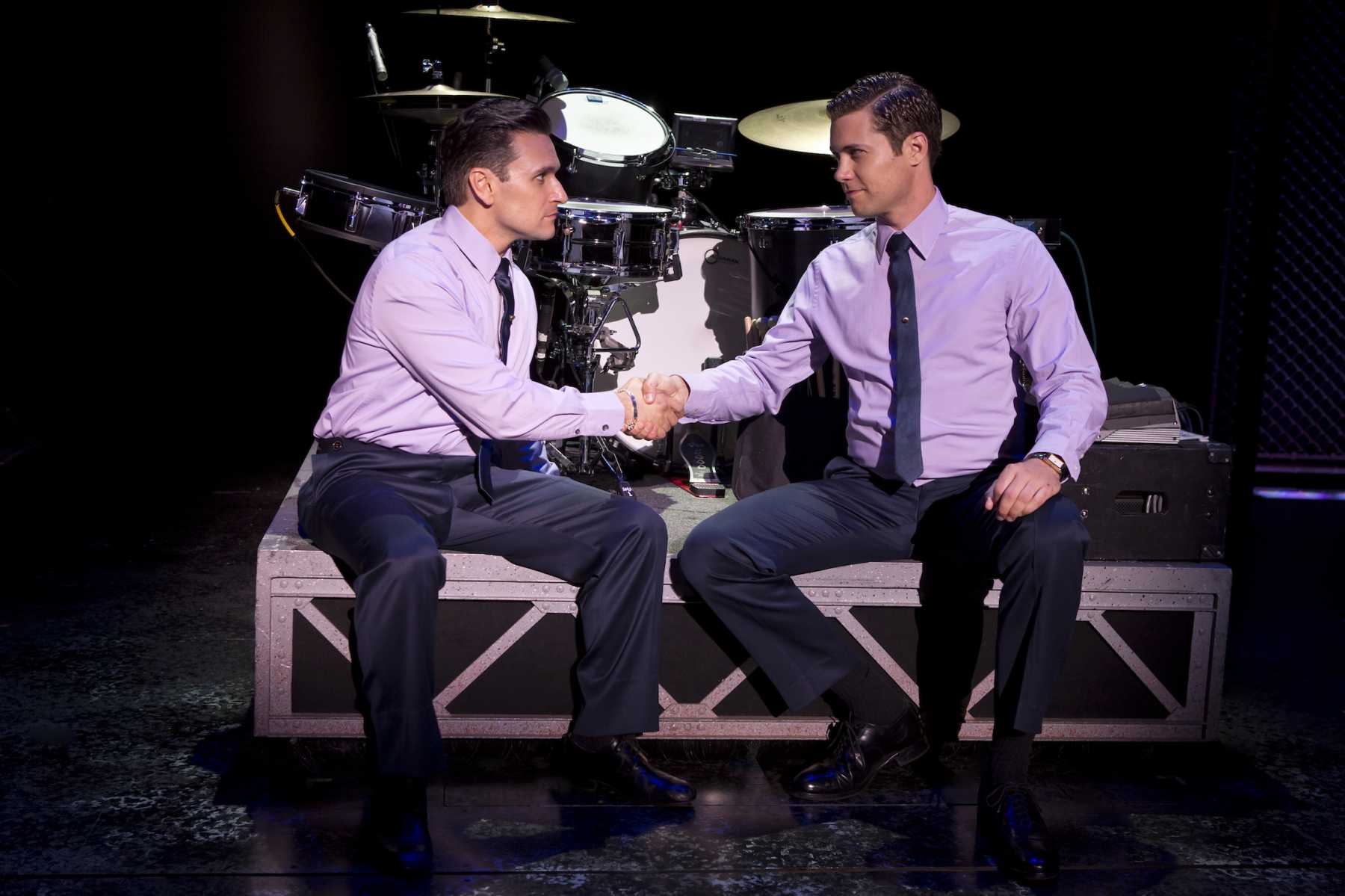 SHN
PopWrapped: Tell us about Jersey Boys and your role in it.
Drew Seeley: I play Bob Gaudio, who was the principal songwriter for the Four Seasons and the last member to join. I auditioned for the show in California, LA and didn't hear anything for a year and, then, got a call out of the blue saying "Hey, come to New York for a call back!" So I did that and, then, they said they wanted me on board. I think all the guys involved went through the usual channels. You have to audition and sometimes it takes eight call-backs -- and sometimes it's faster. It's a really great group that we got together, and we're excited to come to San Francisco. It's the first I've spent a long amount of time there. It'll be a lot of fun.
PW: Tell us a little bit about how got started acting and about both your theatre background and your Disney background.
DS: I got involved in theatre when I was 11. I answered an open call in Toronto where I lived and was cast in Showboat and did that show for a year while I was in middle school. That's kind of where I "caught the bug" if you will. I've been going ever since then. I lived in Orlando for ten years, and went to high school and college there. Actually, while I was there, I was not involved with Disney at all, though a lot of my friends were. Then, I moved to California in 2004 and basically got involved with Disney when High School Musical came out in 2006. I did some singing and co-writing some of the music. They've been really great to me since then and offered me a lot of stuff. I've done soundtracks and released a lot of music for some of their films. I did Disney's The Little Mermaid on Broadway in 2010, which was also the last time I spent some time on a professional stage. So that was a good experience.
PW: With the shows you've done on stage and the handful of movies you've worked on, which medium do you prefer, and where do you see yourself focusing your energy in the future?
DS: That's so hard, and I go back and forth on that. I've been so blessed to have a really well-rounded acting experience thus far. I've been on a television show, done a handful of movies, and, then, the theatre experiences have been great. It's all so different. I live in LA, that's my home base. I got married two years ago, and I'm building a life out there. To pursue theatre hardcore, I think I'd probably have to move to new York. I think, right now, after Jersey Boys is over, I'm probably going to go back to focusing on film and TV -- but you never know what's going to come along. Like I didn't expect Jersey Boys. It kind of came out of left field, and I was open to it, and it's been one of the most gratifying experiences I've ever had. I think being open and being ready to go at the drop of a hat and just being open to it is the thing that's always worked for me.
PW: Of all the roles you've done so far, what role has meant the most to you?
DS: This is a hard question! I did a Hallmark film in 2010 called Freshman Father that was a lot of fun. I played the title character. It was about a single father struggling to raise a kid and work his way through college and law school. It was based on a true story, and the guy was on set. It's cool playing a real person, which I am in Jersey Boys, too. That was a great experience because it was telling a really heartfelt, genuine true story, and we shot it in Victoria, BC., which is beautiful. I got to play daddy for three weeks. I don't have any kids, but we had these beautiful little six week old infants that we were trading off in all these scenes. I had to learn how to do all these things in a pinch, and the parents were standing there off-screen watching. That was a role that sticks out. I did a show called Glory Days that took place in the 80s. I played this uber-Republican kid who was in college and wanted to be the next Ronald Reagan. That was a whole different kind of thing, but it was a lot of fun, too.
PW: Now the flip side: what role would you consider your dream role that you would like to play someday?
DS: I started in dance before anything -- singing or acting -- and I'd love to portray or do something influenced by Gene Kelly or Fred Astaire, the greats from back in the day. That's always in the back of my mind as some project down the road I'd like to get involved in. As far as theatre goes, Kinky Boots or Book of Mormon would be awesome. I grew up with Les MIserables, so I'd love to be part of that at some point.
PW: What would you say is your favorite number to perform in Jersey Boys?
DS: That changes nightly. I would say "Big 3" because that's the moment in the show, about 40 minutes in, when the guys really break-out and they have their three number one hits in a row: "Sherry," "Big Girls Don't Cry," and "Walk Like a Man." At that point, the audience is into the story and sees where these guys are coming from. Then, they're slammed with all these songs they already know and can sing along with. There are a lot of lights, colors, costume changes -- it's an exciting moment in the show. That's the moment when you truly feel like a rockstar every night.
SHNsf brings Jersey Boys to San Francisco's Orpheum Theater from January 20th through February 14th. The tour then makes its way to Palm Desert and begins criss-crossing the U.S. Check the Jersey Boys website to find out when the show will be near you.