Unlike most people my age, when I hear people talk about "The Avengers," I don't immediately think of the Marvel comic strip or the recent movie of the same name. My first thought goes to the classic cult British television spy show from the 1960s. I actually grew up watching some of these shows long before I ever knew about the superhero team. In fact, The Avengers (1961-69) television series was created first in 1961, while the Avengers superheroes made their comic book debut in 1963. Similarly to The Saint (1962-69) television series starring James Bond star Roger Moore that was on around the same time, many American audiences have not heard of this show, especially those of the current generation, and that needs to change because The Avengers really has something special to offer, and, if you like quirky spy action, then this is the show for you. I feel called and indebted to give you a rundown of the series and how people like Iron Man and Captain America were not the first "Avengers" to come down the pike; so that's what I'll do here.
While the first year of The Avengers centered on police surgeon Dr. David Keel (Ian Hendry), the show was really most known for the suave and debonair British agent, John Steed (Patrick Macnee, who would go on to star in films like the Roger Moore Bond outing, A View to a Kill (1985)), who was Dr. Keel's assistant in the first season. Steed and his female partner Mrs. Gale, Mrs. Peel, or Tara King (depending on the time of the series), solved crazy, kooky cases with thieves, murderers, criminals, scientists, what have you, dealing with such things as a car race to find a dead man's hidden treasure, the search for an antidote to stop a large man-eating plant, figuring out how to "grow up" after being shrunk down to insect size, and how to cleanup a mysterious piano recital murder. John Steed was really the consistent series regular, with all three female partners more than capable of handling themselves in a fight (some serious martial arts skills); they always got along with Steed, flirting and bantering but always by his side and he theirs. Despite their titles of "Mrs." Cathy Gale and "Mrs." Emma Peel, there always existed some romantic tension between Steed and all of his leading ladies -- most notably with Mrs. Peel, who he gives an emotional goodbye to in her final episode. We never hear where the "Mrs." comes from or if indeed these two ladies specifically are, or were, married. While, early on, both Mrs. Gale and Mrs. Peel occasionally had a firearm at their side, the show made a few changes in 1965 besides Emma taking over for Cathy. Funny camera shots and somewhat muddled sound became more "Americanized," with a rhythm that was easier to follow and understand, after the show was sold to the U.S. American Broadcasting Company (ABC). The theme song changed to that of Laurie Johnson's classic jazzy, haunting yet highbrow tune, along with a whole new episode introduction and conclusion title sequence. Usually both Steed and his partner got along fine without a weapon and could use their hands or helpful objects nearby them in a conundrum; Steed started using his umbrella that, with his bowler hat, he kept with him at all times. The show, in general, received more of a lighter, humorous feel. The complete series ran from 1961 to 1969 and began in black and white, transforming to color in 1967.
1962-1964: John Steed and Mrs. Cathy Gale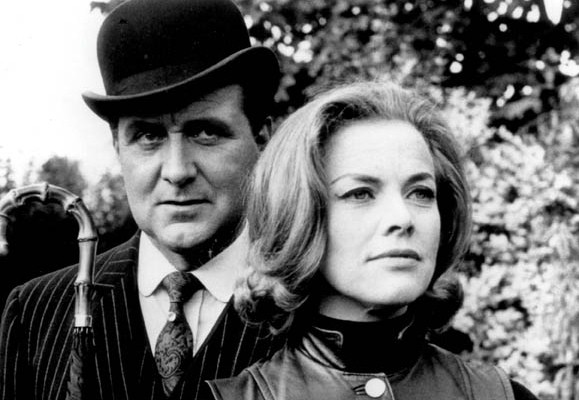 Devoted and hardcore James Bond fans will want to check out this series as well; that's how I got introduced to it. The first partner of John Steed was Mrs. Cathy Gale, portrayed by the lovely Honor Blackman, who fans will know later played the iconic Bond girl Pussy Galore aside Sean Connery's Bond in the classic 007 film, Goldfinger (1964).
1965-1968: John Steed and Mrs. Emma Peel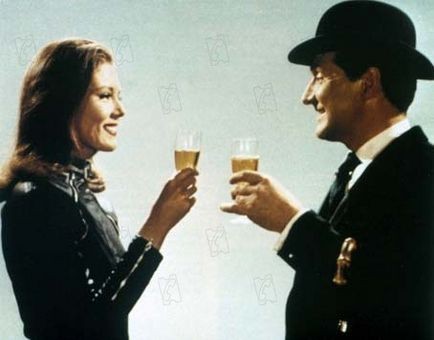 The second partner of John Steed was Mrs. Emma Peel, the lucky first lady to be seen in full Avengers color! Emma was portrayed by the beautiful Diana Rigg, who would also play a role in the 007 franchise as my personal favorite Bond girl, Tracy, alongside George Lazenby's Bond in On Her Majesty's Secret Service (1969). Emma Peel was and still is arguably the most popular and most beloved of Steed's partners in The Avengers series, and what maybe gave the show its most success and recognition. There's a reason it was her character that was portrayed in the 1998 film, but we'll speak more on that later. Diana Rigg also notably starred as Lady Holiday in The Great Muppet Caper (1981), and most recently can be seen as Olenna Tyrell in HBO's Game of Thrones (2011-17). She was nominated for a Golden Globe for Best Supporting Actress in The Hospital (1972).
1968-1969: John Steed and Tara King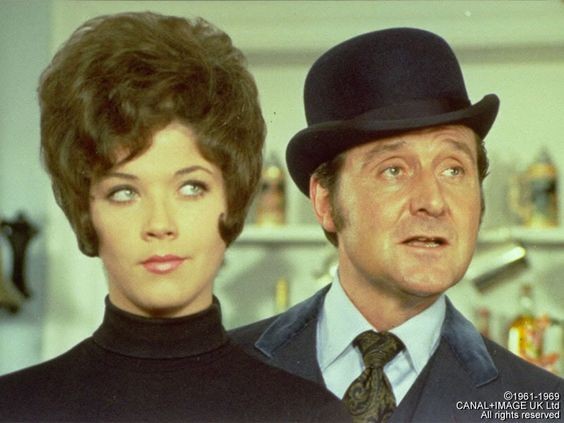 The third and final partner of John Steed was Tara King, portrayed by the lesser known Linda Thorson, who remains most known for this role. She later appeared in shows like The Hoop Life (1999-2000), Marblehead Manor (1987-88), Emily of New Moon (1998-2000), Law & Order (1990-2010), Emmerdale (1972-), and Star Trek: The Next Generation (1987-94). Her character of Tara King was actually seen and introduced in Diana Rigg's final episode of The Avengers in 1968.
1976-1977: John Steed and Purdey and Mike Gambit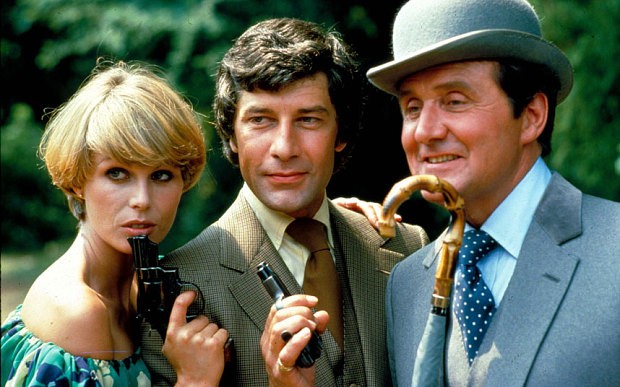 Finally, there was a spin-off show called The New Avengers (1976-77), which, despite the public's desire for more Avengers, unfortunately did not take off and only lasted a season from 1976-77. Patrick Macnee returned to the role of John Steed, only this time he had two partners: a man and a woman named Mike Gambit (Gareth Hunt) and Purdey (Joanna Lumley). Gareth Hunt had starred in shows like Doctor Who (1963-89) and Upstairs, Downstairs (1971-75), and would go on to star in shows like The New Adventures of Robin Hood (1997-99). Ms. Lumley has had quite a prosperous career and is still at it, starring in shows like General Hospital (1972-80) and movies like On Her Majesty's Secret Service (like Diana Rigg), Corpse Bride (2005), James and the Giant Peach (1996), and The Wolf of Wall Street (2013).
At the 2000 BAFTA (British Academy of Film and Television Arts) TV Awards, all four charming ladies of Honor Blackman, Diana Rigg, Linda Thorson, and Joanna Lumley received BAFTAs for special recognition for the show.
1998: John Steed and Emma Peel (reprise)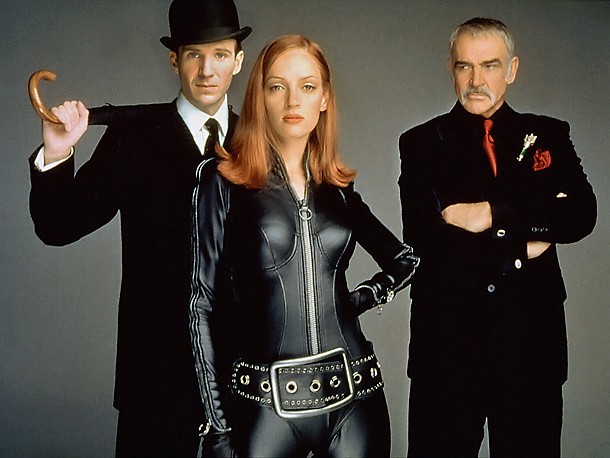 Unfortunately, the series got a bit of a bad rep when a film based on the series was released in 1998, starring Ralph Fiennes as John Steed, Uma Thurman as Emma Peel, and Sean Connery as the villain, Sir August de Wynter. The film was and continues to be almost universally panned and hated, with embarassingly low ratings. While I did not love the movie, I did enjoy myself watching it and would watch it again. I think part of the problem is that so many people who watched the film had never seen the original series, not to mention that this was an American film adapation of the British show. The original series is, of course, much better than this movie, but the type of humor and overall feel of the film is not too far off from the series itself, despite the movie not always successfully capturing that incomparable 1960s magic. However, I believe that, if people were more acquainted with the series, they might be more forgiving of the 1998 film attempt and see that villains dressed as giant different-colored Teddy Bears or rooms that keep leading back to themselves is really not so outlandish. Of course, times do change, and maybe audiences just aren't as up for what clearly worked in the 1960s and gave it its unique flair.
Regardless of what you hear about the 1998 film, it does offer fun albeit sometimes campy performances from Uma Thurman and Ralph Fiennes, as well as the classic music from the show and to this day exciting and engaging action. Not all of the effects hold up, unfortunately, and Sean Connery, who was a great choice for the villainous role, just does not seem himself here. Thurman and Fiennes as successors to the roles, given a better script and director, could still make The Avengers work if given the chance. Maybe we'll see another film interpretation someday (although high unlikely with similar stars); I hope so. Until we do, make sure you watch some of the original series! They are lots of fun with endless mysteries and thrills, especially the standout Diana Rigg/Emma Peel era.
Unfortunately, most of the very early episodes that were shot on video were wiped, which included some but not all of Mrs. Gale's performances. You can still find her, as well as the complete collection of John Steed and Mrs. Peel, and John Steed and Tara King, on DVD.
Enjoy some of the theme music below from 1998 as well as the 1960s intro with Diana Rigg as Emma Peel to get you in the mood!