Now well and truly in with Roper and his crew, in this week's episode of The Night Manager, Pine cannot help but be enamoured by the lavishness of his new lifestyle – one that presents him with his very own credit card (I can't even begin to image the limit, if there even is one, on that thing!) and a host of new, perfect fitting suits. (Aside: Hiddleston would look dapper in a bin-liner as far as I'm concerned.)
But with success and money comes suspicion, and, although Roper himself seems oblivious, Corky is watching Pine like a hawk and spots Jed, by this point, completely bowled over by Pine, wandering down to his place. In this episode, he even manages to come across even more menacing than Roper, himself (quite a feat, I'm sure you'll agree!) when he warns his new crew-mate: "Do you have any idea what'd he'd do to her if he knew? Even Dr Shimon, Mr Plastic Fantastic might find that a bit of a challenge." I, for one, would back right off had I been issued such a threat, but Pine isn't me, and, instead, he continues his dalliance with Jed later on in a hotel room, taking her against the wall, and showing off his rather pert bum at the same time.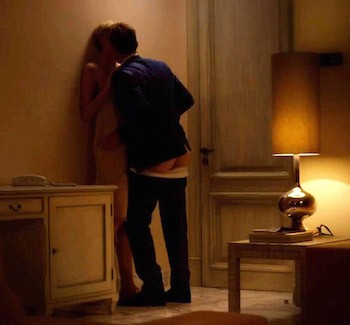 Standard
Anyone who didn't see the hook-up between Pine and Jed coming needs to book an appointment with an optometrist ASAP. While said hook-up wasn't the smartest thing to do (she is the missus of an arms dealer after all), Jed's longing for her new lover evidently fried her brain, as she, then, tracked him down to a hotel and gave him a call. Duly concerned about being overheard or listened in on, Pine proceeded to say "We need to get off the line" and hung up -- but not before Burr and her team caught wind of what the two had been up to … oops.
At a business lunch later on, Pine proves himself worthy of Roper's trust when he fixes a mess Corky's made (his jealousy is practically oozing out of his pores at this point) and, at the same time, gets to shake hands with The Night Manager author himself, John le Carré (yes, that's him!). Roper, meanwhile, seems to make no connection regarding Pine and Jed to Corky's comment: "To the victor, and to the blind man who cannot see the human bloody hand grenade in front of his bloody eyes."
Having had little to do with last week's episode, tonight, Burr (Angela Colman) really gets her chance to shine, and, boy!, does she take it. I, personally, would have thought it quite hard to steal the spotlight away from Hiddleston, in particular, but, tonight, as she recalls how she first knew Roper in the 1990s and of the joy he found in the atrocity he went on to be responsible for, she lures in the viewers and holds them tight – they cling to her every word, feel her every emotion. If she doesn't get a BAFTA nomination next year off the back of it, there may yet be a riot.
What did you think of the episode? Leave your thoughts in the comments below, and I'll see you next week!