"We started out sipping the water
And now we try to swallow the wave
And we try not to let those bastards get us down
We don't worry anymore cause we know when the guff comes we get brave
After all, look around
It's happening, it's happening, it's happening now"
As Outlander's tenth episode, "Heaven and Earth," opened with Jamie tethered to the Artemis as Claire sails further away from him on the British naval vessel Porpoise, so the ensuing scenes show a man desperate enough to attempt chaos out of order so as to reassume control, while a woman creates order from chaos by deftly, steadily wrestling control from others. Both Jamie and Claire find themselves confined, literally and figuratively, in nightmarishly familiar situations of pain and heartache, but as her virtue is maintained by being an agent of change, his life is protected by remaining an object of personal ambition, if only temporarily for both.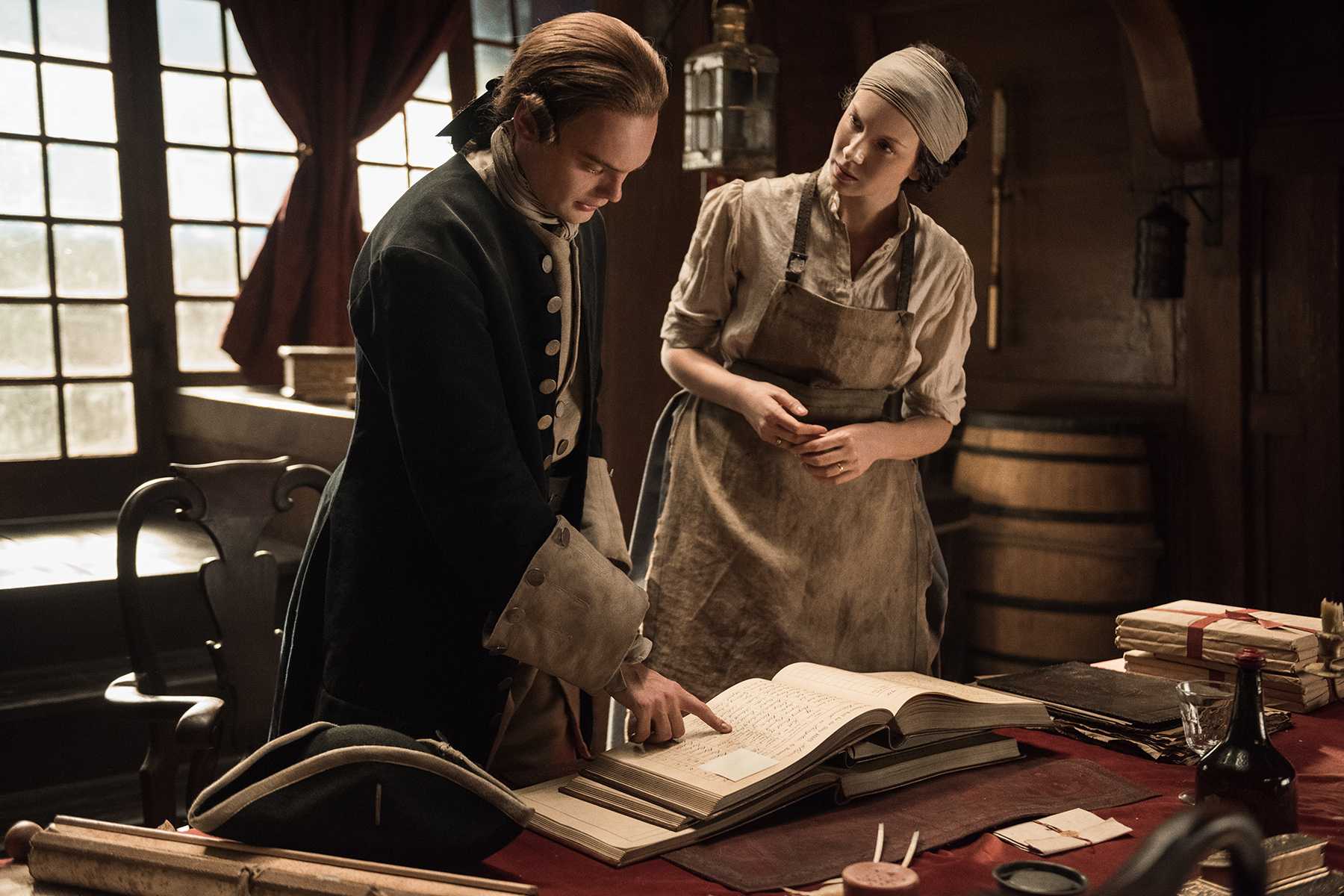 Since Claire's medical skills are needed to treat an episode of typhoid fever that has decimated the crew by a quarter, she boards the Porpoise in the best possible light towards the men: Captain Leonard (Charlie Hiett) and the other officers in charge are bringing a doctor onto the ship, rather than a woman. They shape the crew's perception of Claire, and though placing full trust and authority in her decisions towards the sick and dying causes expected tension among those who don't want "a lady doctor giving me orders" there is not much pushback towards her directives.
She establishes protocols early that ensure her protection as well as the remaining seamen's health, such as no one should sleep touching another and no touching of the face, hair, or clothes. If the men fear physical contact, they will be less likely to come into close proximity with her as she spends so much time among the sick. Leveraging their fear and a superstition towards women on ships allows her a bit of literal breathing room and protection, plus the ability to organize her captivity into incremental advances towards liberation.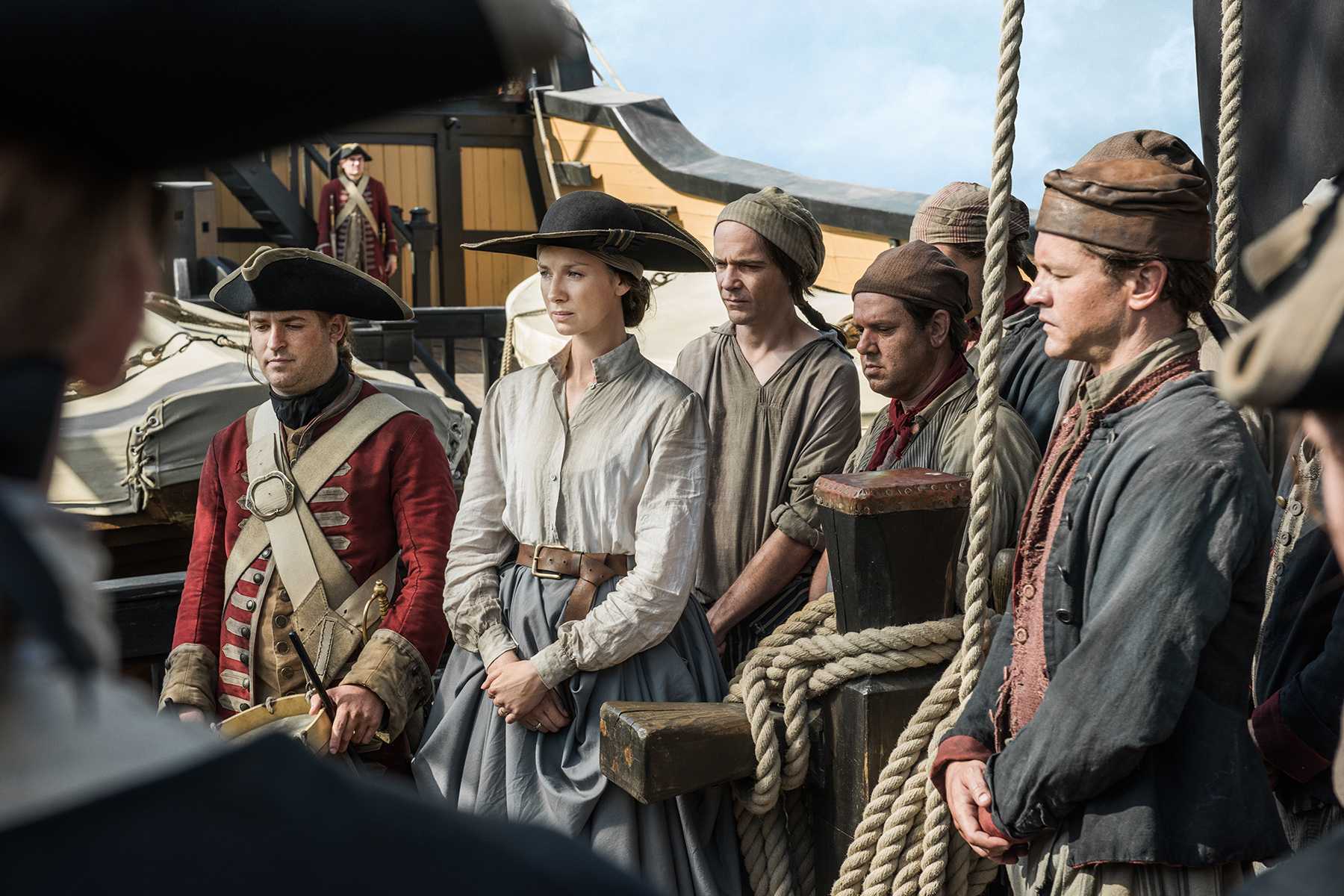 Why such begrudging compliance? For one, Claire redesigns the ship as a teaching hospital, the crew as her students. Using differentiated instruction, she figures out who learns best from demonstration, who needs visual support, who requires reteaching, and who needs that "Come to Jesus" talk out in the hall. If she were to weaken or relent even an inch, she would lose control of the class - the dirty, bawdy, stubborn class. Watch as Claire reverts to more formal speech around Leonard, then more informal terminology among those she gains as helpers like Jones (Gustav Gerdener) or Pound (Albie Marber). She is tough where warranted, as when the purser, Overholt (Matt Newman), asks how many casks of grog will be required for distillation and she replies, "How many men would you like me to save?" As she divides the ship into wards of quarantine in order to push the remaining crew forward through the outbreak, so she alternates her personas - as manager, teacher, diplomat, drill sergeant - as she traces the progression of the disease back to its source.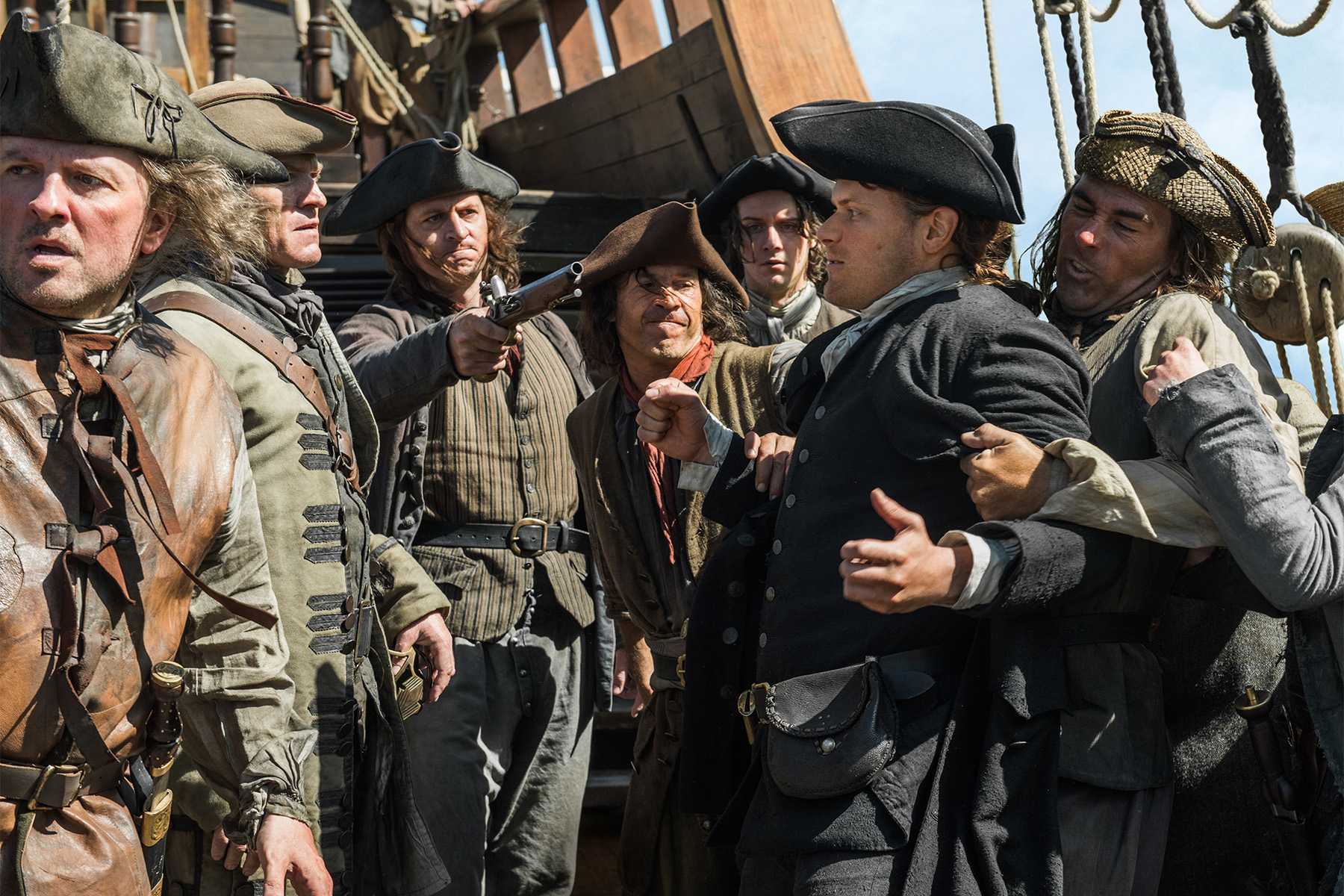 While Claire is engaged in a tug-of-war on the Porpoise, trying to heal the sick and track a mystery, Jamie remains in an infuriating stasis below the deck of the Artemis, locked in a cell by Captain Raines (Richard Dillane) as a pawn in a bigger plan of ambition and advancement. Adding to their contrasting situations is episode director Luke Schelhaas's spotlight on form and movement, from the fluidity of Claire expertly customizing the triage of her makeshift field hospital to Jamie virtually folded within his cell. The external structures that the couple finds themselves also reflect the degree of internal conflict each is undergoing: she is learning how to reassemble pieces of her 20th century self in the Old World, while he is enduring a flashback to earlier times when he was deprived of freedom of movement, voice, and family.
For Jamie, Claire embodies the bright light he can move toward after years of existing in shadows, and losing her after so little time together clouds his reasoning as a hero and leader. Back at Ardsmuir, he stayed in prison for the good of his men; at Helwater, he stayed for William. With Claire off the Artemis, Jamie has lost the agency he had scratched together in Edinburgh and become objectified again. Fergus (César Domboy) even overhears Manzetti (Cameron Robertson) joke that "the supercargo is cargo himself now." In his isolated state, Jamie's tunnel vision towards rescuing Claire not from disease but the men of the Porpoise detracts concern for Fergus and Marsali (Lauren Lyle), who get to enjoy the blissful days of young love from the confines of a smelly, crowded ship. Jamie entreats Fergus to help him form a mutiny aboard the ship to catch up with Claire, despite their being outnumbered three to one against men who owe no loyalty to him.
So adept at ascertaining the situation on land, Jamie is out of his element at sea, both physically and strategically. The daily rituals and rhythms of ship life is unnatural to him and his time in the cell only exacerbates this anguish into misdirected rage as he lashes out at Fergus for noncompliance with the plan. Such reluctance to rush headlong into battle is perceived as a lack of honor and indicative of the shallowness of feeling towards Marsali. Fortunately, it is Fergus's faith in "Milord" who showed him love, family, and protection that causes him to disobey Jamie's myopic orders, as the young man displays a maturity in seeing the bigger picture of what is at stake for all three of them if the plan fails.
As Claire makes slow but steady headway through the outbreak on the Porpoise, the character of teenaged Elias Pound becomes her outlet. She may have the trust of Captain Leonard and the eventual respect of seamen such as Jones and the goatherdess Annekje (Chanelle de Jager), but in Pound she finds a similar faith: that of a prize pupil. Eager, dependable, and engaged in her daily rounds, Pound is both a learner and a future leader, as he defends her honor to detractors such as Overholt the purser (Matt Newman) and Cosworth the cook (Lawrence Joffe). With the rest of the men, Claire just has to convince them of the "what?" behind her methods, but with Pound, she gets to illustrate the "why?"
When Claire explains compartmentalizing to Elias - of "separating certain areas of your life so you can do your work" - she is speaking not only from her experience as a doctor but also as a woman, constantly intuiting perceptions of her in social situations and differentiating her responses as to retain enough agency to keep working, to keep moving forward. This can also be said of a teacher, who has to be a parent and custodian and manager and counselor in addition to the job title, and who will inevitably encounter at least one student in their career, as a doctor with patients, whom they cannot save. You do the best you can and provide them with as much support as possible, but if you don't force yourself to leave that classroom and go home to your own life and all its dramas, the grief over some of these kids can consume you. At times, it will. When Elias catches typhoid, Claire is caught off guard as they had grown close and yet she admittedly missed the signs. Her grief over his death demonstrates the sensibilities of a doctor or teacher: rather than repress all emotions in order to function, they instead endure and push through them in order to cope with the worst parts of their job. Doctors grieve. Teachers grieve. It's part of a caregiving profession and you have to compartmentalize the light and the dark in order to move forward.