The Strangers is a 2008 horror film about a group of masked people torturing a couple during a home invasion in a remote cottage. The Strangers: Prey at Night is the sequel which has been in development since shortly after the release of the first film. Starring Christina Hendricks, Bailee Madison, Martin Henderson, and Lewis Pullman as the family who fall prey to the unknown killers in a deserted trailer park in the middle of nowhere. Like the original this installment, directed by Johannes Roberts (47 Meters Down), is supposed to be based on a true story.
Seasoned horror movie fans will find much of the film predictable, but I still felt they managed to keep the audience in suspense. It was easy to anticipate jump scares and times when one of the killers was going to appear menacingly in the background, but enough small twists kept you interested. This is definitely one of those horror films that has you yelling at the characters to not be stupid, like putting a gun down or getting in a cop car and not radioing for backup. The movie isn't without its minor plot holes, but I did appreciate the setup work to solve the biggest problem facing modern horror films. Cell phones. People don't go anywhere without their phones anymore, so the premise of getting the kids' faces out of their phones for one night rings true. My only gripe with it was that the parents (at least one) should have still had their phones in their pockets. All it would have taken was another 10 seconds to show the parents setting the example and putting their phones aside. Let's be real though, small plot holes don't matter, many classic horror films have done worse (like killing a person by breaking their legs on a tree). The audience just wants to be scared and see some people get killed.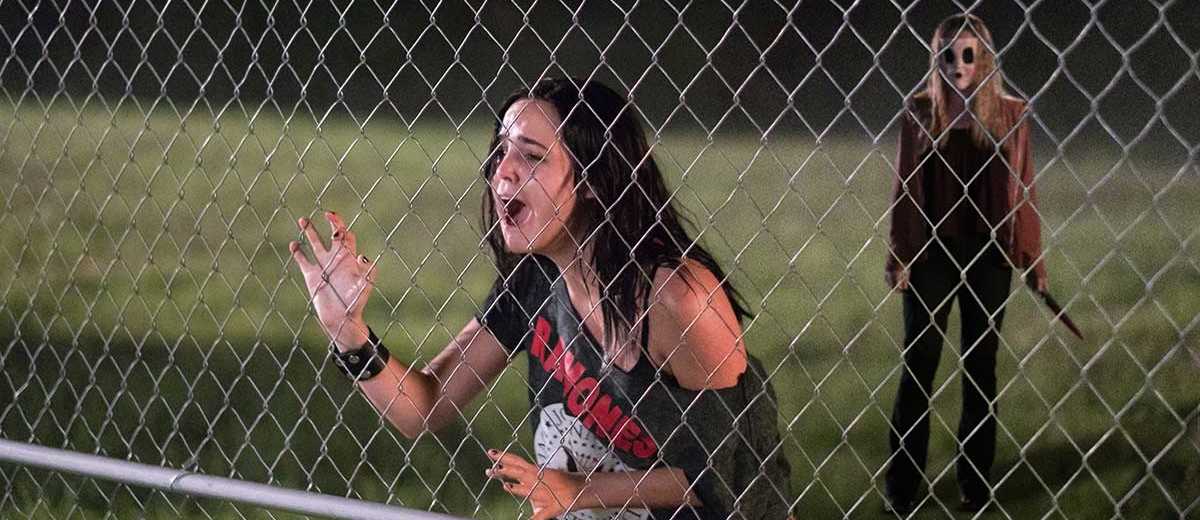 For a slasher film, there weren't any epic or inventive kills that were really memorable. Thinking about it, this is quite fitting. When I was invited to this screening, I couldn't recall whether I had seen the original or not (of course I had, otherwise I wouldn't have gone). It just wasn't a particularly memorable film and 10 years later is all but forgotten. What The Strangers: Prey at Night did have was satisfying kills. Characters get what they deserve and the audience gets a thrill out of it. There is also one prolonged scene with a very entertaining struggle between the killer and Luke that really engaged the audience as you tried to figure out who'd come out on top. It was my favorite scene of the movie and reminded me of those nightmares where you are running away but seem to go nowhere.
In escalating the stakes for the sequel, Prey at Night lost a little bit of the realism from the original that made people want to lock their doors because this could happen to them. Overall, still a solidly decent slasher film that wasn't over the top or campy but a bit of a stretch to envision yourself in the same scenario. Well paced with a runtime that felt just right and featuring some great shots, it is an enjoyable ride for horror fans. Not going to attract the popcorn flick movie goers, but The Strangers: Prey at Night is worth seeing (even if just on Netflix in a few months). For those who haven't watched the 2008 film, Prey at Night could easily be watched without seeing the first movie. Other than the killers, there is zero connection between the films. The Strangers: Prey at Night is in theatres March 9th.