The Twin Peaks revival has had some incredibly weird, shocking, funny moments so far. Now that we're halfway through the season, let's take a look at some of the best.
Top 10 Twin Peaks: The Return Moments
10. The Glass Box Monster
There's a thing David Lynch likes to do, I don't know, maybe you've noticed: he likes to make us anticipate. Sometimes that anticipation is rewarded, sometimes it's not. Sometimes it really is just a dude sweeping the floor for five minutes, and sometimes it's a flesh-eating glass box monster. We're introduced to the ill-fated Sam and Tracey, we follow their (weird, vaguely creepy) romance, and we're tricked into thinking they'll stick around. There's a buildup—Sam sits in silence watching the glass box, Tracey brings him coffee, Sam sits in silence again, Tracey brings him coffee again, etc. And then BAM. I'd be lying if I said I wasn't surprised to see them killed off so quickly, but you never know what to expect with this show do you?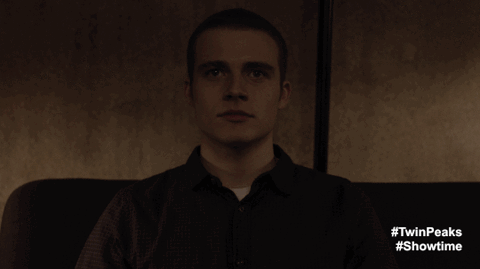 9. The Useless Marjorie Green
You guys. This. Woman. They managed to find the perfect actress to play this character. You know the one. The neighbor. Every show seems to have one. She's nosey. She loves her dog. She tries to be helpful but isn't really at all. That neighbor. In the Lynchian universe, she's also completely and woefully oblivious to just about everything, and her name is Marjorie Green. She's the first to discover something is amiss with Ruth Davenport—astute on her part, to be sure, but then she can't remember her own address or who exactly has Ruth's keys (it's her, by the way). So really, what good is she? Yes, she may be useless, but I'd be lying if I said I didn't full snort at every squealed "Oh my goodness!" Can Marjorie Green come back at some point, please?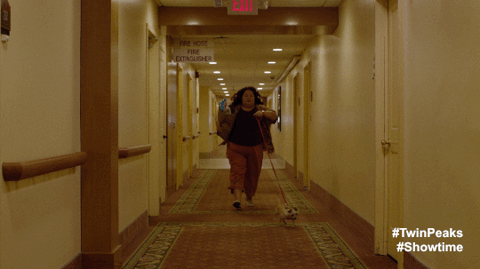 8. Don't Mess With Janey-E Jones
Here's the thing: Naomi Watts had a tough job, taking on a major role in an iconic series that already has a plethora of well-loved characters. Fortunately, Watts, who starred in 2001's Mulholland Drive, has some experience working with David Lynch, so she fits right in. As Janey-E, she provides the perfect foil to her husband Dougie-Who's-Actually-Cooper-And-Not-Really-Her-Husband-Dougie. Where "Dougie" is slow, infantile, and practically mute, Janey-E is sharp, shrill, and quick-thinking. All of this is perfectly exhibited when she decides to take on Dougie's debt troubles herself, meeting with a couple of thugs in the park and putting them promptly in their places. "WHAT KIND OF A WORLD!" she hollers, thrusting a very fair and generous $25,000 into their hands, and honestly, it's just hilarious.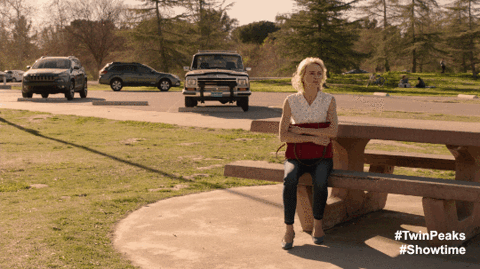 7. The Return of Denise
When it first aired in the early '90s, Twin Peaks was groundbreaking in many ways. While we obviously talk today of its stylistic influence on shows like LOST, The Sopranos, Desperate Housewives, Hannibal, etc. (seriously, it's a long list), it's not as often that we acknowledge its treatment of the character Denise Bryson, the cross-dressing DEA agent formerly known as Dennis. Introduced to audiences in season 2, she very matter-of-factly informs her colleague Cooper than she goes by "Denise" now and lives a woman—and guess what? Coop's totally cool with it. Pretty progressive for a show that debuted over two decades ago. So seeing Denise return, now as FBI Chief of Staff, is just such a pleasant surprise. Her scene with Gordon Cole is just delightful, and weirdly heartwarming, as Cole reminds her of the days when he was her boss, at the time of her transition: "And when you became Denise, I told your colleagues, those clown comics, to fix their hearts or die." When Cole leaves and Denise is left alone, she's all choked up, and it's really super sweet.
6. Dougie/Coop Snaps Out Of It...Sort Of
There's a lot I could say about this particular version of Dale Cooper, but I'll boil it down to this: this Coop is equal parts hilarious and tragic. Yes, his brief stint as "Mr. Jackpots," following signs from the beyond to score over $400,000 at the slot machines, was fun and, sure, I could have listened to him bellow "HELLOOOOO!" about 50 more times. But there are those little moments, those brief bursts of recognition, every time he sees a badge, or hears the word "agent" and mumbles it to himself, every time he smells a cup of coffee. It's like the real Dale Cooper is in there, so close to the surface, and something just needs to snap him out of it. Enter, Ike the Spike, an awesomely-named, ice pick-wielding assassin. When Ike takes his shot at "Dougie," we see, for the first time all season, a flash of the real Dale Cooper we all know and love, immediately snapping into action to disarm Ike, saving Janey-E's life and his own in the process. It's unclear what long-term effect, if any, this encounter will have on "Dougie," but hopefully we'll find out really soon—fingers crossed.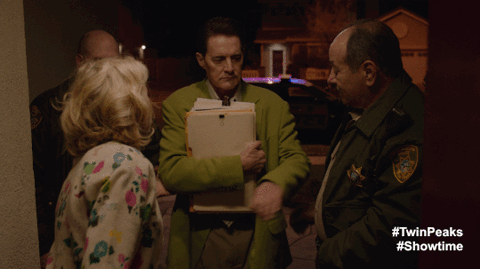 5. "Something is missing..."
Now may a good time to mention this: if you still haven't seen Fire Walk With Me, the feature-length Twin Peaks prequel that came out in 1992 after season 2 ended, you may want to do that. Like, immediately. That being said, when Hawk finds the missing pages from Laura Palmer's diary in the bathroom stall door, I may or may not have screamed. It's a major Ah-hah! moment, and on top of that, it offers some hope that maybe Coop will soon be reunited with his Twin Peaks pals, now that he's back on the sheriff department's radar. And lest we all forget, Coop told Hawk 25 years ago, "If I'm ever lost, I hope you're the man they send to find me." So get on it, Hawk!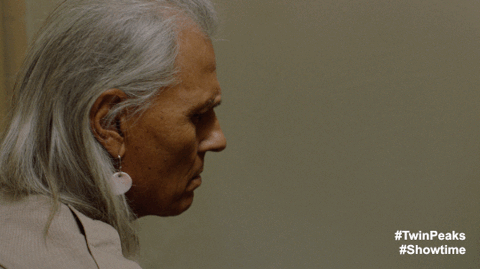 4. All Of Episode 8
The morning after episode 8 aired, my Twin Peaks friend texted me three simple letters: "WTF." At the time, I was tempted to agree. But then I watched it again. And then I watched it a third time. I could probably write an entire essay on that solitary hour, and in fact, I really do think books will be written about it at some point, and I wouldn't be surprised if film students soon find it popping up in their classes. It's impossible for me to single out just one moment from this mind-boggling, and frankly gorgeously-shot, episode, so I'll just say this: Episode 8 was a spiral down a Lynchian rabbit hole, a dizzying fantasia of humanity's evil and a creeping sense of dread. To say the episode was plotless, however, would be a disservice not only to Lynch and Frost as the writers, but to you as the viewer. Finally, we learned Bob's origin story, and it would make sense that this "Big Bad," whose particular brand of evil includes the violation of bodies, either raping them or possessing them, was born from the testing of the first atom bomb. It was Albert Rosenfield who first made sense out of Bob's existence in this way back in 1990: "Maybe that's all Bob is. The evil that men do."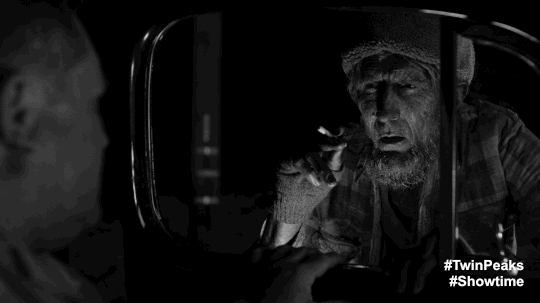 3. "I'll see you again in 25 years..."
There are many, many things that make Twin Peaks so delightfully Twin Peaks (ie, Log Lady), but when it comes to the truly iconic, there are three things that sum it all up, and those three things are: Special Agent Dale Cooper, Laura Palmer, and the Black Lodge. Laura tells Coop in the season 2 finale, a quarter of a century ago, "I'll see you again in 25 years," and she wasn't lying. The return to those billowing red curtains and that black and white chevron floor, the whole scene, is such a brilliant callback to 1990—I swear, if you watch both scenes side by side, from Laura's weird, broken animatronic-like walk to the way Coop turns his head to kiss her and let her whisper in his ear, they are basically exactly the same, and it makes my heart very happy.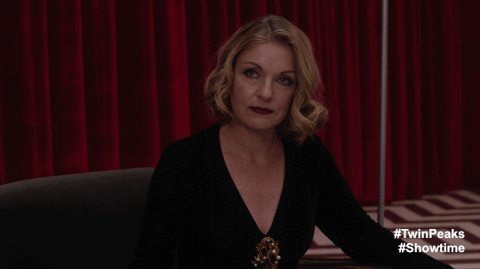 2. Diane's Identity Finally Revealed
Truthfully, there may have been a small part of me that wanted Diane's identity to remain a mystery forever, but Laura Dern is such absolute bitchy perfection, I can't even argue with it. Her confrontation with Coop, a Blue Velvet reunion that would have been cute had it not been so damn intense, is arguably the strongest scene of the season so far, with both Dern and Kyle MacLachlan bringing everything to the table. It's dark, it's disturbing, and it leaves us all wondering: what the hell happened between these two?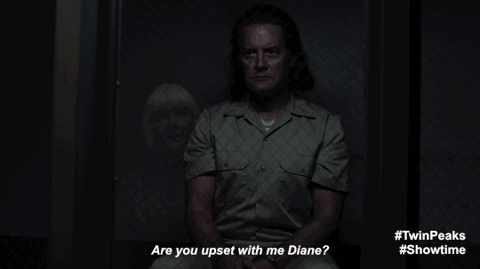 1. Evil Dale Cooper Knows How To Make An Entrance
Did I come up with this list just to have an excuse to gush over this two minute scene from the premiere? Yes, okay, maybe I did, you caught me, but come on. I'm a sucker for a great entrance, and this introduction to Evil Coop, Bob, Boop, whatever you want to call him, was it. Honestly, the image of Bizarro Coop rolling up in a Mercedes in the dead of night and punching a man in the face to the tune of a demonic, slowed down version of Muddy Magnolia's "American Woman" has given me life in ways I never could have possibly predicted. Watch it here in all of its badass glory: