The Total Package Tour rolled into New Orleans on Friday, May 19, and it was one joyful nostalgia explosion after another as Boyz II Men, Paula Abdul, and headliners New Kids On The Block took over the Smoothie King Center. This was my first time seeing any of these performers live, and as soon show openers Boyz II Men started singing their 1991 song "Motownphilly," my friend and I knew that splurging for fifth-row floor seats had been well worth it.
Boyz II Men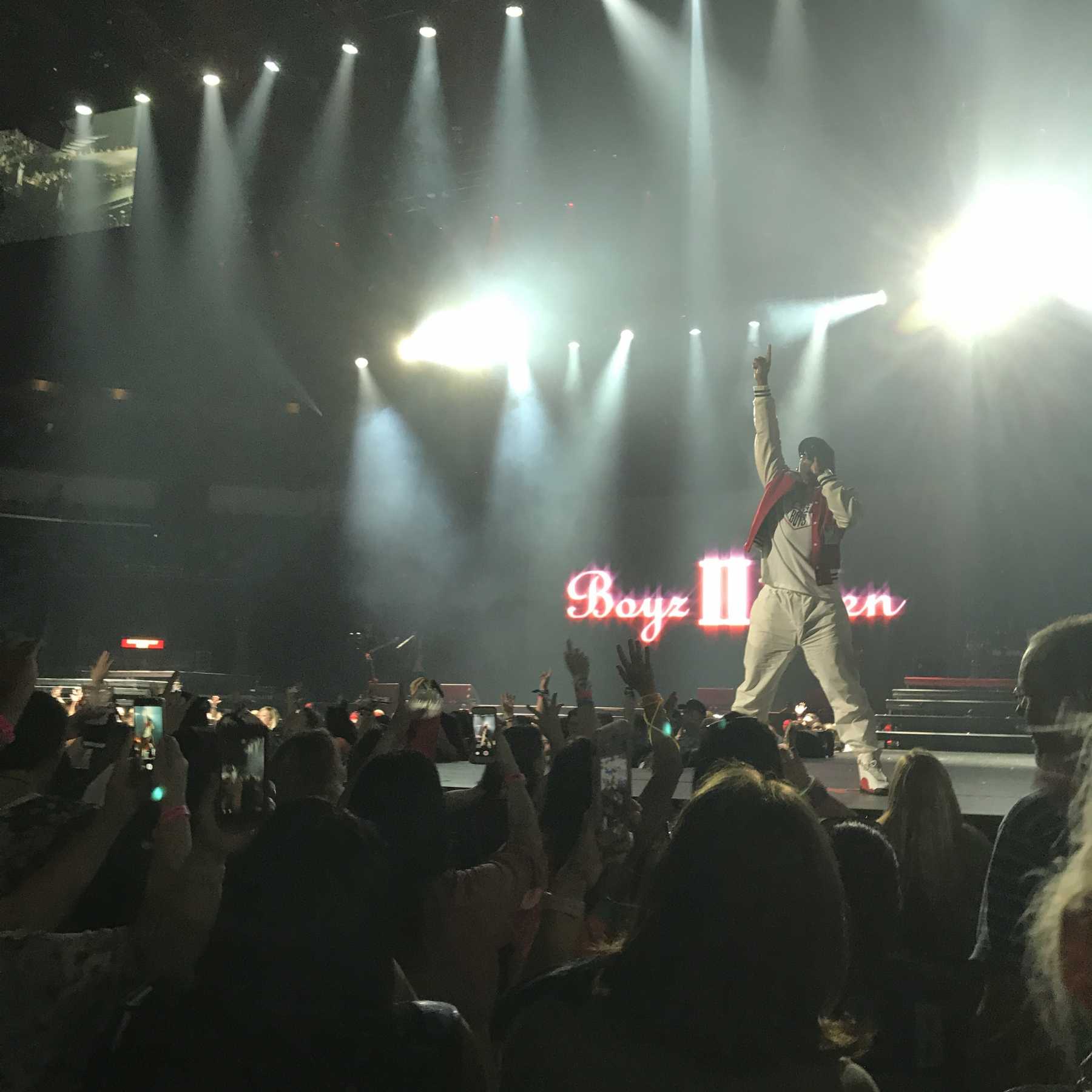 Boyz II Men—minus one member but still made up of founding singers Wanya Morris, Nathan Morris, and Shawn Stockman—delivered an inspired warm-up performance. From "It's So Hard to Say Goodbye to Yesterday" to "On Bended Knee" and "Water Runs Dry," the group sang their hearts out on hit after hit. They even handed out long-stem roses to lucky fans during "I'll Make Love to You." While their set design was minimal, it kept the focus on their stellar vocals, and it was so much fun singing along with them.
After a short break, Paula Abdul was up next. The Total Package Tour is her first tour in over twenty years, and she did not disappoint. Choreography, costume changes, video components—all on point. She sang a range of her hits, including "Cold-Hearted Snake," "Rush Rush," and audience favorite, "Straight Up." At the end of one song, she even jumped from the top of a ladder onto her group of dancers waiting to catch her below. She timed many of her movements to interactive videos on the giant LED screen behind her, really making for a dynamic multimedia effect. She also stopped to speak to the crowd a number of times, including sharing the story of her many tryouts to be a Laker Girl, and she seemed as excited and happy to be on stage as we in the audience were to see her perform.
Paula Abdul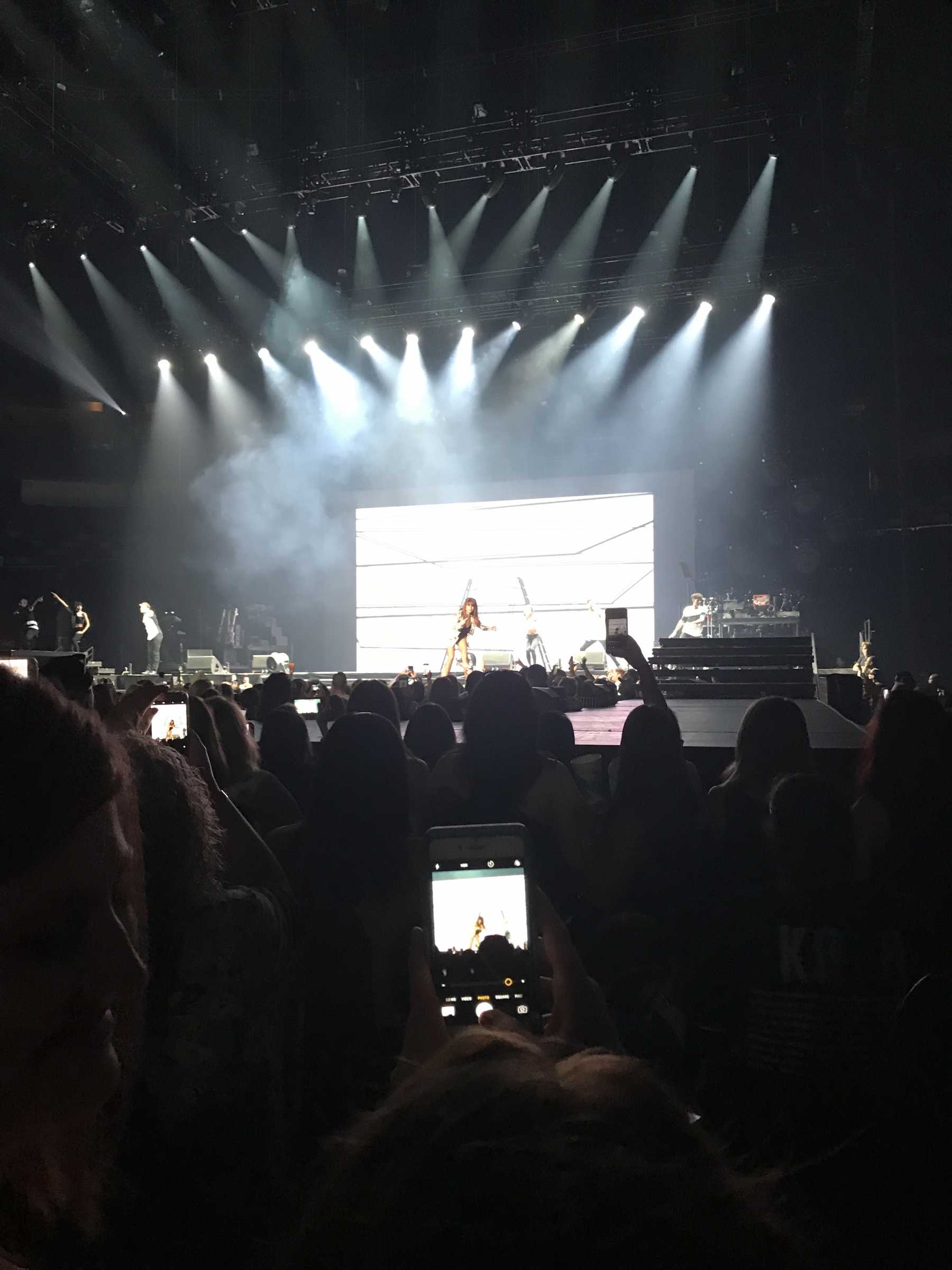 What was disappointing, sadly, was her positioning on the far-back stage close to the LED screen. Though we were in the fifth row, there was a "pit" area reserved for VIPs that much of the staging boxed in, giving the performers the option of walking around more of the audience areas. For most of Paula's songs, she stayed in the far-back area, and the brightness and flashes of the LED screen made it difficult to sometimes see her. But for her last song, "Forever Your Girl," she made the rounds and got closer to the main crowd, rocking every step along the way.
New Kids On The Block
Last up: the group everyone was waiting for. After an anticipation-building video montage, New Kids On The Block took to the stage amid a display of pyrotechnic effects, strobe lights, and an arena of wildly screaming Block-heads (myself included). The guys—Danny Wood, Jonathan Knight, Jordan Knight, Donnie Wahlberg, and Joey McIntyre—opened with "One More Night," the first single off their upcoming album, Thankful, and then launched into a mix of new songs and classic NKOTB staples. Hits like "You Got It (The Right Stuff)" were made even more special when the lyrics were tweaked to reference New Orleans (thank you, Donnie!), and the whole Smoothie King Center seemed to dance in unison as the group led the crowd in a rowsing rendition of the Saints' "Who Dat Nation" theme song.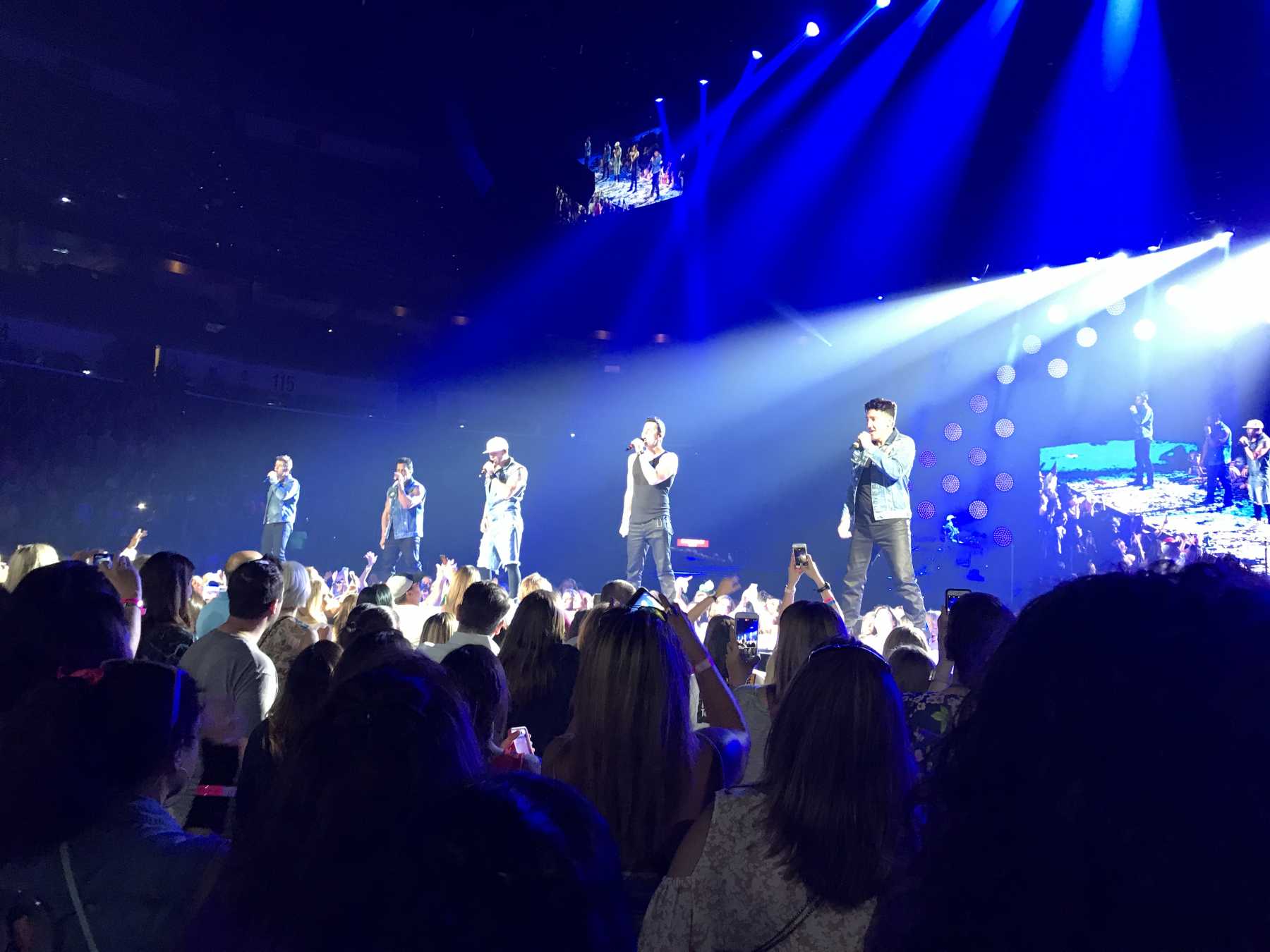 While this NKOTB fan has to admit that she wasn't familiar with a few of the songs in their set list—and "This One's for the Children" from their 1989 Christmas album seemed a stretch for many in the crowd, faux snow falling included—the group's enthusiasm, energy, and passion for performing was a thrill to see live. They powered through a number of costume changes (including the hilarious live backstage strip-show-esque "quick change cam") and interacted with the audience every chance they got. They still do many of their original dance moves too, and on the rare occasion one of the guys missed a step, one of their bandmates was there to give a gentle ribbing and a pat on the back. There was absolutely a bit of an unexpected Magic Mike vibe going on at some points (especially during "Hard," when a barrage of eggplants, cucumbers, etc., flashed around on the screen behind them), but the humor and fun and cheekiness of it all, especially for the guys on stage, were infectious.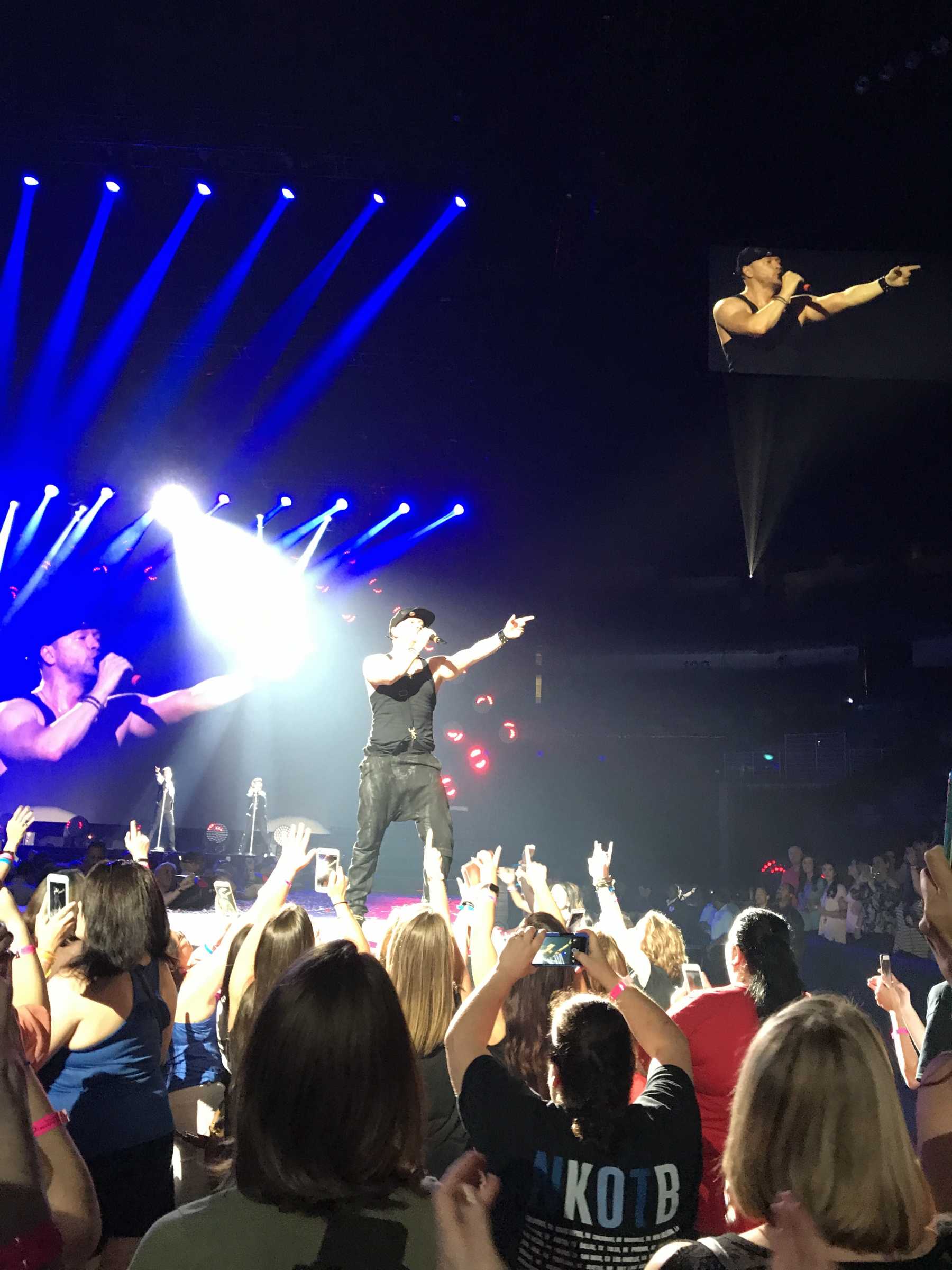 The highlight of their set for me was the finale song, "Hangin' Tough." The bandmates led the arena in the song's signature arm wave, and between the smoke effects, confetti bombs, and epic '90s dance moves, it was like being inside the most totally awesome of awesome nostalgia bubbles. This was my first NKOTB show, and I'd definitely go see them again, though really, something bigger and better is on my mind now: the New Kids Cruise.