AMC's The Walking Dead is running strong with almost a total of seven seasons under their belt. There have been episodes that have made us laugh, episodes that have made us cry, and episodes that have just downright left us either speechless or throwing things at our TV. We here at PopWrapped decided to list the top 10 episodes of the series. Do you agree with them?
Top 10 Episodes:
02x13 – "Beside the Dying Fire"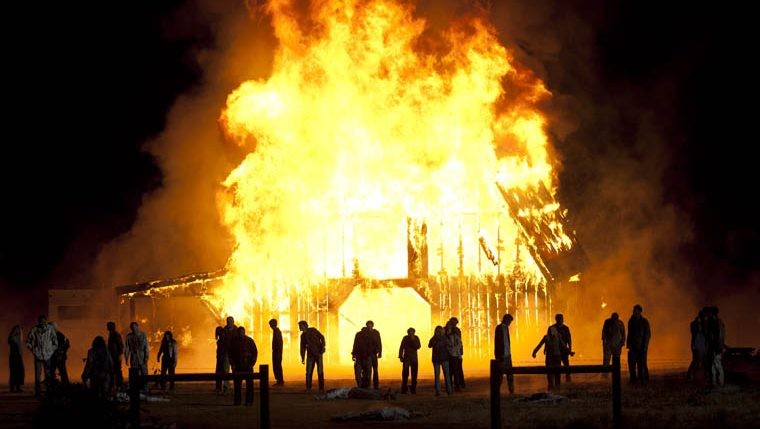 AMC
The Season 2 finale almost always makes lists like these, and there's a reason for that. The Season 2 finale marked the end of the farm and the realization that no place is truly safe. The characters had found shelter for the majority of the season on the Greene family farm, but that solace is ripped from them when a herd of walkers descends on the property and forces them to flee, temporarily separating the characters. It was a major wake up call for the Greenes, and it left us with a major cliffhanger -- who is the person in the cloak wielding a sword with chained walkers?
03x04 – "Killer Within"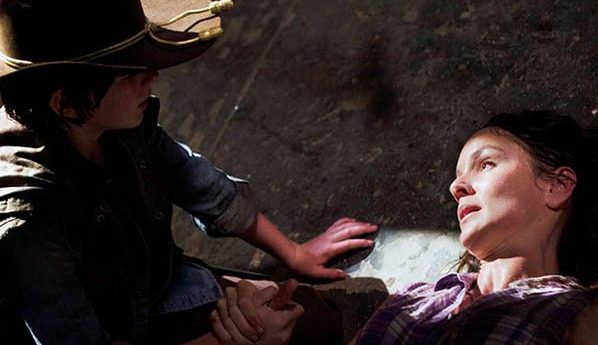 AMC
"Killer Within" is yet another highly emotional episode. When the episode opens, everything seems to be going well. Hershel has survived his walker bite and the subsequent amputation of his leg. He's even up and walking with the help of crutches. For all intents and purposes, the prison is beginning to seem like it could be home. But everything changes when one of the prisoners releases walkers into the courtyard and the group is forced to flee. T-Dog sacrifices his life to save Carol, but his isn't the only death. Lori dies when she goes into labor, and Maggie is forced to perform a C-section, Carl demanding to be the one to put her down. It is a major loss of innocence for Carl and is one of the key events that begins molding him into the character that we see in seasons going forward.
04x08 – "Too Far Gone"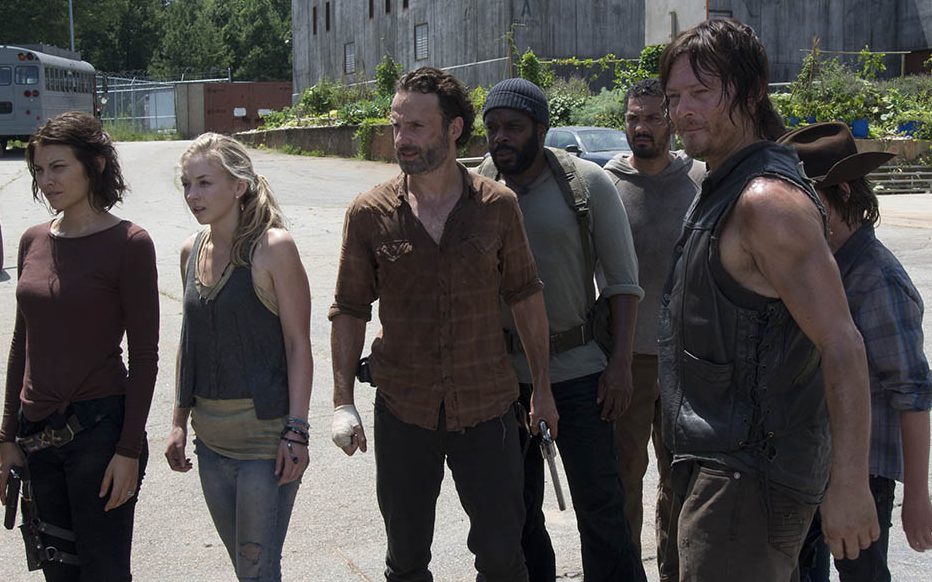 AMC
The midseason finale of Season 4 is undoubtedly and inarguably one of the saddest episodes of The Walking Dead to date. It is a culmination of all of the events prior to this, and, just like the Season 2 finale, it is a reminder that no place is truly safe. When The Governor rolls up to the gates of the prison with a new group and a tank, our hearts sunk because we knew it wasn't going to end well, but nobody could have guessed that "Too Far Gone" would see the brutal death of one of the most beloved characters as his daughters are forced to helplessly stand by and watch. It marks the end of the war with The Governor, but a new and much harsher story for the surviving characters.
04x10 – "Inmates"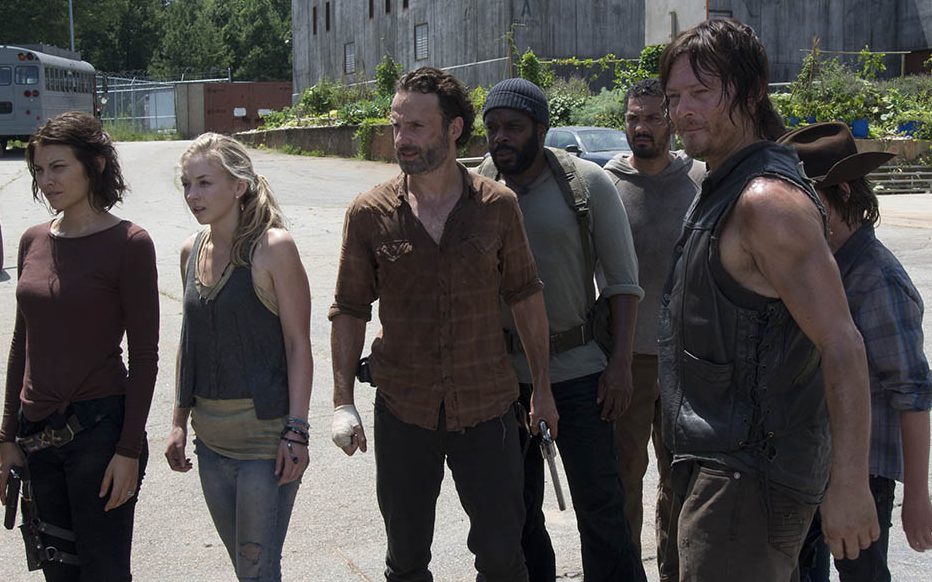 AMC
It's been three seasons and we still cannot stop fangirling about this episode. It is perfection from the very first second to the last. The writers manage to fit four separate storylines into a single episode, and nothing seemed rushed or forced. It is heartbreaking, raw, and emotional. The opening is unlike any other with the voiceover of Beth reading her diary entry, and the hopeful tone of the reading is in stark contrast to the less than hopeful situation that the characters find themselves in following the attack on the prison.
04x12 – "Still"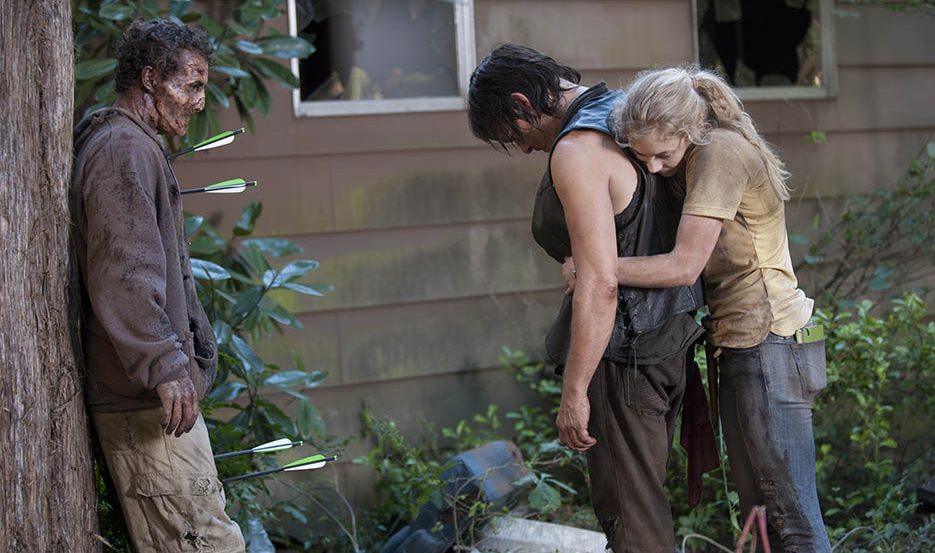 AMC
Most people love this episode simply for a certain Mr. Daryl Dixon (cue fangirls around the world swooning at the mention of Daryl), but it is the dual screen time of both Daryl and Beth that earns "Still" a spot on this list. "Still" was able to accomplish in an hour what most storylines take multiple episodes to accomplish. We have a complete juxtaposition of characters; Daryl, a man who is seen as tough and hard and ready to do what he has to do to survive, and we have Beth, a girl who, up to this point in the series, has been seen as just that -- a girl. But, throughout the episode, the two find solace in one another and bring out parts in each other that had been hidden.
By the time that the episode ends, we've seen a side of Daryl that we haven't seen before. He opens up to Beth, he allows himself to be vulnerable, and he experiences true emotions rather than keeping them bottled. Beth, on the other hand, has channeled her inner strength and proven once and for all that she isn't a little girl but, rather, a young woman fully equipped to survive in this world. The saddest and most bittersweet moment of the episode? "I'll be gone someday. I will. You're going to be the last man standing. You are. And you're gonna miss me so bad when I'm gone, Daryl Dixon." If only Beth knew the self-prophecy that she proclaimed.
04x14 – "The Grove"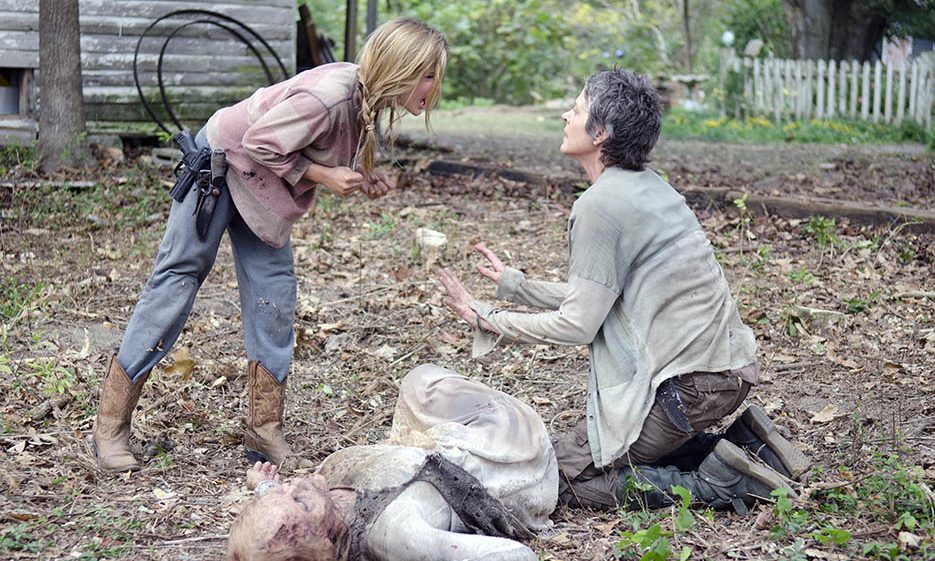 AMC
Perhaps the most infamous episode of the series, "The Grove" was, and always will be, a series standout. It was haunting. It was tragic. It broke all of our hearts. And it cemented Carol's transition into a ruthless woman who will do anything to save her people. The episode begins on a hopeful note with Tyreese, Carol, Lizzie, Mika, and Judith finding a house in the middle of a pecan grove, a house that seems like the ideal place to not only stay for the night but possibly forever. But things take a dark and deadly turn when it's revealed that Lizzie's obsession with walkers runs much deeper than just curiosity and is, instead, the result of a possible mental illness. The episode is a loss of innocence and a point of no turning back.
05x09 – "What Happened and What's Going On"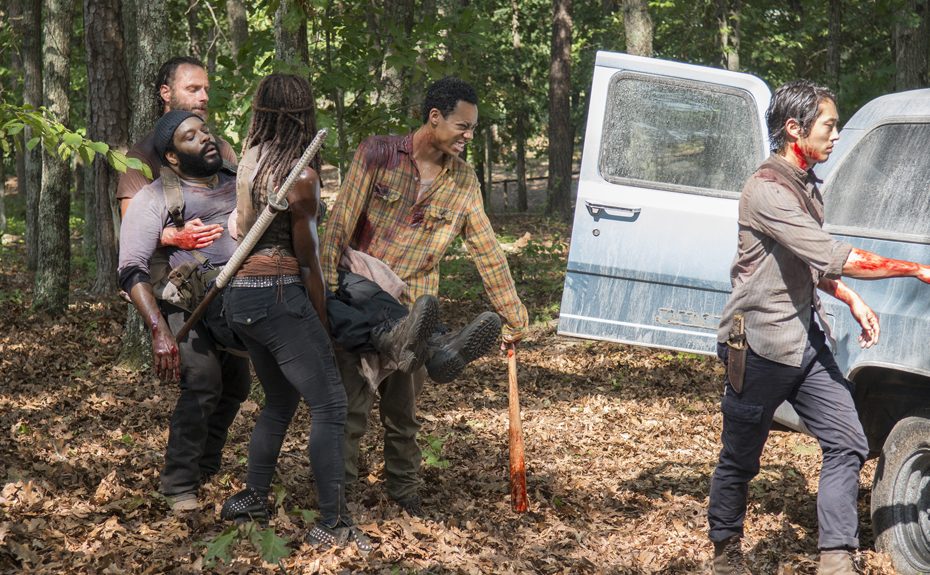 AMC
Coming back from the Season 5 midseason finale and still reeling in the wake of Beth's death, fans were hoping that the midseason premiere was going to be healing. It was anything but. In something that can only be dubbed as a very experimental episode, we see the demise of yet another character who acted as a sort of beacon of hope -- Tyreese. His death wasn't quick and easy -- it was long and dragged out -- and it made it that much more heart-wrenching to watch. But his death dealt with the more spiritual side of death, as we see the slow progression of his weakened state which brings along hallucinations and familiar faces, both of which encourage him to come to the other side. It was a sad episode, but it was beautifully done.
06x04 – "Here's Not Here"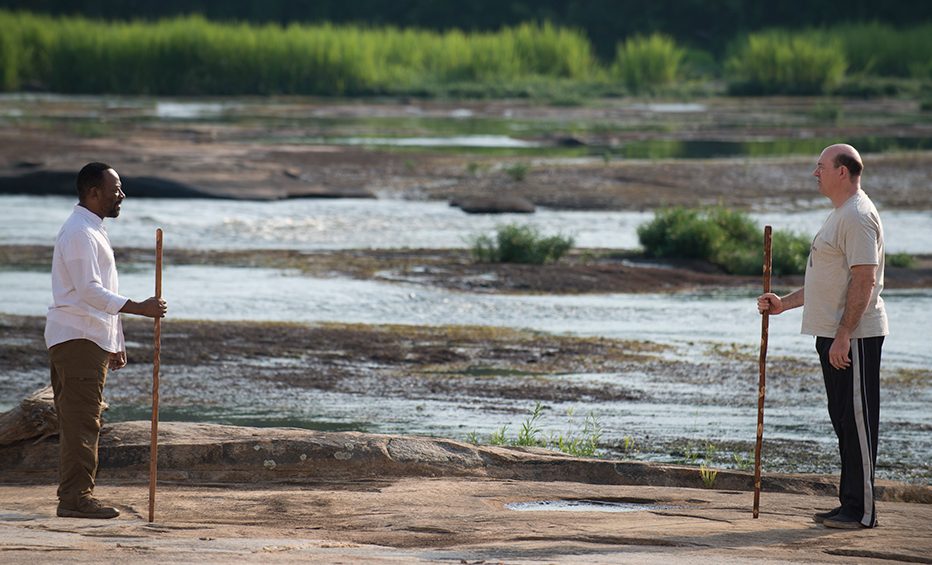 AMC
Bottle episodes typically aren't fan favorites, and they always run the risk of quickly becoming boring. "Here's Not Here" is a bottle episode that tells such an amazing, beautifully tragic, and interesting story that we could watch it over and over again. The episode tells the story of what happened to Morgan after he saw Rick again in "Clear," and it explains how he became the man that he currently is. It turns out that a cheesemaker made all of the difference for him.
06x09 – "No Way Out"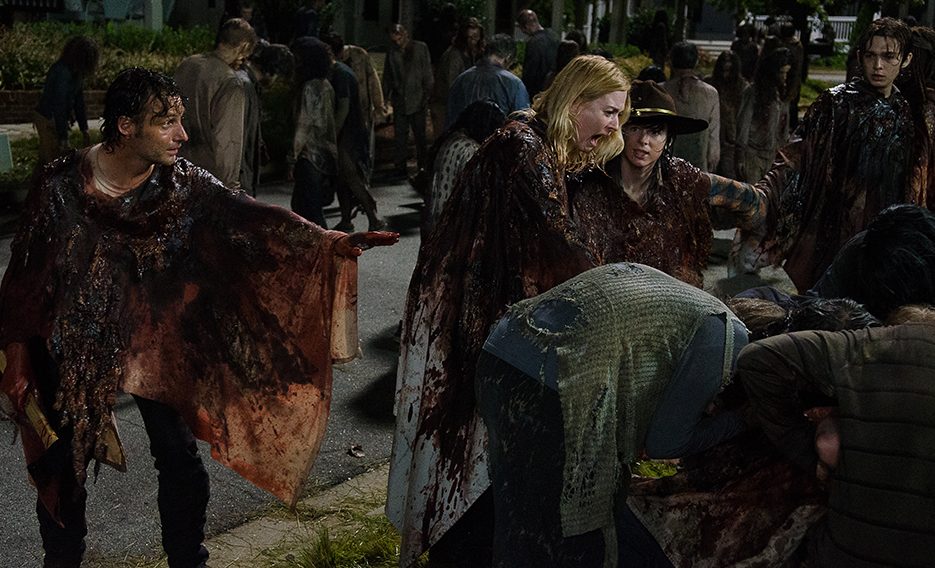 AMC
And another midseason premiere makes the list because midseason premieres and finales are always epic. The Season 6 midseason premiere wasn't disappointing, and comic book fans finally got some long-awaited scenes. The episode picks up right where the midseason finale had left off -- walkers invading Alexandria and the characters struggling to find safety. As Rick, Michonne, Carl, Jessie, Ron, and Sam try to make their way through the herd to safety, however, everything goes wrong. Sam panics and is attacked by walkers, Jessie soon to follow. Ron's distaste for the Grimeses comes out full force, and Carl ends up getting shot in the eye. But there was good in the episode, and, by the end, all of the Alexandria residents band together and take back their community, proving that together they can do anything.
07x02 – "The Well"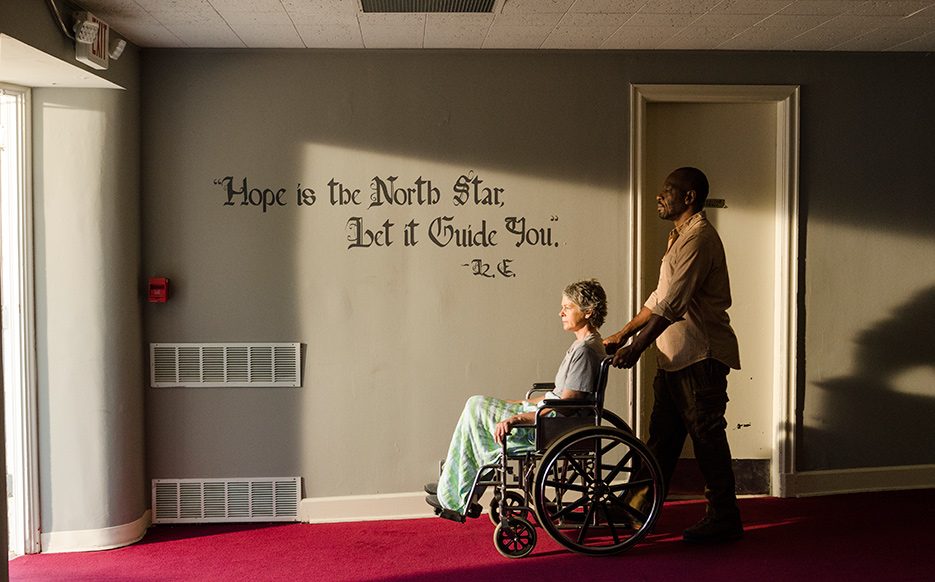 AMC
Season 7 started on such a dim and dire note, and, while it seemed like things couldn't possibly get better, "The Well" offered a glimmer of hope and was a slowdown that we needed in the wake of Glenn and Abraham's deaths. The episode sees the introduction of The Kingdom and King Ezekiel himself, and, after an episode where there was nothing but bad guys, the episode proves that there are still good people left in the world and that maybe there is a chance of defeating Negan after all.
What would be on your top 10 episodes list? Let us know which episodes you would add to the list in the comments below!