As always, Top Chef's Restaurant Wars lives up to the hype. With no immunity for this team challenge, stakes are high. The teams had one day to conceptualize a restaurant from decor to menu planning. They only had three hours to prep for service before they had to open their restaurants. We checked in with veteran Sheldon Simeon and rookie Sylva Senat about their Restaurant Wars experience.
For a quick refresher, Team Southern Belle consisted of Sheldon Simeon, Katsuji Tanabe, John Tesar and Casey Thompson. They decided to serve their meal family style with Casey serving the front of the house, John serving as executive chef, both Katsuji and Sheldon were line cooks. Team Latitude consisted of Emily Hahn, Shirley Chung, Sylva Senat and Brooke Williamson. Their menu focused on seafood, and Brooke was in the front of the house and Shirley was the executive chef. Emily and Sylva were line cooks for their team.
PopWrapped: What was your biggest takeaway from the first time you did Restaurant Wars, and how did that help you this time around?
Sheldon Simeon: Problems, Mistakes, Difficult Decisions, High Stress situations -- all of that and more will inevitably happen. Just need to stay calm and work together. You must do it as a team.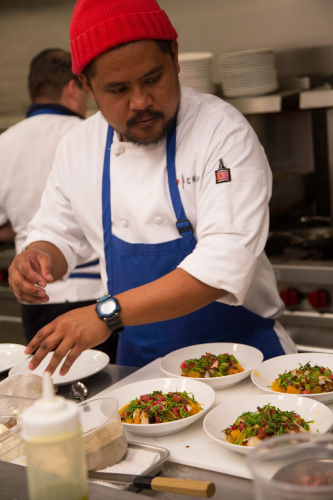 Brianna Stello/Bravo Media
PW: Seeing how this was your first time doing Restaurant Wars, what surprised you the most?
Sylva Senat: The time spent actually putting the space together. It was a good amount of time, but it just flew by. By the time we finished with the menus and concept, the other details felt rushed!
PW: Obviously, someone has to serve as the front of the house and someone else serves as an executive chef. What was your role in assisting the cheftestant at the front of the house? Or, if you were in the front of the house, what was it like to have to trust your dish to another cheftestant?
Sheldon: Obviously, Miss Casey was the prettiest of all of us ugly guys, so we shoved her in the FOH. I [assured] her that I would do my best to keep our team together in the BOH so she could concentrate on FOH duties.
Sylva: I had two veterans on my team, so captain Shirley knew she wanted Brooke in front the house. Brooke and I collaborated on the concept and colors, and then Shirley and I picked plates and glassware. All three of us were good with design, so I think it was a nice flow.
PW: What was the atmosphere like when your team was in the kitchen?
Sheldon: It was super stressful. Going into the kitchen, we knew we were behind in prep, and it would take every single second of us with our heads down and hauling ass to make sure we would be done with our mise en place to be ready for service. We didn't discuss ahead of time what was the exact task and responsibility of each person. So, when John positioned himself as expeditor and Katsuji and myself would be cooking all of the dishes, it was much more than we could have handled.
Sylva: We all did our prep, gave ourselves timers and time to stop and ask if anyone needed help, then a set up time for all the stations to be ready. The best of all was that we all made one of each plate to taste, which reminded me of my time with chef Leo Forneas at Buddakan NYC doing daily line. It was real service real fast!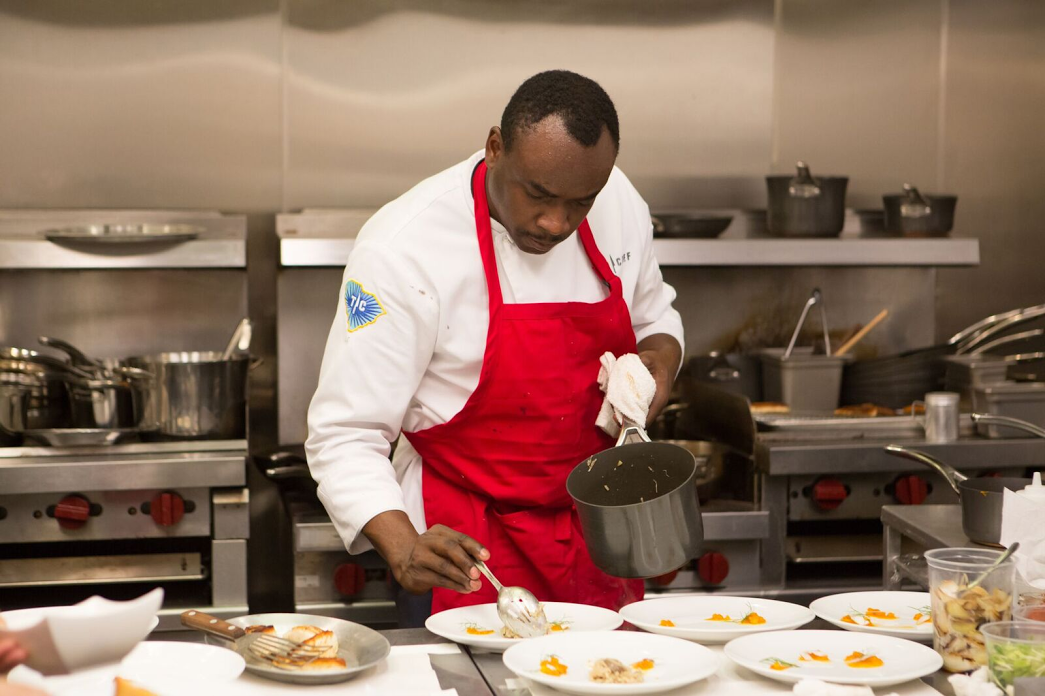 Paul Cheney/Bravo Media
PW: What were you dreading the most about this challenge, and what excited you the most?
Sheldon: Dealing with the strong personalities of John and Katsuji. I won Restaurant Wars last time, so the thought of doing it again excited me.
Sylva: The excitement was the picking of the teams. I was dreading the most the way the reservations were set up. Although I asked for it -- a rush in the beginning, slow middle and rush at the end, I started second guessing myself. Right after Brooke and I agreed, she gave me the look as if to ask "are you sure?" but no words -- just the look.
The vibe of each team was very different, and that affected both their prep time and service. While things seemed to be running smoothly with only minor hiccups in Latitude's kitchen, the opposite was true for Southern Belle. Their kitchen was a mess during prep, and there was a lot of confusion during service, resulting in several diners waiting for food. Katsuji opting to make three dishes was ultimately his downfall, and he was eliminated. Meanwhile, Brooke kept her cool as manager and collected the win.
What did you think about Restaurant Wars? Did the right cheftestant go home? What dish would you have loved to try? Let us know in the comments below.
Top Chef airs on Bravo at 9pm on Thursday nights. Tune in next week to see what Season 6 winner Michael Voltaggio has in store for the cheftestants when he shows up in Charleston.