As if that would really work. Polls are supposedly suggesting that Donald Trump would win the presidential election if women were not allowed to vote. To make this happen, a good amount of Trump's supporters have started the #RepealThe19th campaign on Twitter.
The 19th Amendment, passed by Congress on June 4, 1919, ratified and added to the Constitution of the United States on August 18, 1920, provides men and women with equal voting rights. It states that the voting rights of American citizens "shall not be denied or abridged by the United States or by any State on account of sex."
Women fought hard for their right to vote! It took activists nearly 100 years of suffrage activities and internal disagreement to have their voices heard. They knew the road to equality would not be easy, but they wanted a chance to voice their opinions.
Election Day 1920 was a wonderful sight: millions of American women turned out to exercise their newly won right to vote and participate in political discussion.
It's something we should never take for granted. So what gives?
Someone Took It Out Of Context
Where did all of this come from? According to the Los Angeles Times, the campaign started around the time @NateSilver538 of the FiveThirtyEight website published an article comparing voting patterns between men and women.
Here's what the map would look line if only women voted: https://t.co/sjVY67qouE pic.twitter.com/rrc3GuXmGl

— Nate Silver (@NateSilver538) October 11, 2016
Twitter users have taken up this "call," with some going so far as to suggest that women are not fit for politics at all, let alone the Oval Office. Talk about salty.

Screenshot - original accounts have been suspended
But that's not the whole story. In his article, Nate says there is "a massive gender split" between the two presidential hopefuls.
Hillary Clinton is trailing behind Donald Trump by 11% among male voters, but leading by 33% among female voters.
"To put those numbers in perspective, that's saying Trump would defeat Clinton among men by a margin similar to Dwight D. Eisenhower's landslide victory over Adlai Stevenson in 1952, while Clinton would defeat Trump among women by a margin similar to … actually, there's no good comparison, since no candidate has won a presidential election by more than 26 percentage points since the popular vote became a widespread means of voting in 1824. To get to 33 points, you'd have to take the Eisenhower-Stevenson margin and add Lyndon B. Johnson's 23-point win over Barry Goldwater in 1964 on top of it."
Nate certainly did his homework. He even compiled the gender split data from all national polls available for the month of October. He also has two different maps, showing how 2016's election would play out if men or women were the primary voters.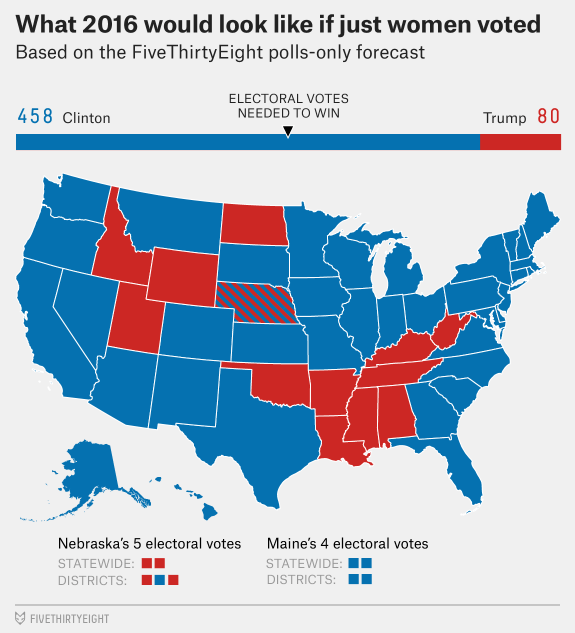 FiveThirtyEight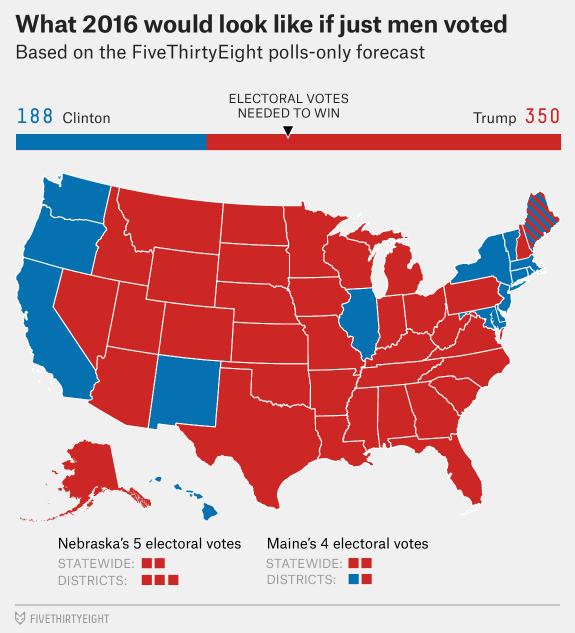 FiveThirtyEight
While Nate never actually picked a side, choosing, instead, to state the facts and back them up with historical examples, the internet has gone bananas.
The sad part is: it's not just men. Women have also taken up the #RepealThe19th banner.
@emmaroller men should never have given women the right to vote #RepealThe19th

— Haunted Holly ?✝️? (@HollyAnswers) October 11, 2016
It saddens me to see Americans willing to deny rights (really any rights, but we're talking about voting here!) to their fellow citizens just to see someone elected to the presidency. These are rights that took years to secure, and that's not even counting the rights of African American men and women.
I guess this is what they mean by "make America great again."