It's happening again. Showtime's Twin Peaks revival has a premiere date.
Order a cherry pie, grab a damn fine cup of coffee and mark your calendar for May 21st for a two-hour premiere at 9pm.
Twin Peaks announced its return on Facebook with the following post:
Diane is Cooper's never-seen secretary, and he dictated all of his cassette tapes to her. Let's hope that Cooper hasn't gone digital, or, if he has, that he still addresses his recordings to Diane. When Cooper first entered Twin Peaks, he announced himself in a similar way.
At the Television Critics Association (TCA) winter press tour, Showtime President and CEO David Nevins announced that the premiere of the Twin Peaks revival would be two hours, and there would be 18 episodes total. Nevins also shared that Episodes 3 and 4 will be made available On Demand and their streaming platform.
That's four hours of new Twin Peaks material in one day!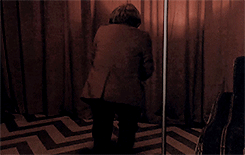 melan---chola / Tumblr
Series co-creators Mark Frost and David Lynch wrote all episodes for the revival, and Lynch directed all 18 episodes.
"We've seen the whole thing ... and the version of Twin Peaks you're going to see is the pure-heroin version of David Lynch," Nevins said. "I'm very excited to put that out."
If the original series was a non-heroin version of David Lynch, a pure-heroin version sounds slightly terrifying and amazing.
Plot details have been kept tightly under wraps, but, with Agent Dale Cooper's (Kyle MacLachlan) fate left in peril at the end of the series and MacLachlan on board to reprise his character, we suspect to see a lot of Cooper. Nevins confirmed that the revival would focus on "Agent Cooper's odyssey back to Twin Peaks" and that the series would be grounded by an emotional storyline.
As for what that emotional story might be? Lynch did drop one clue, and viewers might want to rewatch Fire Walk With Me. "The story of Laura Palmer's last seven days is very, very important for this," Lynch said.
Nevins isn't expecting additional episodes past the 18-episode revival and it would be a one-time thing.
The Twin Peaks original series finale was shocking and left viewers with several questions that should be answered.
"There are certain basic questions that I had at the end of the original [show] — given where Agent Cooper is — and I think get answered," Nevins stated.
Desperate for more Twin Peaks information? Check out the following Facebook live videos from TCA with original cast members, Kyle MacLachlan (Dale Cooper), Kimmy Robertson (Lucy Moran) and Mädchen Amick (Shelly Johnson), where they share memories from the original series.
Mädchen Amick
Kimmy Robertson
Kyle Machlaclan
Let us know if you'll be tuning in for the Twin Peaks revival on May 21st or if you plan on rewatching the first two seasons before then. Don't forget: there's a Twin Peaks Season 1 marathon on Showtime on Saturday, January 14th, starting at 11am.